The Federal Reserve issued the latest Beige Book on Wednesday, which offered the following assessment of the economy:
Reports from the twelve Federal Reserve Districts suggest that national economic activity continued to expand in late February and March, though the pace of growth varied across Districts. Most Districts said that economic growth was in the modest to moderate range and that contacts expected growth would remain in that range going forward. Consumer spending increased modestly in most Districts and reports on tourism were mostly positive. Labor market conditions continued to strengthen and business spending generally expanded across most Districts. Demand for nonfinancial services grew moderately overall. Manufacturing activity increased in most Districts. Construction and real estate activity also expanded. Credit conditions improved, on net, in most Districts. Low prices weighed on energy and mining output as well as prospects for agricultural producers. Overall, prices increased modestly across the majority of Districts and input cost pressures continued to ease.
There's little new in the above summary compared to any Beige Book issued in the last 3-4 years; the authors describe the growth of most macro-economic sectors as "modest" or "moderate." There are, however, a few interesting divergences between the above comments and this week's economic releases. The Fed described consumer spending as increasing "moderately," yet this week's retail sales figure showed a slight decline. It's possible the Fed is reporting on the broader category of activity included in the BEA's personal consumption expenditures report, which includes consumer spending on services. And the Fed report describes manufacturing activity as "increasing" when industrial production has been declining over the last few months. Here, it's possible the Fed is picking up on the large increase in new orders we've seen in all the recent Federal Reserve regional manufacturing reports which haven't yet translated into actual production.
This week saw the release of two important coincident indicators: retail sales and industrial production. Regarding the consumer, the Census Bureau reported:
The U.S. Census Bureau announced today that advance estimates of U.S. retail and food services sales for March, adjusted for seasonal variation and holiday and trading-day differences, but not for price changes, were $446.9 billion, a decrease of 0.3 percent (±0.5%)* from the previous month, and 1.7 percent (±0.7%) above March 2015. Total sales for the January 2016 through March 2016 period were up 2.8 percent (±0.5%) from the same period a year ago. The January 2016 to February 2016 percent change was revised from down 0.1 percent (±0.5%)* to virtually unchanged (±0.2%)*
This indicator's growth has more or less stalled since July 2015: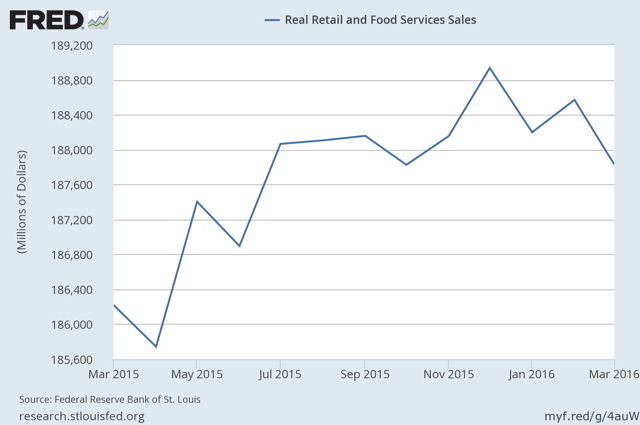 Click to enlarge
Two charts from Doug Short place the results into Y/Y context: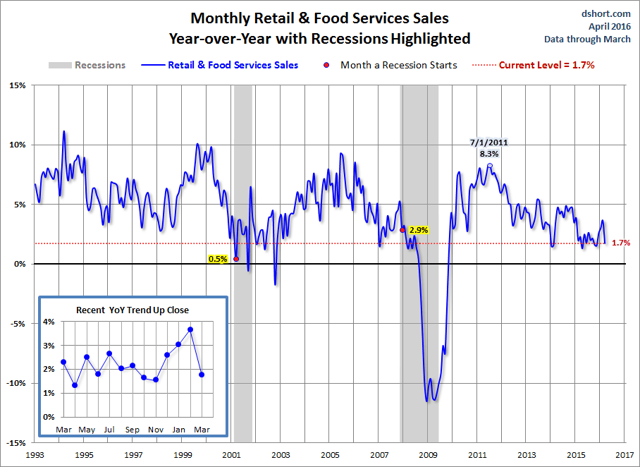 Click to enlarge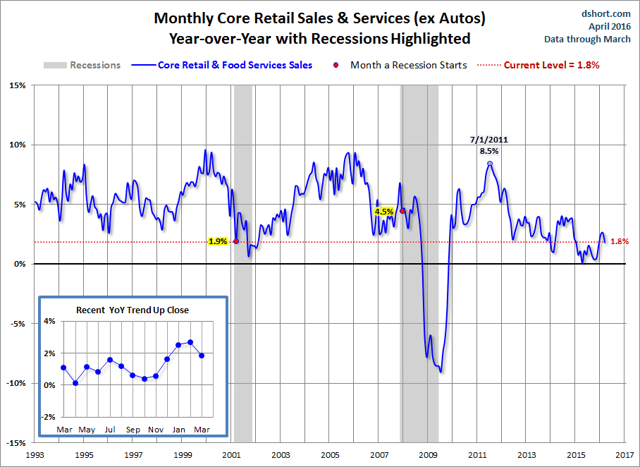 Click to enlarge
The top chart shows the Y/Y rate for the entire data series, which includes all sub-indexes. The latest reading is near a post-recession low. The bottom chart strips out auto sales (which declined 2.1% M/M). Its 1.8% Y/Y rate is higher than any 2015 reading. But it is still near the low end of the post-recession readings. Overall, this release continued to show a consumer who was still spending very slowly.
Next, the Federal Reserve issued the monthly industrial production index, which decreased .6%. Mining declines were the primary culprit for the drop. However, manufacturing also declined slightly (-.3%). As shown in the following chart, all three market sectors have either stagnated or declined during the last year: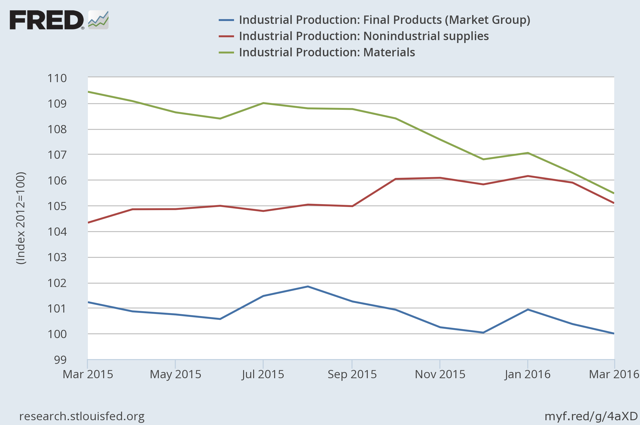 Click to enlarge
Economic Conclusion: This week's two primary releases were coincident economic indicators that showed a slowing consumer and industrial sector. Neither development is encouraging as we begin the second quarter and both are likely culprits for the Atlanta Fed's GDPNow model's decline to a .3% 1Q16 growth rate: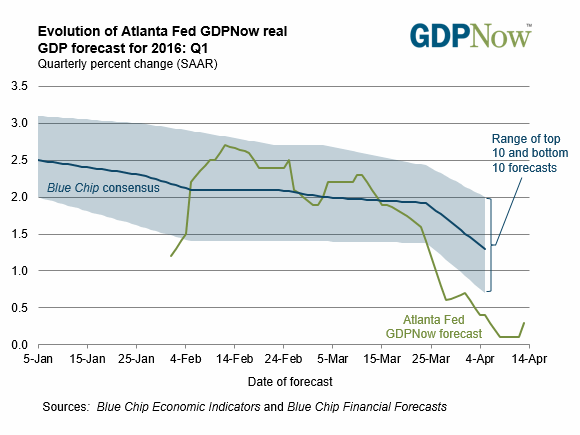 With the LEIs barely rising and much slower rate of growth for the CEIs, it's doubtful we'll see stronger much growth in 2Q.
Market Update: It was a good week for the markets. The SPYs and QQQs were each up ~1.5%. Better still, the IWMs (Russell 2000) increased over 3%, indicating an improving risk appetite among investors. And that index is close to achieving important technical milestones: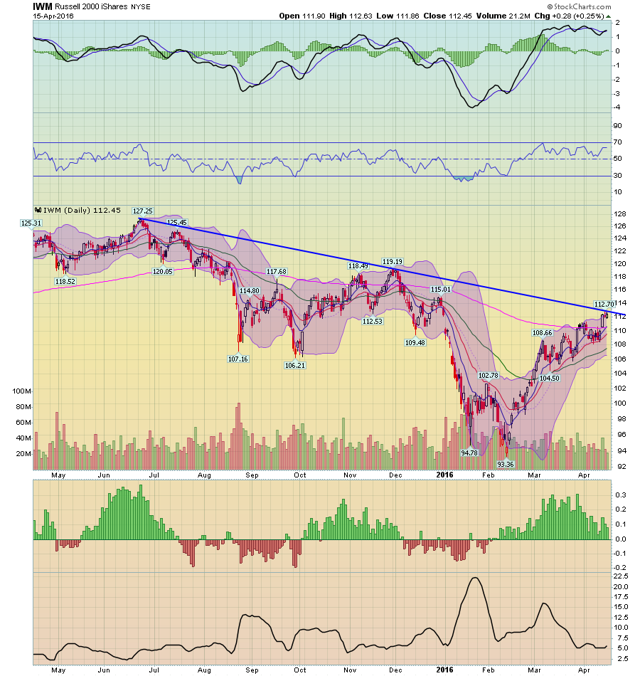 Click to enlarge
Prices broke through the 200-day EMA earlier this week and are now right below long-term resistance. Should prices move through the ~113 level, they'll have upside room to rally.
The SPYs, too, are also close to making new highs: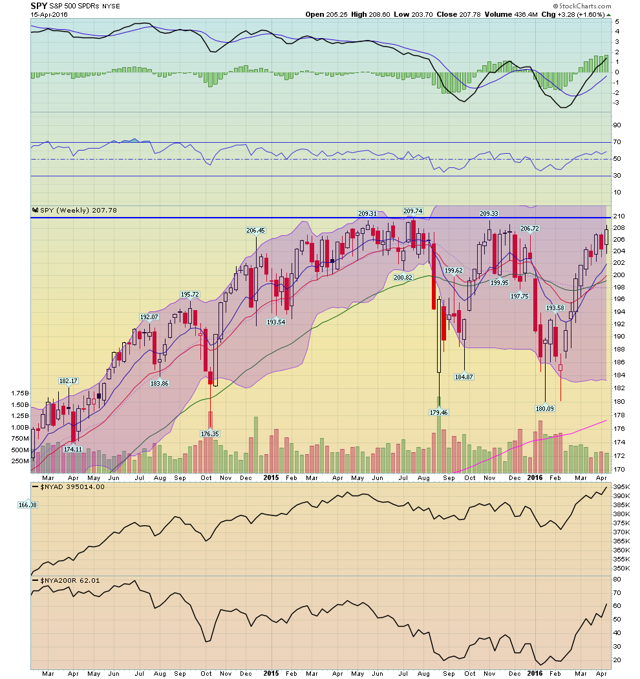 Click to enlarge
In addition, the MACD has upside room to rally. And the rising advance/decline line along with a larger percentage of stocks above their respective 200-day EMA strongly implies this rally might have room to run.
But the market is already expensive, with the SPYs having a current P/E of 24.15 and the QQQs having a P/E of 22.54. Each index has a forward P/E over 18. And although early earnings season results have been somewhat positive, they're simply less bad than expected:
Including this morning's reports, we now have Q1 results from 32 S&P 500 members. Total earnings for these 32 index members are down -6.8% from the same period last year on +0.9% higher revenues, with 71.9% beating EPS estimates and 53.1% coming ahead of top-line expectations.
The blended (combines actual results for companies that have reported and estimated results for companies yet to report) year-over-year earnings decline for Q1 2016 is -9.3%, which is below the expected earnings decline of -8.7% at the end of the quarter (March 31). Seven sectors are expected to report a year-over-year decline in earnings, led by the Energy and Materials sectors. Three sectors are expected to report year-over-year earnings growth, led by the Telecom Services and Consumer Discretionary sectors.

The blended sales decline for Q1 2016 is -1.3%, which is below the estimated sales decline of -1.1% at the end of the quarter (March 31). Five sectors are projected to report year-over-year growth in revenues, led by the Telecom services and Health Care sectors. Five sectors are predicted to report a year-over-year decline in revenues, led by the Energy and Materials sectors.
The Zack's report contained the most positive number, and that was a tiny .9% increase in top-line revenue. Furthermore, earnings still declined, which will expand the current and forward market P/Es, making the market more expensive. Finally, we're still at the beginning of earnings season.
Although the technical outlook is positive, the fundamental picture is weak. It's possible the markets will continue to advance above key resistance levels. But it's difficult to see a strong advance with a weakening fundamental position.