The oil freeze talks have ended without any deal. Saudi Arabia's demands over the participation of Iran in the production freeze arrangement led to the fallout, according to an article on Bloomberg. This has given the bears fresh ammunition to fire when the markets open tomorrow.
I had stated in my previous oil analysis titled Crude Oil: Forget Next Sunday, Move On To June that the Doha meeting was likely to be a non-event and the focus should be shifted to the 169 th OPEC meeting to take place in Vienna on June 2. According to a report on Reuters, OPEC producers had told non-OPEC members that they first needed to reach a deal within OPEC, possibly at a June meeting.
Saudi Arabia wanted all the nations to participate in the freeze. However, as expected, Iran did not participate in the meeting as it seeks to expand its market share after the sanctions were lifted.
The fallout has also proved that OPEC is not as united as it should be. The discord between the OPEC nations will lead to further procrastination in coordinating a production freeze. As the deadline for the deal gets shifted, OPEC and non-OPEC nations will likely flood the oil markets once again.
The Light Crude Oil Weekly Futures price chart below shows that even with all the growing optimism regarding the deal, the bulls took a cautious stance as it closed the week near resistance level. It is highly likely that bulls will liquidate their positions tomorrow, and we may see oil quickly returning to $30 or even lower levels once again.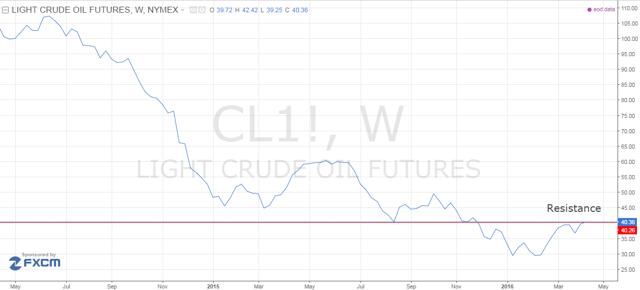 Click to enlarge
Saudi Arabia is playing hard to get. Mohammed Bin Salman, Kingdom's Deputy Crown Prince was quoted as saying that he could add a million barrels per day immediately if there was demand for it, and up to 2 million barrels per day in the next six to nine months. Does it sound like someone who really cares about bringing stability to the oil markets? Is he trying to threaten other oil producing nations with such words?
I don't think that Saudi Arabia was ever serious about this deal as everybody knew that Iran won't be participating, and therefore, using Iran's absence as an excuse does not make any sense.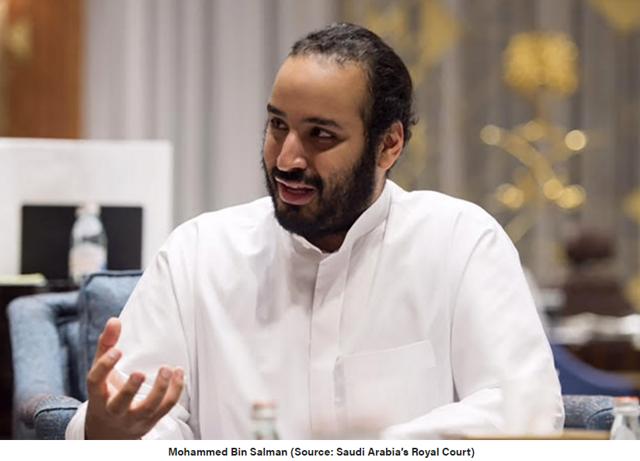 Click to enlarge
The fallout of this meeting will be reflected first in the Asian markets tomorrow. US market may react negatively as there has been a strong correlation between US equities and crude oil of late. Oil stocks including Exxon Mobil (NYSE: XOM), Conoco Philips (NYSE: COP), BP (NYSE: BP), Chesapeake Energy Corporation (NYSE: CHK), and others will mirror the disappointment.
The no-deal outcome has ensured for the time being that oil might not rally in the near-term based on fundamentals. Lower prices will help nations such as India to import cheaper oil to meet its energy demands. But this has also prolonged the recessionary scare over nations such as Brazil, Venezuela and Russia.
As said earlier, market participants will find a lot of news and rumors in the run up to the June meeting, leading to increased volatility in the energy markets. But this will continue to be an interesting ride, like it has been until now!
Disclosure: I/we have no positions in any stocks mentioned, and no plans to initiate any positions within the next 72 hours.
I wrote this article myself, and it expresses my own opinions. I am not receiving compensation for it (other than from Seeking Alpha). I have no business relationship with any company whose stock is mentioned in this article.