Expect oil prices to take a big hit Monday, as the highly anticipated oil producers' meeting in Doha fell short of the high hopes priced into oil for it. Energy ministers disbanded Sunday without a formal production freeze in place, as Saudi Arabia and Iran jostled for their national interests and market share.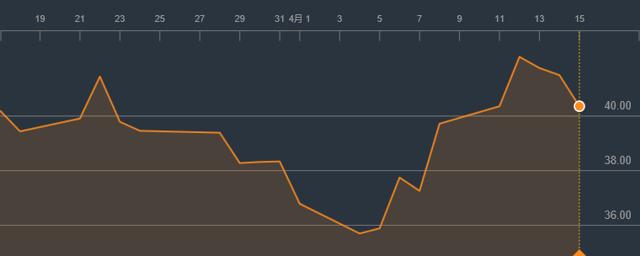 Click to enlarge
1-Month Chart of WTI Crude Futures at Bloomberg
Crude prices started to express trepidation heading into Sunday's highly anticipated oil producers' meeting in Doha, Qatar. Various rumblings and rumors raised doubt about the meeting's hopeful prospect of a formal oil freeze agreement. The worst case scenario played out and oil prices are likely to fall further as a result.
The Saudi Arabian delegation demanded Iranian participation in a broad and inclusive deal to limit production and stabilize price. But Iran, as we know, has just been freed from the confines of western economic sanctions, and is working now to lift its production toward more normal levels for a producer of its capabilities. Quotes from the Iranian side have regularly expressed astonishment that Iran would be expected to limit production given the circumstances. But when Iran did not show up Sunday morning at all, the Saudi delegation seemed to me to be insulted.
The meeting was delayed as other parties sought to sooth the wounds of the political rivals, and a meeting finally ensued. However, the Saudi oil minister refused to sign onto any deal that did not include Iran. Perhaps the Saudis expected Iran to agree at least to a cap on its production at a higher level, but Iran is not prepared to even consider that at this point. In fact, it seems Iran is more than happy to accept the current market price or lower for the volume it's been kept from generating until now. OPEC's dysfunction could not have been more apparent, and one has to wonder if the political divide between Saudi Arabia and Iran has widened too far for the two major oil producers to agree to anything, or to trust one another to comply with any agreement.
The big problem for this group of weary oil producers is that neither Iran nor Saudi Arabia really wants a deal today. Iran needs to attract foreign investment and to ramp up production to restore economic stability. Saudi Arabia is willing to bear some near-term pain in order to squeeze out marginal producers, especially new players in North America, for its longer term gain. So, the two most important OPEC players at the meeting were not on board with the will of Russia and the less critical OPEC member nations. Russia would like higher prices but will not cut production alone to get there, and the other players are not willing or able to sacrifice without the more important producers' consent and compliance.
It's been my theory all along that the oil producers were producing lip service more than honest promises, and that they would continue to do so for as long as it served higher oil prices. But, the OPEC Boys Who Cried Wolf have perhaps finally pushed the villagers to the limit of their faith in them.
I have been surprised throughout this run higher for oil prices, which I believe was pushed more by greed and fear than substance. Some traders likely bought in out of fear of missing that eventual big move higher for oil, and greed served others as they chased momentum despite the obvious questions about the so-called freeze. If everyone can see now that the emperor has no clothes, if the ruse is up, then oil prices must give back gains that were achieved because of it.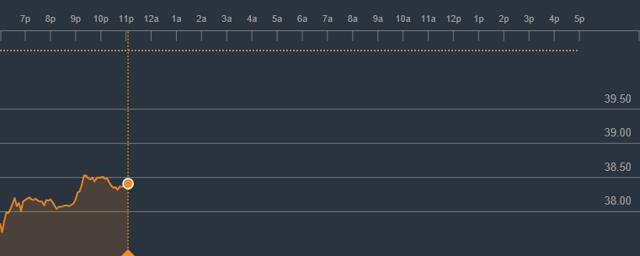 Click to enlarge
In early trading, WTI Crude Oil futures were down approximately 5%. This does not portend well for the energy complex and relative securities or for the broader stock market for Monday. Moving forward, given that Saudi Arabia has removed the possibility of an emergency production cut even if oil prices mark new lows, we might do just that.
| | |
| --- | --- |
| Energy Relative Shares | April 15, 2016 |
| SPDR S&P 500 (NYSE: SPY) | -0.1% |
| United States Oil (NYSE: USO) | -2.2% |
| iPath S&P GSCI Crude Oil (NYSE: OIL) | -2.7% |
| United States Natural Gas (NYSE: UNG) | -2.8% |
| Energy Select Sector SPDR (NYSE: XLE) | -1.4% |
| SPDR S&P Oil & Gas E&P (NYSE: XOP) | -1.8% |
| Market Vectors Oil Services (NYSE: OIH) | -0.9% |
| Exxon Mobil (NYSE: XOM) | -0.5% |
| Chevron (NYSE: CVX) | -0.8% |
| B.P. (NYSE: BP) | -0.9% |
| TOTAL S.A. (NYSE: TOT) | -1.2% |
| ConocoPhillips (NYSE: COP) | -1.2% |
| Schlumberger (NYSE: SLB) | -1.2% |
| Halliburton (NYSE: HAL) | -0.3% |
Energy relative shares traded down significantly Friday on rumors about a potential disappointment in Doha, and now that we have received just that, the selling should continue and accelerate. I have been following developments around oil and energy closely, and warning about this likelihood. I invite relative interests to follow my ongoing independent commentary via my financial column here at Seeking Alpha.
Disclosure: I/we have no positions in any stocks mentioned, and no plans to initiate any positions within the next 72 hours.
I wrote this article myself, and it expresses my own opinions. I am not receiving compensation for it (other than from Seeking Alpha). I have no business relationship with any company whose stock is mentioned in this article.