MobileIron (Nasdaq:MOBL) has recently announced its Q4 and full-year 2015 financial results. Despite the downfall in the company's market capitalization in the first three quarters of 2015, I was surprised by the company's financial performance. The decline in the value of the company's shares was caused by its business model's transition: namely, the company has switched its revenue model from a subscription-based (monthly payments) one to the pay-as-you-go model. This has greatly affected its recent quarterly results.
Nevertheless, MobileIron's annual results for 2015 were better than a year ago:
• Non-GAAP revenue was $147.5 million, up 16% year over year;
• Gross billings were $165.0 million, up 13% year over year;
• Recurring billings, which represented 65% of gross billings, were $107.5 million, up 37% year over year.
• The GAAP net loss per share was $1.07; non-GAAP net loss per share was $0.71.
I believe that through the expansion of its partnership with Google, which provides support for Android and security, which is paramount to enterprise clients, the company will be able to further enhance revenue growth. With the new security features, a company's staff will be able to store business documents and personal data securely in an enterprise cloud storage. This has enabled MobileIron to launch16 new AppConnect enabled applications, as well as helped complete the SOC 2 Type II assessment for MobileIron Cloud with a 100% pass rate across 500+ tested criteria.
What can we expect?
Back in January, the company appointed Barry Mainz as its new CEO. He brings a lot of expertise into the development of the company. Immediately after commencing his duties at MobileIron, he purchased the company's stock:
The shares were acquired at an average price of $3.90 per share, for a total of $199,680.00 transaction. After the purchase, CEO now owns the company's shares worth $3,163,680.

(Source: americanbankingnews.com)
The news sent a positive signal to the market and the company's investors.
On the transition announcement call, Bob Tinker, the resigning CEO, characterized this as a relay race, and said:
Given the financial, the product, and the market position of the company are stronger than ever, I felt that now is the time to bring in an executive who could lead us into the next stage of growth and scale for our business."

(Source: Corporate website)
The new CEO is always a new challenge to a company in a highly competitive market. I think Barry Mainz will bring the company to a higher level. If you look at his business experience, you will see that he has already worked on a few successful projects.
MobileIron has recently announced the launch of MobileIron Access. This system will allow users to store data on their clouds much more securely. The system is designed to provide access control to the enterprise including cloud services such as Google Apps for field work with Office 365 and Salesforce. It blocks access to cloud services from applications and devices that are not authorized to do so and much more. At the moment, no one company provides the same protection data to its customers.
Below are given MobileIron Access's key features:
It is designed to enable access control to enterprise cloud services including ones like Box, Google Apps for Work, Office 365, and Salesforce; Blocks access to cloud services from apps and devices that are not authorized by the enterprise's IT department; It integrates with identity providers (IdP) including ADFS and PingOne It provides visibility into users, apps, and devices accessing the cloud service for auditing and compliance; It supports federated authentication with SAML, the dominant SSO standard.
In 2016, MobileIron's technology will solve a number of problems for the city of Stockholm:
After reviewing the leading enterprise mobility management products on the market, and with the help of our technology partners Tieto & EVRY, we chose MobileIron to securely equip our employees with mobile access to city data and corporate apps to streamline cumbersome processes. Our new mobile strategy has transformed daily government tasks across all sectors."

(Constantinos Amiridis, IT Strategist, City of Stockholm.)
Regarding the company's financial performance going forward, Wall Street analysts expect that MobileIron will post a loss of ($0.41) per share for the current fiscal year.
I believe that MobileIron's capitalization will steadily increase this year until it reaches a level of $6.40 per share. The main catalysts for the growth are:
The new security system, which will help drive and diversify existing revenues; cooperation with the city of Stockholm which will add to the company's brand value and provide steady cash flows; the expected full-year EPS of ($0.41) is quite pessimistic. Any upside surprise will likely drive the company's share much higher. The reverse is also true; the new CEO is extremely fit for the job, as some recommendations on his LinkedIn profile state:

Year to date, the company's shares have shown a dynamic growth for the third consecutive month. The stock has recently crossed the 200-day moving average: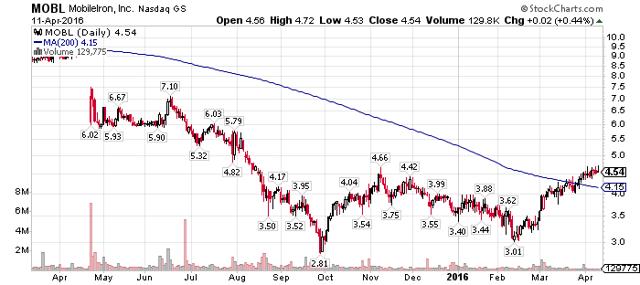 Click to enlarge
(Source: StockCharts.com)
Conclusion
MobileIron has shown poor results for three consecutive quarters and has decided to get onto a turnaround pace by making a few important changes in its management and product line. I believe that MobileIron will survive this transition given its solid balance sheet and strong cash flow generating abilities. This year will likely be difficult for the company from a financial standpoint. However, I believe the new CEO and the strong relationships with government clients will help make the transition period smooth and successful.
Disclosure: I/we have no positions in any stocks mentioned, and no plans to initiate any positions within the next 72 hours.
I wrote this article myself, and it expresses my own opinions. I am not receiving compensation for it (other than from Seeking Alpha). I have no business relationship with any company whose stock is mentioned in this article.