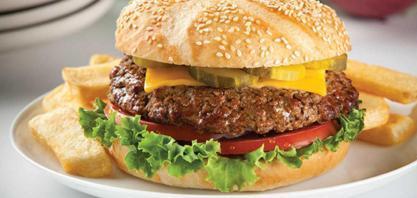 AdvancePierre Foods Holdings (NYSE:APFH) Files S-1 Registration Statement with the SEC
In February, we provided an update on the challenging IPO market and analyzed the proposed initial offering by one of the largest national foodservice distributors, US Foods (NYSE:USFD), here. While the weakness in the IPO market described in the article persists today, we believe a national producer and distributor of branded food products and a key US Foods supplier is poised to outperform following its planned IPO in 2016.
Last week, AdvancePierre Food Holdings filed its S-1 registration statement with the SEC as it plans to launch an IPO. The firm, which is controlled by Oaktree Capital (NYSE: OAK), is a leading supplier and distributor of value-added, ready-to-eat sandwich products, protein products and other snacks with a national scale. The company has grown into a market leader through a series of mergers over the past several years, with the most significant transaction being the 2010 combination of Pierre Foods, Advance Foods and Advance Brands. Following this transformative merger, the company acquired a leading producer of stuffed chicken breasts and other chicken products, Barber Foods, in 2011. More recently, AdvancePierre acquired Landshire Inc. and Better Bakery, two leading sandwich makers.
AdvancePierre now owns an impressive brand portfolio that generated $1.61 billion in net sales in fiscal 2015 (year ending January 2, 2016). The top line has increased steadily since 2011 at 3.4% per year, and AdvancePierre now holds the number 1 or 2 market share position in nearly all of the major product categories that it serves. The company's five largest product categories are: (1) Lunch/Dinner Sandwiches; (2) Philly Steaks; (3) Fully Cooked Hamburger Patties; (4) Country Fried Steaks; and (5) Stuffed Entrees. Combined, these product categories account for 68% of the company's annual net sales. Lunch/Dinner Sandwiches is the largest product category and comprises 21% of the company's annual net sales, and AdvancePierre produces over 600 million sandwiches per year.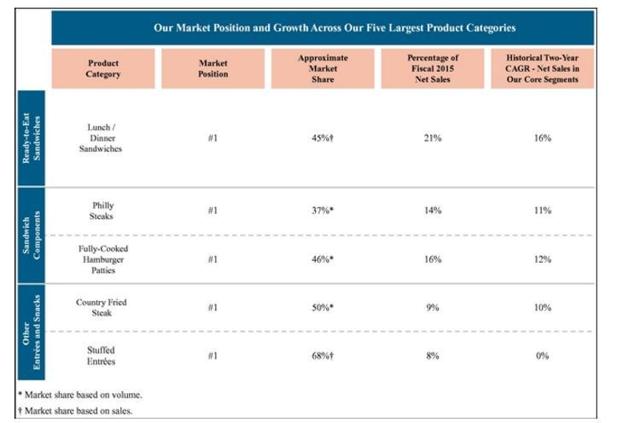 (Source: Company S-1 Filing)
AdvancePierre achieved the leading market position for two primary reasons: (1) the company competes against small and regional competitors rather than larger packaged food companies, because AdvancePierre is focused on foodservice and meeting customers' needs for customized product offerings; and (2) it focuses on product quality, and according to AdvancePierre, "our superior bread quality is an important purchase driver for our sandwiches and consistently beats our competitors in taste tests." We believe these factors have allowed the company to achieve a market share of 45% in lunch/dinner sandwiches, based on net sales in 2015. With solid industry net sales CAGR expected in these product categories over the next several years, AdvancePierre is, in our view, best positioned to benefit from the increased long-term demand.
Furthermore, in our view, the various avenues for growth appear to be very attractive opportunities. For example, we believe the AdvancePierre has the ability to penetrate growing channels, including in the foodservice channel, where the company can distribute its portfolio of products to new customers, such as hospitality providers, coffee shops, movie theaters, and grocery store chains. In our view, if management is able to execute on these growth initiatives, net sales may grow to $2 billion in 2020. However, more importantly customer concentration will become less of a risk for AdvancePierre and its shareholders. Currently, the top ten customers account for 53.4% of the company's net sales, and US Foods alone accounts for 12.0% of its net sales. We believe this is a concern, and we would like to see management further diversify its customer base by penetrating foodservice, retail and convenience clients more aggressively in 2016.
Attractive Margins Likely To Expand As Management Continues to Implement Productivity Initiatives Throughout Production, Procurement and Logistics Processes
AdvancePierre earned a gross profit of $354.4 million and adjusted EBITDA of $260.2 million in 2015. With a gross margin of 22.0% in 2015, this represents a significant increase and margin expansion from just two years ago, when the company earned a gross profit of $230.9 million, or 15.5% of net sales. Similarly, adjusted EBITDA increased substantially over the same period. In 2013, AdvancePierre earned adjusted EBITDA of $163.3 million, or a 10.9% adjusted EBITDA margin. In 2015, the adjusted EBITDA margin expanded to 16.1%. In our view, this is the result of not only realizing cost synergies from recent acquisitions, Landshire and Better Bakery, but also the aggressive steps management took last year to re-align the cost structure of the company.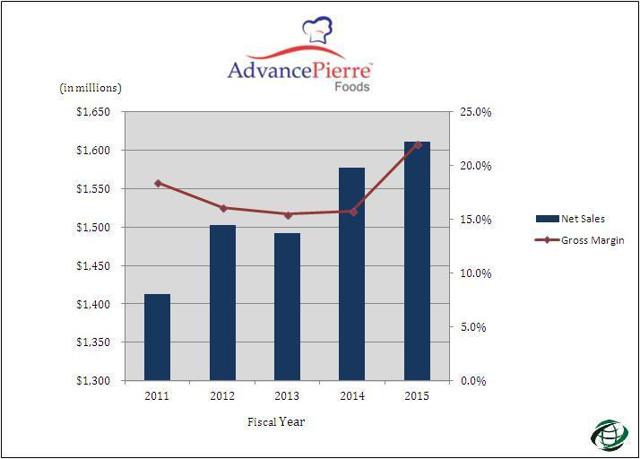 (Source: Company S-1 Filing)
AdvancePierre has a fully integrated production process and seeks to add value throughout the process in key steps, such as recipe formulation, pre-preparation, food preparation, assembly and production. As such, management has the ability to drive productivity and efficiency savings in all steps of the production process. For example, the company achieved significant cost savings from optimizing raw material usage, reduction of plant overhead costs and strategic sourcing of packaging and ingredients, among other initiatives in 2015. In our view, we believe there is further ability for management to expand margins and adjusted EBITDA to the low-20% range. This target seems reasonable and achievable over the next three years. In particular, we believe management's steps to rationalize its robust 2,600 SKUs and eliminating lower margin contracts will provide a decent boost to the EBITDA margins.
The Offering May Value The Company At $2.25-2.5 Billion and Aims To Raise $100 Million; Oaktree to Remain As Controlling Shareholder
With adjusted EBITDA of $260.2 million, a valuation of $2.25-2.5 billion appears reasonable for a market leader that generates substantial free cash flow and has attractive growth prospects. This enterprise valuation would imply an EV/EBITDA multiple of 8.6X-9.6X. We believe this is a reasonable valuation based on public company comparables. With the recent price advance of larger competitors and major packaged food producers, such as the J.M. Smucker Company (NYSE: SJM), Hormel Foods (NYSE: HRL), and Tyson Foods (NYSE: TSN), these companies now trade at EV/EBITDA multiples between 9.3X and 15.8X.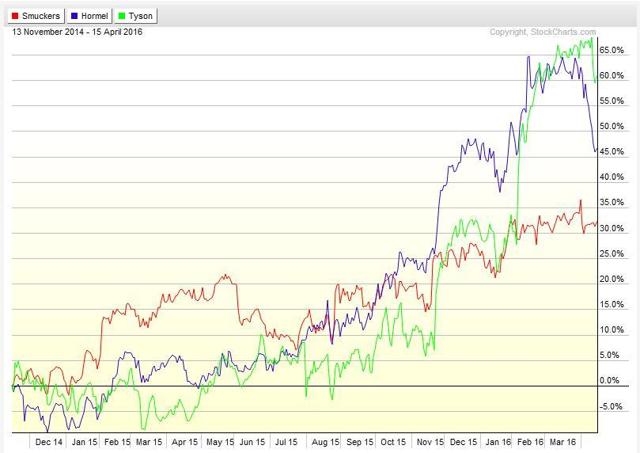 (Source: StockCharts.com)
Following its IPO, AdvancePierre would have the opportunity for multiple expansion as management executes on its growth strategy, revenue approaches $2 billion annually, and EBITDA margins widen to the low-20% range. We believe this scenario is likely and makes this offering attractive for long-term investors. However, we are concerned that the proceeds will likely go to selling shareholders, and that there will not be significant deleveraging as a direct result of the IPO. AdvancePierre currently has $1.27 billion in long-term debt, comprised of $897.3 million in a first lien term loan at 5.75% and $375 million in a second lien term loan at 9.5%. Both term loans mature in 2017, and we believe given the strong cash flow generation, the company will be able to refinance these loans when they come due next year. Despite the substantial leverage, in our view it is manageable, and we expect much of the free cash flow going forward to be used to reduce the company's indebtedness. Overall, we believe long-term investors looking for an attractive opportunity in the IPO should consider AdvancePierre Food Holdings, but should note that the offering is not without risks.
Disclosure: I/we have no positions in any stocks mentioned, and no plans to initiate any positions within the next 72 hours.
I wrote this article myself, and it expresses my own opinions. I am not receiving compensation for it (other than from Seeking Alpha). I have no business relationship with any company whose stock is mentioned in this article.