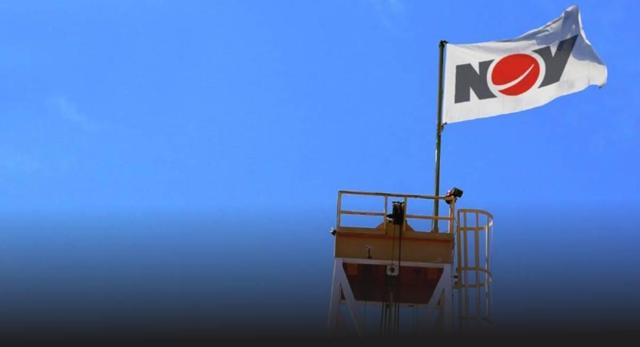 Click to enlarge
National Oilwell Varco (Click to enlargeNOV) recently slashed its quarterly dividend by 89%, offering only $0.05 per share. This dividend cut has further eroded the already shaky confidence of investors in this company. Over the past twelve months, collapsing oil prices and the company's stumbling financial performance have worn down its share price to almost half of its former glory.
In the final quarter of last year, NOV's revenue plunged by 52%, when compared with the same quarter of last year. In addition, the company generated a net loss of $1.52B as opposed to its $595 million profit from the final quarter of 2014. Moving forward, the company is likely to post even worse results, despite the positive movement in oil prices.
E&P companies have been slashing their investments in response to severely depressed oil prices. Last year alone, these companies reduced their planned investments by 50%. They are continuing to cut investments in 2016, to the tune of an additional 40%.
National Oilwell Varco's business model is directly dependent on the activities of these production companies. That explains why NOV's shares have not responded to the 60% rally in oil prices since February of this year. In the last thirty days alone, the company's shares plunged by more than 16% when oil prices were soaring at a healthy rate.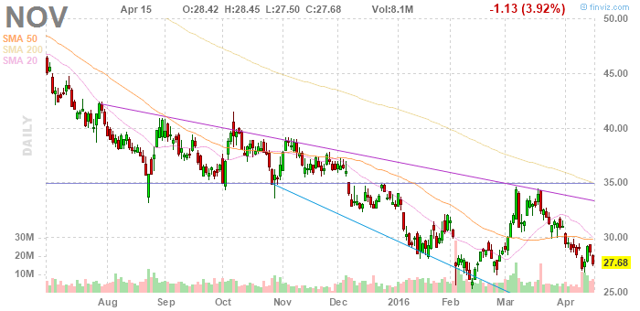 While its business model is affected by oil prices, the latest oil rally has not provided support because prices are climbing only due to reduced supply and declining rig activity, both negative indicators for companies like National Oilwell Varco. By the end of last week, the US rig count had declined by 3 to only 351, its lowest level since 2009. This means stumpy order backlogs for oilfield services companies.
The world's largest producers are looking to curb the global oil glut. Meanwhile, U.S. shale producers, saddled with high production costs, are cutting back on investments and suspending future activities in a bid to ride out the low oil prices.
It must be noted here that NOV's revenue generation will only expand when producers expand their oil supply and increase their investments in areas of growth. Any production freeze will negatively impact the backlog and revenue base. Overall, producers are not looking to invest in growth opportunities; instead they are employing efficiency measures to enhance the cost-effectiveness of existing production volumes.
The future business fundamentals for National Oilwell Varco are bleak. Recently, NOV leaders remarked that they expect to see a drop of 20% in the company's first quarter revenues compared to the final quarter of 2015. I'm expecting a steep fall in its order backlog and financial performance for this year, amid declining rig and production activities.
Final Thoughts
The company has been reducing its cost structure and adjusting its business model to answer the current business environment. This latest dividend cut will add some financial flexibility to the company. However, I believe that the company's stock will remain under pressure for the short-term, amid low order backlogs and a stumbling financial performance. As a result, the company's latest selloff is not providing an attractive entry point, despite the expected rally in oil prices.
Disclosure: I/we have no positions in any stocks mentioned, and no plans to initiate any positions within the next 72 hours.
I wrote this article myself, and it expresses my own opinions. I am not receiving compensation for it (other than from Seeking Alpha). I have no business relationship with any company whose stock is mentioned in this article.