Although the share price has climbed over 7% in the last 30 days, we still believe that now is a great time to pick up shares in MasterCard (NYSE:MA). Year-to-date the global payments behemoth is still in negative territory and trading at what we believe to be a discount to rival Visa (NYSE:V). We expect both shares to provide good shareholder returns this year, but MasterCard might just be the pick of the two.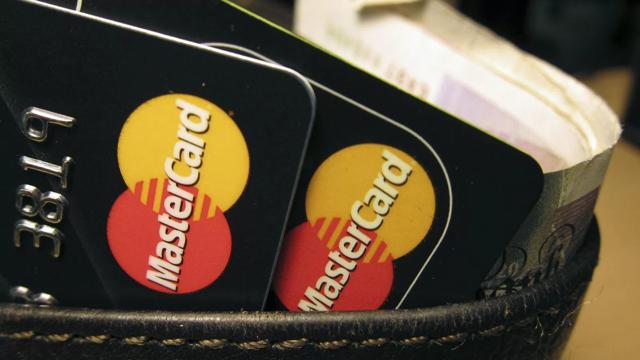 Click to enlarge
Well, earnings season is here and next week sees Visa report their much-anticipated second quarter results. Visa's stock has underperformed this year, but a recent rally has now taken it into positive territory at long last. We are very bullish on its second quarter results and it appears the market is also, judging by the rally.
We are already long Visa, but until recently had not taken a position in MasterCard. But this changed last week, as we do believe MasterCard's stock is undervalued at present and a good second quarter result from Visa could be the catalyst to taking MasterCard higher ahead of its own results a week or so later.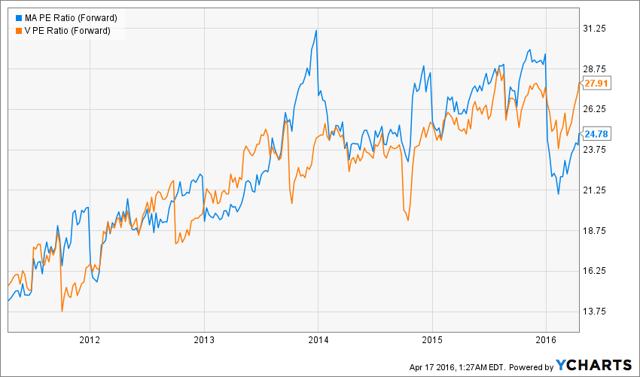 Click to enlarge
Despite the fact that it has climbed recently, MasterCard is still trading at one of the lowest forward PE ratios in around 18 months. As well as this, the gap between the two stocks' ratio has widened somewhat and we feel any positive news could help boost MasterCard's share price and close the gap. This positive news could well come from Visa's results this week if its management team paint a positive picture of the industry and its outlook.
As we said at the beginning, we are invested in Visa as well, but right now we are expecting MasterCard to deliver a better return on our investment than Visa. We plan on holding Visa for the long-term, so we are not about to sell any time soon. But given the choice, we would be buying MasterCard ahead of Visa.
The transition to its EMV cards has been very pleasing and has now reached 67% of all US cards. Not only does the chip technology in the cards reduce levels of fraud, it also encourages card usage in our opinion. There are 1.2 million merchant locations in the US that are able to accept the cards, which is growing by the month. As PayPass reduces costs per transaction due to cash handling, security, and transportation costs, merchants are embracing the technology. This can only be good news for MasterCard and Visa.
We believe PayPass encourages higher levels of transactions on cards because low-value transactions are accepted. Because of this, we feel the technology is conditioning consumers into leaving cash at home and using their cards at every opportunity. So much so we seldom, if ever, carry cash around with us anymore. MasterCard may only earn a fraction on these smaller transactions, but they soon build up and should support the fantastic transaction growth we have been seeing. Transactions were up 12% in Q4 FY15.
On a macro level, things also look very positive. The growth in the US workforce should be a boost to Visa and MasterCard. More employed persons should mean more consumption and more transactions being handled by the two companies. The recent weakening of the US dollar will be a relief as well. In the fourth quarter of FY15 the company's net revenue increased by a solid 4%. But without the FX headwinds it would have grown by 9% YoY. If the Fed only raise interest rates once this year then the US dollar may not strengthen a great deal, giving MasterCard's top line a step up.
Due to the shares being reasonably cheaper than Visa, we see significant upside ahead if the company beats on earnings. The expectations are certainly lower due to rebates and incentives. Analysts have forecast earnings per share to be 85 cents, compared to 89 cents a year previous. We would not be surprised to see this get hit out of the park, although it may be the second quarter where things really start to kick off.
For the full year we forecast MasterCard to deliver earnings ahead of the consensus forecast of $3.53, as long as the US dollar remains relatively weak. If this is the case then we expect earnings in the region of $3.60 per share. At 29x earnings this gives us a target price of $104.40, providing investors a return of around 8%.
Whilst an 8% return might not be enough to get readers excited about, it is worth considering the future earnings growth that is likely to take the share price much higher. CEO Ajay Banga has stated on the most recent analyst call that the company is intent on growing its earnings at a CAGR in the mid-teens from FY2016 through to FY2018.
Furthermore, the opening up the Chinese market is a mouth-watering prospect. We believe it is best to lower expectations on it. There will be a long road ahead and UnionPay have a real hold on the market. But even a small market share could prove very lucrative and is worthy of the investment.
We feel MasterCard and Visa represent two companies which are more than worth holding onto for the long-term. Shareholders have been rewarded for doing so in the past, and we expect they will be again in the future.
Disclosure: I am/we are long MA, V.
I wrote this article myself, and it expresses my own opinions. I am not receiving compensation for it (other than from Seeking Alpha). I have no business relationship with any company whose stock is mentioned in this article.