Click to enlarge
Honeywell (NYSE:HON) has been on a great run since the great recession, as it has managed to return +385%. Honeywell has been actively acquiring companies to improve its various different business segments. Honeywell is a very diversified business which specializes in many different areas such as aerospace, automobiles, chemicals, and industrial controllers. Honeywell has a terrific strategy that drives the synergies of their acquisitions by improving operational efficiency through improving margins and cutting costs. I believe Honeywell's stock has major upside going into the latter part of 2016 due to many tailwinds such as rebounding oil and gas prices, solid long term growth prospects in the aerospace segment, and Honeywell's proven ability to drive efficiencies across all of its segments.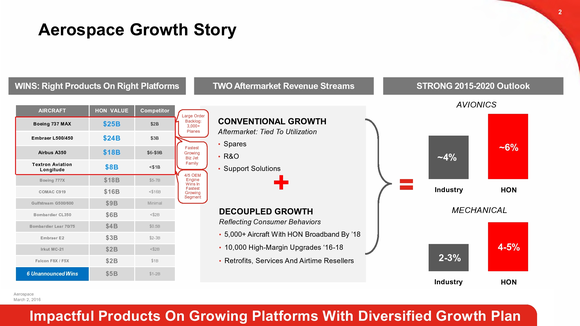 Software and industrial internet of things growth will drive aerospace and ACS sales in the long term
In 2020, it is expected that over 60% of aerospace sales and 74% of ACS (automation control solutions) will come from products with embedded software. Honeywell looks well positioned in this department, as almost half of its engineers are software developers. For industrial companies like Honeywell, whoever has the best industrial software embedded in their products will be the ones to thrive in the future, as nearly all new industrial products will have embedded software within them. The performance, materials and technologies division is also expected to get 22% of sales from products with software embedded in them. Honeywell management expects 77% of its growth in the medium to long term to have some software component within it.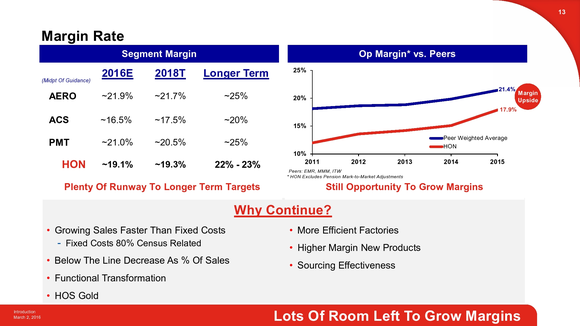 Honeywell is actively improving operational efficiency
Honeywell is constantly investing in improving its efficiency, and cutting its costs in order to achieve this. Last year, $160 million was spent on restructuring that was estimated to increase operating margin by just 2.2%. Honeywell knows that this investment in improving efficiency will benefit them in the long term, and this is the strategy that has helped Honeywell outperform the market for so long. Honeywell has a great bottom line because of its relentless improvement strategy, and this strength will be what will give Honeywell fantastic earnings going forward, even if sales aren't soaring. Honeywell's guidance sees a 10% improvement to its bottom line through investment in improving operational efficiency.
Rebound in oil and gas will give Honeywell's energy operations a boost
Honeywell currently has 14% of its sales from its energy division which relies on oil and gas prices. With the current rally in oil prices, it can be expected that Honeywell's energy division will get a much needed boost, which will bump up its earnings in the medium term. Most of Honeywell's energy revenue comes from downstream operations, which is less sensitive to oil prices. Cote predicts Honeywell will earn $200 million in revenue growth in 2017, as oil and gas prices rebound to historical norms this year.
Conclusion
Honeywell has very promising growth going forward with their focus on including great embedded software in their industrial products. The company realizes that their growth from many of its segments like aerospace and ACS will come from innovations in the software development side, so they have really capitalized on it by hiring a large number of software engineers. I believe Honeywell is poised to outperform for the long term, and their investment in operational efficiency will boost their earnings, even if sales remain flat, which I suspect they will not given Honeywell's impressive guidance. The stock currently trades at a 18.97 P/E ratio, with a 4.8 P/B ratio and a 1.9% dividend yield. The valuation seems very fair at current levels, as its metrics are in line with its historical averages. Honeywell is a very high quality name and would make a great pickup whenever the market experiences a pullback.
Disclosure: I/we have no positions in any stocks mentioned, and no plans to initiate any positions within the next 72 hours.
I wrote this article myself, and it expresses my own opinions. I am not receiving compensation for it (other than from Seeking Alpha). I have no business relationship with any company whose stock is mentioned in this article.