Caterpillar Inc. (NYSE:CAT)
As we all know the commodity super cycle is going south. Prices are low in every basic material and mined mineral in the economy. This means the market outlook for Caterpillar is pretty bad right off the bat.
When you add the fact that Chinese growth is slowing and U.S GDP growth is trending downwards things begin to look downright bleak.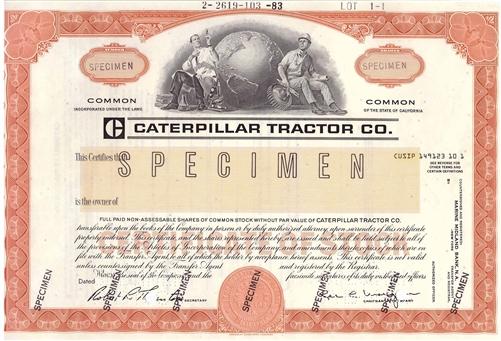 But Caterpillar is still a good company, in fact it is one of the best dividend paying companies out there.
So what looks like a bad thing is actually an opportunity. If this stock continues to slide downwards it will present an excellent chance for new investors to get into a rock solid dividend aristocrat at a bargain price.
First, The Bad:
Commodities are in a rut and this situation will not be ending any time soon.
The outlook for industrial production is not much better. A significant possibility of recessions in the U.S and China make this situation even worse. As a result Caterpillar's revenue per share has been declining and the company has seen its operating income decrease for the past three years. In addition, Caterpillar has been increasing its total debt load massively.
The Good:
The dividend is safe. Caterpillar is sitting on over 6.4 billion dollars in cash and current assets. They have shareholder friendly management team that has shown commitment to maintaining and growing the payout for almost 20 years.
The massive cash position insures that the payment can be maintained for however long it takes to weather negative economic conditions. They did it in 2007-2009 and they can do it again.
The cash position has been growing steadily: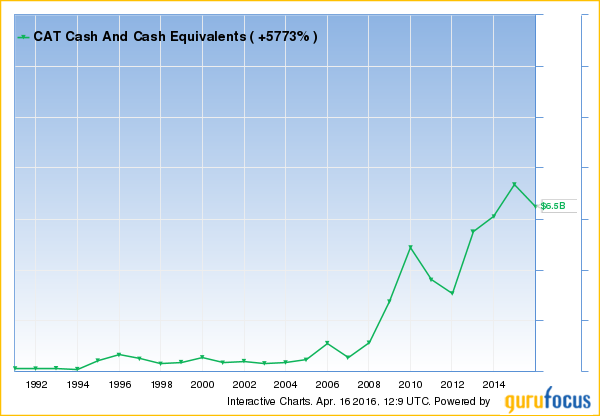 Free cash flow remains steady at around 3.4 billion in 2015 and is enough to cover the payments.
Free Cash Flow vs. Dividends per Share: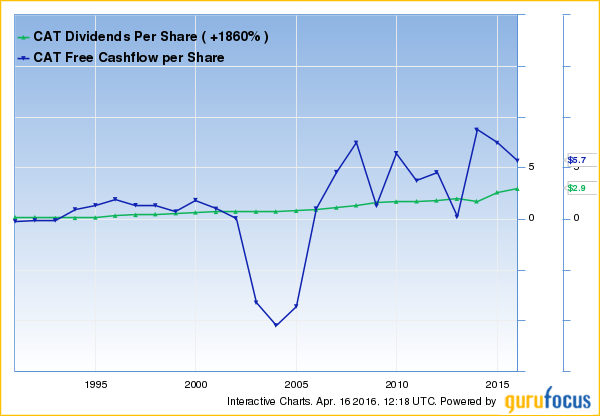 All that being said, Caterpillars payout ratio is quite large, reaching .84% this year. It peaked at 112% in 2007 and that is the highest it has ever been.
The high payout ratio shows that the company is in a great deal of stress, and unfortunately I expect this payout ratio to get even higher and probably top 100% before the commodity cycle reverses.
Garage Sale dividend stocks:
Even for those who are currently long on CAT, the dropping share price is not really a big deal. In my opinion a stock like Caterpillar should be held forever for the significant dividend increases and reliable income. The yield has tripled in 10 years, going from .25 per share to .77 per share from 2006 to the present. I think there is little reason to sell this stock if you already own it. The only hard part is knowing when to buy
When dividend stocks go down their yields go up or get cut. When you are looking at a company like CAT, where the likelihood of the payout being cut is minimal, a large drop in price is a magnificent opportunity. Usually you have to wait until a recession to pick up stocks like caterpillar at 5-7% yields, (although I believe the current commodity prices are simply a prelude to recession.)
Caterpillars yield peaked at 7% in 2009, I believe this opportunity is coming once again. The blue line represents dividend yield while the green line represents stock price. When the blue line over-takes the green line BUY.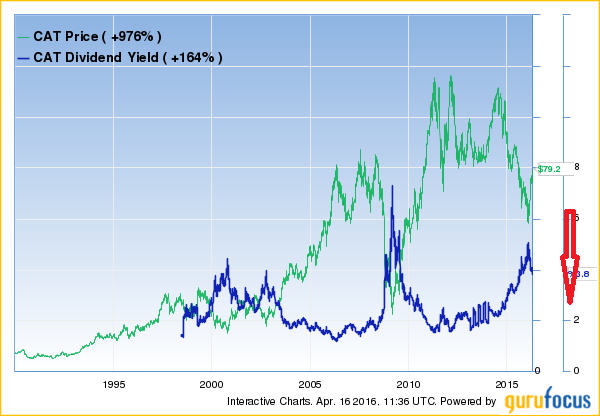 A reminder of why we all love dividend stocks.
CAT price vs. total return: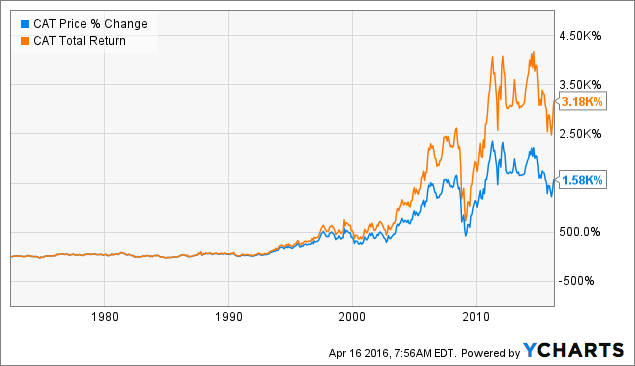 The total return is almost 3x greater than the current price. So yes, who cares what the price does, the dividends are what really matter. The way I see CAT is this: If you are holding keep holding, if you are looking to get in, wait until the garage sale and when you do buy, hold it forever.
Data from: Gurufocus and SEC edgar.
Disclosure: I/we have no positions in any stocks mentioned, and no plans to initiate any positions within the next 72 hours.
I wrote this article myself, and it expresses my own opinions. I am not receiving compensation for it (other than from Seeking Alpha). I have no business relationship with any company whose stock is mentioned in this article.