Alcoa (NYSE:AA), is the world's largest bauxite miner. Bauxite, for the record, is the input to create alumina (aluminum oxide), which is then transformed into aluminum metal. With a new $350 million dual-contract annoucement, Alcoa is starting to lay the groundwork for a strong upstream segment after the split in 2H 2016. The financial impact of these contracts is menial, but they speak volumes about the direction of the segment.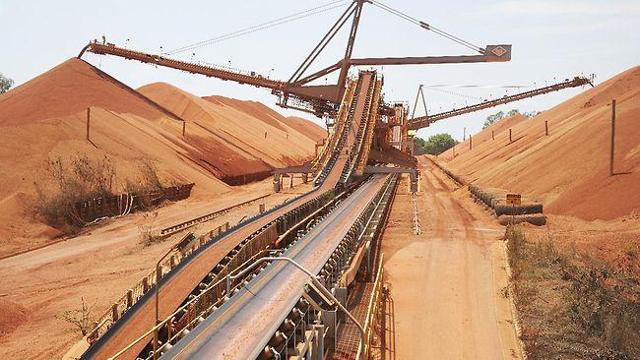 Click to enlarge
A Welcomed Relief
Alcoa has seen a real pickup in the quantity of contracts over the last twelve months, as they relate to the value-add segment, now named "Arconic." Such contracts are with Boeing (NYSE:BA), Airbus (OTCPK:EADSF, OTCPK:EADSY), and Ford (NYSE:F).
However, this is the first time that we're seeing the upstream gain meaningful contract strength in the LTM. This sets a new tone for the upstream segment in that the company is now seeing more demand for raw aluminum. This comes at a very important time for Alcoa, as it now complements the rapidly growing Arconic, which is growing thanks to increased acquisitions and strong aerospace and automotive demand. That segment saw a 6.7% increase and revenue. Aerospace sales, alone, were up 14% YOY.
With these contracts, Alcoa won't be receiving the full benefit and that's important to know moving forward. These contracts were structured under Alcoa World Alumina and Chemicals ("AWAC"), for which Alcoa only has a 60% interest in. Thus, 40% of value from these contracts is going straight out the window. That's $140 million of bread off the table. The party with the other 40% interest is Alumina Limited of Australia. This is a joint venture between the two companies. However, a reduced amount is better than no amount and a $210 million addition to the top line over the life of the contract will be helpful in offsetting some of the losses experienced in the upstream segment in the LTM.
To put the positive impact of these contracts in perspective, recall 2016 earnings. Revenue is down 32.2% YOY at $1.7 billion for the upstream segment. These contracts, if split equally, provide $105 million in revenue over the next two years. If revenue were to remain constant in 2016 and 2017, the contracts add a 1.5% increase revenue each year. This is a small addition, but nonetheless important from a non-financial standpoint.
Why The Contracts Are Important
Bauxite production in 2015 for Alcoa was 38.3 million bone dry metric tons (bdmt) and separate mines produced 7 million bdmt, for a total of 45.3 bdmt. Fortunately for Alcoa, their mines all have useful lives of over 20 years, which really shows the potential strength in contracts that could come when the cyclicality of declining demand phases out and the supply/demand balance is restored. This speaks volumes about the potential long-term success of the upstream segment as not only does the announcement of new contracts cause increases in Alcoa's equity, but longer-term positive earnings generation from aluminum demand will create meaningful appreciation in shares.
Below you can see a breakdown of Alcoa's current bauxite mining and trading operations. The interests are as they relate Alcoa's portion of earnings (i.e. 100% = 100% of revenue from a contract).

Click to enlarge
Source: Adapated from 10-K
Note: Alcoa stopped production at the Suriname mine in Q4 2015, and currently does not have plans to reopen this mine.
It's clearly visible that Alcoa has a significant amount of proven resources and given the long lives of the mines, the company can effectively find customers to support a steady stream of production. Being the largest bauxite supplier, they have incremental price control over their competitiors. Additionally, the 100% ownership interest in two separate Brazilian mines is key in gaining the total revenue benefit.
Investor Takeaway
Alcoa has the largest bauxite presence in the world and the most proven and probable reserves. So, what does this mean for the company's bauxite business going forward? Now that it's clear to shareholders that this company is capable of finding high-value, earnings boosting contracts like these two through AWAC, the upstream segment now has a significant amount to offer on a long-term basis.
Shareholders, current and prospective, need to understand the relevancy of these new contracts. News of contract growth, like the one announced last Wednesday, causes strong pops as AA was up nearly 2% in that session. Additionally, the stock increased another 4% in last Thursday's session before slightly scaling back with the broader market. These contracts are the incremental pushes that Alcoa's stock needs to offset 2015 losses.
Below is AA's performance YTD. Since early March, AA has been stagnating after a strong pickup out of the January 20 lows. Going forward, if Alcoa can successfully leverage its size and proven reserves to gain multiple bauxite contracts, then Alcoa can break out of stagnations like the one seen below, allowing for meaningful share appreciation. That's why I believe there is such a strong reason to take note of these types of contracts coming in.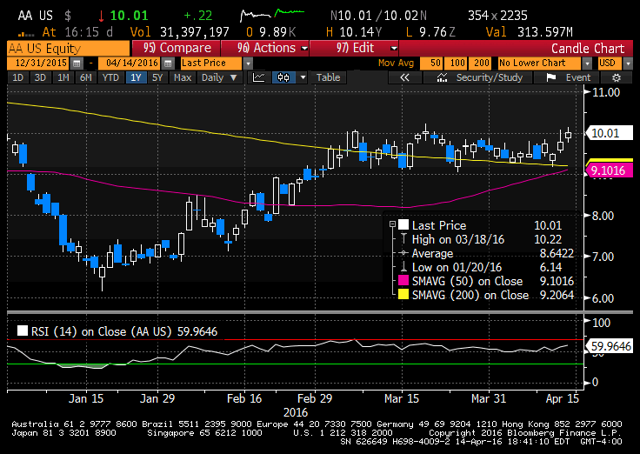 Click to enlarge
Source: Bloomberg
Conclusion
Alcoa needs to continue its streak of contract growth in both the upstream to look balanced relative to the value-add. I believe the sheer pickup in contract volume is a reason to be bullish now and post-split, especially with aluminum prices well below the five-year average. The first financial impact of these contracts will be witnessed on the Q2 2016 earnings report.
Disclosure: I/we have no positions in any stocks mentioned, but may initiate a long position in AA over the next 72 hours.
I wrote this article myself, and it expresses my own opinions. I am not receiving compensation for it (other than from Seeking Alpha). I have no business relationship with any company whose stock is mentioned in this article.