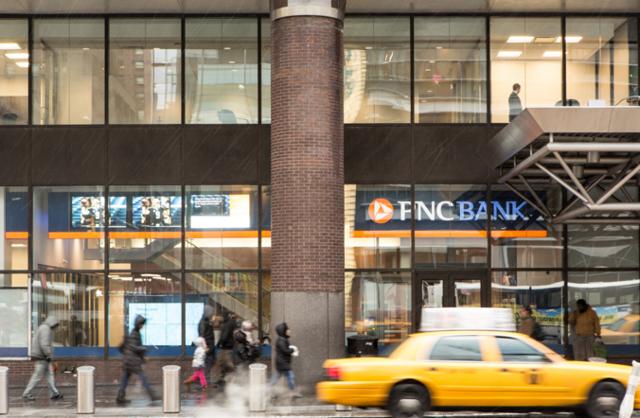 Click to enlarge
PNC Financial (NYSE:PNC) has long traded for a multiple I didn't think the company deserved as it has continued to underperform its regional and TBTF rivals on a variety of levels. After the stock fell from $96 to $86 in very short order, I said back in January that PNC holders were paying for growth that wasn't coming. Indeed, that has been the story for sometime with PNC as the bank's performance has been marginal at best but it has long sported an above average or even premium multiple. This situation must be rectified and given that Q1 earnings were weak (again) and failed to provide a spark for bulls, it seems my thesis of revaluation lower is set to play out.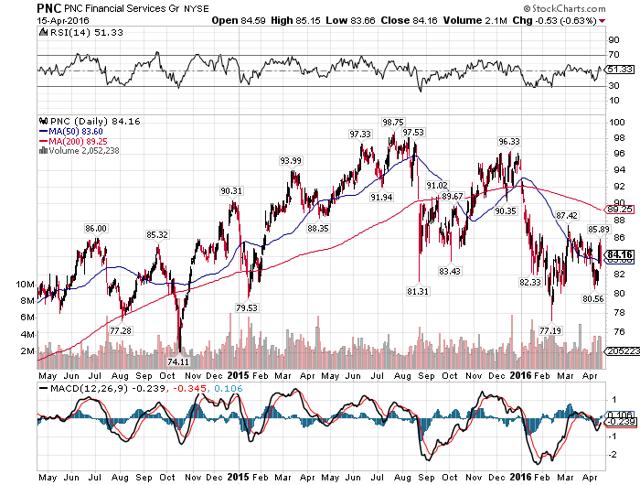 Click to enlarge
My issue with PNC in the past is that its results weren't close to good enough for the company to trade with multiples on par with WFC or the other great franchises in banking. Wells trades at a premium because it is one of the best and well managed franchises in the banking world; PNC isn't close to that. PNC's fundamentals have been deteriorating for some time as revenue and expenses are converging, crimping profitability and reducing the earnings growth trajectory. This is not the hallmark of a company that deserves to trade at a premium multiple.
PNC's Q1 saw many of the same traits that made me bearish in 2015 but to its credit, a lot is going right as well. Net interest income was up just 1% as loans were up by the same amount but NIM fell 7bps to 2.75%. That level of NIM is fine and while it is certainly higher than Bank of America, it is lower than Citi and most of the other big regionals. PNC's NIM is average at best for a regional and the fact that it fell by 7bps is actually a little concerning; will it continue to fall so long as the Fed doesn't raise rates? Other big banks have seen stable NIM for several quarters now and PNC's drop is the largest I've seen so far this earnings season.
More importantly, PNC's noninterest income was down a whopping 6% as all of its major noninterest income segments were pummeled with the exception of consumer services. The residential mortgage business fell off of a cliff, ceding 39% during the quarter. PNC's fee income weakness is another big red flag as this has been a source of stability and growth for other banks; if PNC's NIM is falling while rates are stable and its fee income is producing sizable declines, where is revenue going to come from?
To its credit, noninterest expense actually fell 3% during Q1. This was a source of angst for me last year as PNC consistently posted higher expenses against lower revenue and while the latter piece is still in place, lower expenses go a long way towards improving profitability. And considering PNC's revenue picture is so very weak, it can use every penny it saves to be certain. I'll be keeping a keen eye on PNC's expenses as it continues to report this year because for a bank with so many headwinds to profitability, expenses are the easiest thing to control. It needs to keep up the good work here.
Energy exposure is the big topic in bank earnings this quarter and as it turns out, PNC's exposure is fairly light. NPAs were up 5% as provisions rose to $152 million against $74 million last quarter and only $54 million a year ago. Provisions have been universally ugly in the banking space so far this quarter so no one blames PNC for posting a high number. But like the other banks that have reported so far, PNC's number is very manageable and assuming this is most or all of the necessary provisions for energy exposure this year, PNC is still in good shape there.
Part of the reason why PNC trades for premium multiples is that it creates earnings on its asset base more effectively than some other big banks. Its ROA in Q1 was 107bps, an impressive number when stacked against TBTF turnaround stories like BAC or C. But that number was also down 10bps against last year's number despite the fact that expenses fell nicely during the quarter. The company's revenue picture is very weak indeed and in particular, fee revenue really put a damper on the quarter in addition to lower NIM. PNC's ROA is still a nice number but that is a huge decline.
At 1.29 times tangible book value, PNC trades on par with WFC, the most expensive TBTF bank by a wide margin. This is a premium multiple in today's environment that routinely sees solid banks trading at or below their tangible book values and while I'm not opposed to paying this much for a premium franchise, PNC is not that.
In addition, analysts were quick to lower their earnings estimates for this year this week and despite that, the stock is still trading for 11.7 times this year's earnings. That's a lofty valuation as well and in particular, when you consider that the revenue picture is still very weak for PNC. Expenses came down this quarter and that helps but it needs to figure out a way to get its fee revenue streams back up and running and to stop ceding NIM; PNC's revenue picture is very weak and I'm not sure analysts have cut their estimates far enough yet.
Overall, not much changed for the better for PNC in Q1 as it still exhibits many of the same weaknesses it did last year. Unfortunately for PNC, the revenue picture is getting worse - not better - and the only silver lining is that its expenses came down in Q1. Otherwise, there really wasn't anything to like and I don't see any upside catalysts here. PNC will drift lower in 2016 as investors and analysts come to terms with the fact that the stock is still too expensive.
Disclosure: I/we have no positions in any stocks mentioned, and no plans to initiate any positions within the next 72 hours.
I wrote this article myself, and it expresses my own opinions. I am not receiving compensation for it (other than from Seeking Alpha). I have no business relationship with any company whose stock is mentioned in this article.