How many times have you heard an analyst or a management team say that an upcoming merger or acquisition will create value for an acquiring company? Many investors make decisions based on the belief that synergies (i.e. economies of scale), access to new markets and competitive gain created by M&A justify an acquirer paying a 20% or 30% premium (or more) to purchase the equity of a target company.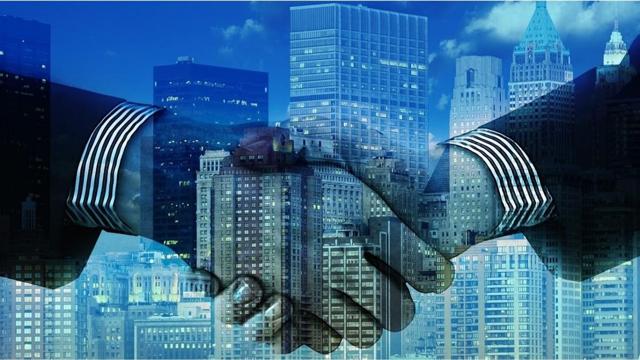 Credit: Seeking Alpha
This perception exists even though studies suggest that M&A activity "more often appears to destroy, rather than enhance, value for the acquirer shareholders."
With M&A activity in 2015 being the hottest it has been in the past 15 years at least, and with "almost 60% of executives expected to carry out acquisitions in the next 12 months", I decided to investigate this matter a bit further. Looking at the 20 largest mergers and acquisitions of the past three decades (1990s, 2000s and 2010s), I calculated what the deals have generated in incremental ROE (return-on-equity) and in stock price appreciation over the five-year period following the announcement of each of them - or to date, if the activity happened less than five years ago. This analysis seems to be very relevant during a time when market leaders get deeply involved in sizable consolidations. Think of Pfizer (NYSE:PFE) and Allergan (NYSE:AGN); Nokia (NYSE:NOK) and Alcatel-Lucent; and Halliburton (NYSE:HAL) and Baker Hughes (NYSE:BHI) as examples.
My findings, discussed below, point to one conclusion: mega mergers and large acquisitions tend to be, on average, value-destroyers for the acquirer company, rather than value-creators.
Mega mergers: not a good deal for the acquirer
The 20 largest mergers and acquisitions of the 1990s-2010s have moved $1.8 trillion in cash and equity, for an average price tag of $90 billion per deal. The table below summarizes what each deal created in ROE improvement and stock price appreciation.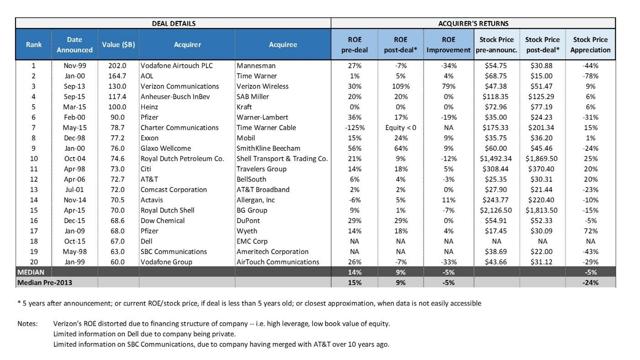 Source: DM Martins Research, using compiled data from multiple sources
On average (and for the purposes of this study I have used "median" instead of "mean", to properly discount the weight of the outliers), both ROE and stock prices of the acquirers involved in the top 20 mega mergers have declined 5-percentage points over the five-year period following the announcement of the deals (or between announcement date and today, in the case of more recent activity). If I exclude all deals announced between 2013 and 2015, since they may be too recent to generate and reflect the expected benefits, the results have been even worse: 5-percentage point decrease in ROE and 24% depreciation in stock value, on average. Against the performance of the S&P 500 (NYSEARCA:SPY), shares of the acquirers involved in the top 20 mega mergers have underperformed the index by a cumulative 12% (i.e. not an annualized number) per stock, on average.
A closer look at each line item, however, reveals that not all M&A deals have produced dismal results. For instance, the December 1998 merger of Exxon and Mobil (NYSE:XOM) created a more profitable energy giant (24% ROE post-merger, vs. 15% pre-merger). And while the stock's 1% cumulative appreciation between December 1998 and December 2003 may seem timid, it was in fact much better than the broad market's return of minus 10% over the same period.
A "close cousin" in terms of timing and results, the 1998 acquisition of the Travelers Group by Citi (NYSE:C) drove a 5-percentage point improvement in ROE and stock appreciation of 20%, when the S&P 500 produced returns of minus 21%. Notice that neither of the successful pre-tech bubble deals involved technology companies.
Another interesting observation is that all unsuccessful mega mergers were announced during a period of white-hot M&A activity, between January 1999 and July 2001 - ahead of (and during) the short-lived recession of 2001. Out of the 20 mega deals, 9 were either unsuccessful or generated no more than mixed results using my criteria, while only 3 were successful, and 8 are still too early to call (post-2013 deals). Considering that "mixed results" is usually not a desired goal of a merger or acquisition, we are looking at a 3-to-1 failure-to-success ratio.
The figure below illustrates the timing and measured level of success of each merger/acquisition, plotted against the evolution of the federal funds rate since 1990.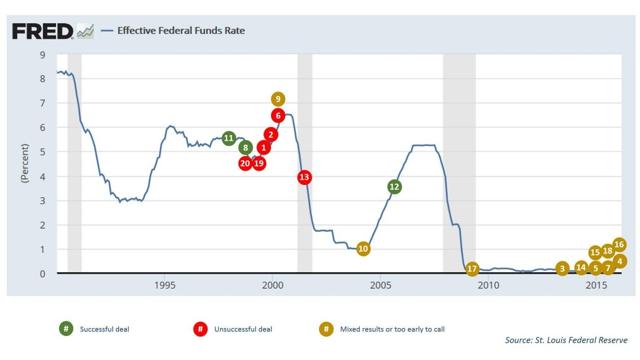 Source: DM Martins Research, using data from St Louis Fed and in-house research material
Other considerations and final words
Of course, I cannot associate ROE changes and stock price performance with the value created or destroyed by the mega deals alone. There are other important factors at play. For instance, was the sharp drop in Vodafone's (NASDAQ:VOD) ROE between 1999 and 2004 caused by a failed acquisition of Mannesman, or by the bursting of the tech bubble in 2000 and by the recession that followed? In addition, mega merger failures may be biased by the fact that large companies in mature and declining industries might be more likely to seek deals than healthy, fast-growing ones.
Also, the failure of most 1999-2000 mega mergers don't seem to provide any solid indication that the mega deals of 2015-2016 will also fail. Notice, from the graph above, that the 1999-2000 period was one marked by relatively high interest rates and stood near the edge of an upcoming recession. The 2015-2016 period is one of record-low interest rates and seems to precede, based on predictions by the World Bank, a period of stronger global economic growth. So there seems to be no more similarities between the two periods than there are differences.
But while the cause-effect dynamic between the results of M&A activity and future company/stock performance is not perfect, it is still telling and thought-provoking. At the very least, my findings presented on this article will make me pause and reflect more next time I weigh the pros and cons of one of the few mega mergers still likely to be announced in 2016.
Disclosure: I am/we are long SPY.
I wrote this article myself, and it expresses my own opinions. I am not receiving compensation for it (other than from Seeking Alpha). I have no business relationship with any company whose stock is mentioned in this article.