Fannie Mae (OTCQB:FNMA) and Freddie Mac (OTCQB:FMCC) were placed into conservatorship by their regulator, the Federal Housing Finance Agency (FHFA), in 2008. The Housing and Economic Recovery Act of 2008 (HERA) is the statutory law governing the actions of FHFA. The purpose of this article is to outline some of the more intricate points that surfaced during the oral arguments. For starters, it appears that the judges had done their research and were very informed on the specific issues that differentiate Lamberth's interpretation of conservator powers from those that have been established by conservatorships governed by the FDIA, which HERA was modeled after.
Investment Opportunity In Brief: In the event that judges rule in the favor of plaintiffs, the upside on the common shares, according to William Ackman and Richard X. Bove, is $20. That assumes the warrants are exercised. Personally, I own the preferreds, which can be expected to trade to par at some point in the future if the companies are allowed to retain capital. Judge Millett appears to play devil's advocate throughout oral arguments, allowing the plaintiff lawyers to systematically disenfranchise the court of public opinion that says the GSEs are a broken business model. I can hear the sarcasm when Judge Millett says, "I just don't know how it works." The reality I see is that she knows exactly how this all works, and she's making sure that plaintiff lawyers nail this down from every foreseeable angle to make this an airtight ruling.
Overview - Plaintiff Lawyers Covered All The Bases
Judge Millett appears to be the most favorable for plaintiffs. The reason she is asking every question is not because she doesn't know. Her progressive line of questioning demonstrates that of all the judges, she has been studying Lamberth's dismissal and Carney's arguments at The WSJ. By forcing plaintiff lawyers to step-wise dismantle all of the arguments that support the legality of the net worth sweep, plaintiffs were forced to provide legal arguments undermining the net worth sweep.
Judge Millett left no stone unturned in plaintiffs' arguments and I look forward to a ruling that brings home the proverbial bacon. That is to say that I don't think we need an administrative record to tell us that an agreement that sweeps the net worth away from a private company is not within the powers of a conservator, much less a receiver. In fact, defendants' claims that alternatives (such as receivership) would have been worse for GSE equity holders is false. In receivership, GSE equity investors would not have been subject to FHFA accounting manipulations, and the US Treasury would not have been able to expropriate over $100B and counting.
I will concede that plaintiff lawyers appear to have strategically left whether or not the third amendment net worth sweep could have been entered into during receivership, how this is resolved if the net worth sweep is voided up to the district court, and whether or not this entire issue will be resolved or whether we'll just see this remanded back to the district court up for grabs.
"Close Enough" - Two Out Of Three Judges
The most interesting exchange during the oral arguments was between defense lawyers and the judges:
Judge Ginsberg:
When the third amendment was announced, Treasury said we're going to wind this thing down, we're going to kill it, we're going to drive a stake through its heart, we're going to salt the earth so it can never grow back.
Mark Stern:
I don't remember that language.
Judge Brown:
Close enough.
That pretty much wraps it up. Two judges have to agree on one single opinion, and I'm counting two that view what transpired in the same context as slaying vampires. It remains to be seen whether or not the periodic commitment fee (PCF) was part of the original PSPA and waived up until 2012, because the net worth sweep was planned in advance.
Top 10 points and links to audio:
My favorite point is #4, where Judge Ginsberg says, "I don't know why we should go any further than that."
My advice is that if you own GSE equity securities, you listen to the entire thing. The biggest point here that was outlined verbally by Theodore Olson: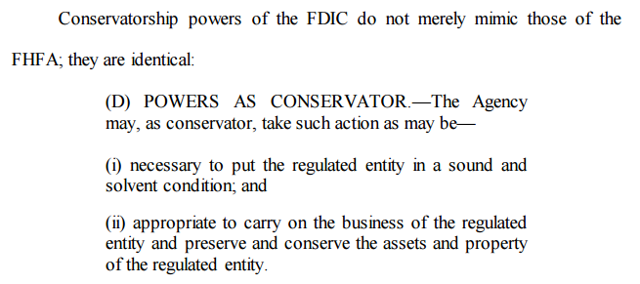 Click to enlarge
Nowhere in there does it make sense to enter into or amend an existing agreement that makes the above impossible. I think this concept has been outlined and rebutted three separate times (one, two, three). This part of the statute was omitted from Lamberth's dismissal.
Transferring the net worth of the GSEs in perpetuity is diametrically opposed to conservatorship powers, and as such is being contested by plaintiffs. Judge Millett's line of questioning allowed Ted Olson to circle the wagons around this concept.
Unsealed Reply Brief
In addition to oral arguments, we can now see that Mario Ugoletti backtracked on his earlier sworn declaration:

Click to enlarge
This doesn't come as a surprise to anyone following the accounting closely, which wasn't really discussed during oral arguments at all. The reason there were one-time profits that Judge Millett was pointing out was specifically because there were one-time losses engineered by FHFA, so that the GSEs would have to issue preferred stock to Treasury.
One thing that I confirmed from the oral arguments is that whether or not the GSEs were facing a massive wave of profitability appears irrelevant in the context of Judge Lamberth's opinion that FHFA could have entered into the net worth sweep on the first day of conservatorship. This line of thinking seemed to be the driving force behind Judge Millett's questioning, which is why it may feel abrasive or conflicted to the innocent bystander just listening in. Fear not, for Judge Millett's questioning advanced plaintiffs' arguments by allowing them to point out exactly where they disagree with specific parts of Lamberth's dismissal and why. This is going to be important as the Panel of Judges develops their own opinion.
Amended Redacted Christopher M. Roberts and Thomas P. Fischer Complaint
This is an amazing amended complaint. My favorite part is in the middle, where they point out that FHFA's accounting is the chief reason for the massive GSE preferred stock issuances to Treasury: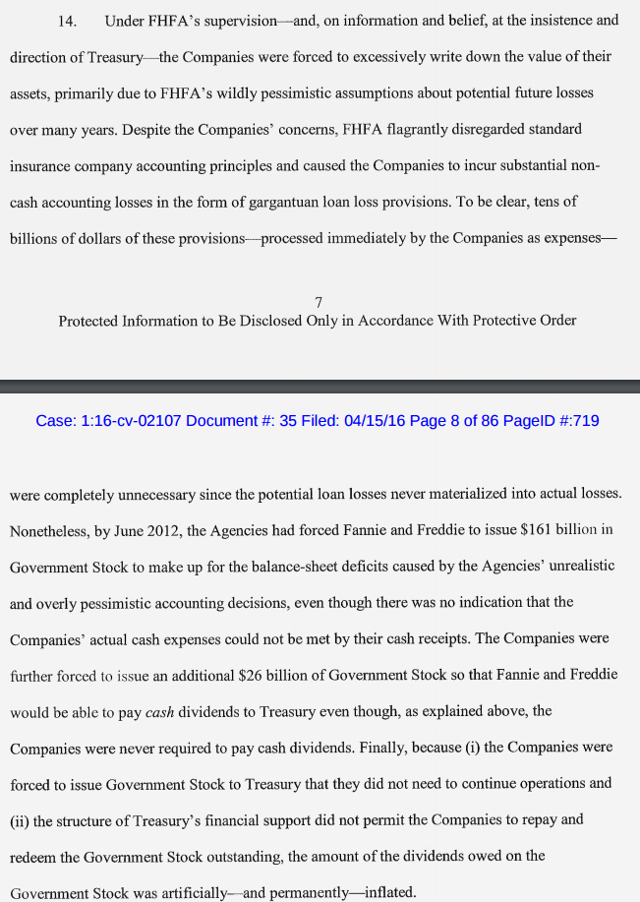 Click to enlarge
In fact, the plaintiffs set aside an entire section to lay out the specifics of the accounting manipulations designed to nationalize Fannie Mae and Freddie Mac: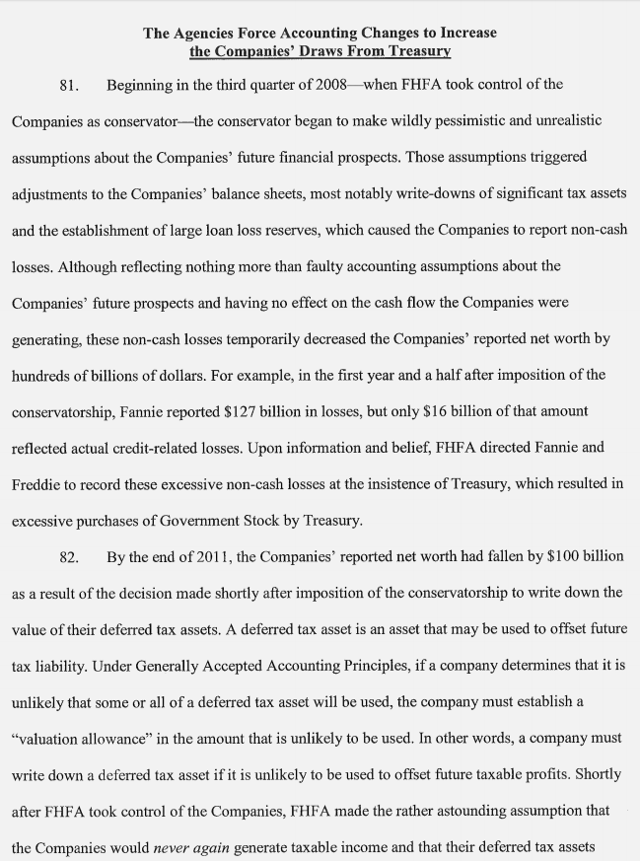 Click to enlarge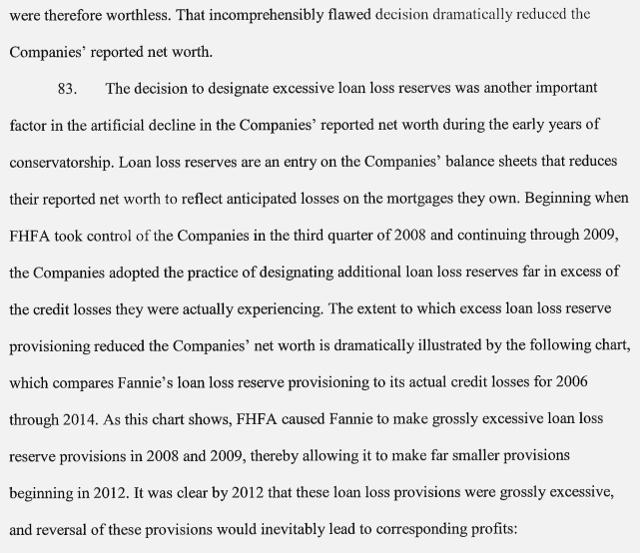 Click to enlarge
This filing is redacted, meaning that there are lots sections of it that have been blacked out to protect the public from knowing information that may roil the markets. As far as the timeline goes, the Appeals Court mentioned above comes first. I just think it's great that the accounting fraud thesis is reverberating around and being included in other lawsuits, especially this one, since it is filed by a prominent CFO.
Summary and Conclusion
There's a lot of moving pieces here, but there are numerous arguments at play. At first listen, Judge Millett's questioning may sound harsh, but my interpretation is that she was simply trying to better understand the holes in Lamberth's dismissal. In fact, my interpretation is that her line of questioning helped Theodore Olson hit on all the key points with respect to the technicalities of Lamberth's dismissal that may lead to it being subsequently reversed.
I'm not sure if this will get sent back to the lower court for an administrative record or if the lower court's ruling will be reversed entirely. The latter is better for GSE equity investors, as it shortens the timeline to resolution. In the long run, this is just one battle in a war where plaintiffs are still waiting on 11,292 secret documents to be decided over by Judge Sweeney's motion to compel. The government's defense that it acted properly - if those documents are released to the public - will be exposed for what it is, either fact or fiction.
I own 64590 shares of FNMAJ, 15989 of FMCKI, 9340 shares of FMCCP, 5000 shares of FMCKP, 3500 shares of FMCCT, and 1402 shares of FMCKO. These are preferred securities in Fannie Mae and Freddie Mac, with a total par value of $3,144,025, and I have borrowed around $240,000 in order to take this position.
If you think the government defense is top-heavy, you're not alone. In my opinion, the primary reason for the share prices being as inexpensive as they are is merely the size of Fannie Mae and Freddie Mac compared to the dollar amount of event-driven value investors. These days, it seems like there is a lot of money index investing in companies that aren't transferring, on a quarterly basis, all of their money in perpetuity to the Federal government. As such, the size of the opportunity to invest in two Fortune 50 companies in relation to the universe of people interested in investing in them is disproportionately large. If the net worth sweeps ends and the pendulum reverses, the situation swings to the complete opposite, as index funds worldwide would become forced to take a stake in the GSEs.
How that works out remains to be seen. I own preferreds because FHFA is in charge, and because my interpretation of their actions thus far has not been positive and plaintiffs have gone as far as to sue for a variety of reasons - all of which, in my opinion. are valid, but only one of which a court has to agree with in order for me to be successful. I'll take those odds.
Disclosure: I am/we are long FNMA, FNMAS, FMCC, FNMAJ, FMCKI, FMCCP, FMCKP, FMCCT, FMCKO.
I wrote this article myself, and it expresses my own opinions. I am not receiving compensation for it (other than from Seeking Alpha). I have no business relationship with any company whose stock is mentioned in this article.
Editor's Note: This article discusses one or more securities that do not trade on a major U.S. exchange. Please be aware of the risks associated with these stocks.