The biotech sector has started to recover from its deepest and longest bear market since the financial crisis over the past month or so. The sector is more than 10% above its recent trough in February but still some 30% below its peak levels of July. The space has posted a couple of strong weeks so far in April and is one of the strongest performing sectors of the market so far early in the second quarter. However, it has a long way to go to make investors who bought into this area towards the end of its last huge bull run whole again.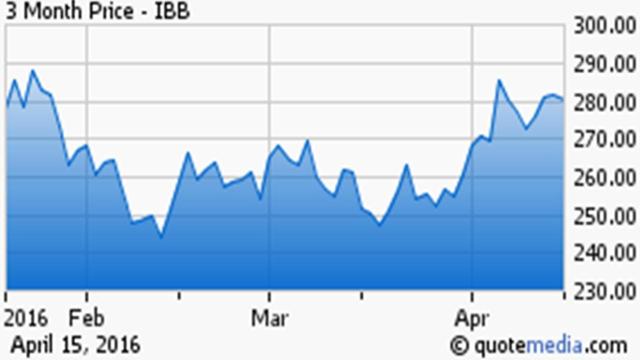 Click to enlarge
Nowhere has the pain been more intense that in the small cap developmental firms that do not have recurring revenue and whose value is primarily contained in the potential of their pipelines. The value given these pipelines by the market has dropped dramatically as investors had gone into completely "risk off" on the sector until recently.
This behavior can be seen in the dearth of biotech IPOs that have been brought to market over the past few months as well as the increasing challenges for these firms to raise additional developmental funds through the secondary market.
There was certainly some "froth" on a good many of these names before the recent plunge in the sector. However, a lot of babies that are destined to grow up into fine toddlers have been thrown out with the proverbial bathwater. That is presenting some great long-term opportunities for intrepid investors that can separate the wheat from the chaff.
One such concern is profiled below. The company has delivered some very positive news recently that has been overlooked by the market, at least temporarily. This includes positive Phase III trial results that should shortly lead to the approval and commercialization of its first product on which the FDA recently accepted its Biologic License Application ('BLA'). If sentiment was at previous levels on the biotech sector right now, this stock would be trading 50% to 100% higher than its current levels, and there lies the opportunity for patient but aggressive investors.
Company Overview:
Dynavax Technologies Corporation (NASDAQ:DVAX) is a small clinical-stage biopharmaceutical company with multiple product candidates in development for the prevention of infectious disease, the treatment of autoimmune and inflammatory diseases, and the treatment of cancer. The company currently has a market capitalization of just over $800 million, a stock price of just north of $21.00 a share and is based in Berkeley, California. Dynavax is developing what it hopes will be cutting edge immunotherapies based on Toll-Like Receptor ('TLR') biology and its ability to modulate the immune system.
TLR signaling plays an important role in a variety of immune-mediated diseases, including asthma and certain autoimmune and inflammatory diseases. Through modulation of TLR signaling Dynavax developing product candidates that can inhibit stimulation of TLRs that lead to autoimmune and inflammatory diseases.
HEPLISAV - B Approval Pending:
The company's hepatitis B vaccine completed Phase III trials late in 2015 and successfully hit co-primary endpoints in a study involving over 8,000 subjects. Specifically, HEPLISAV demonstrated clear superiority in seroprotection vs. Engerix-B in the general population and especially in diabetics, with a similar safety profile. Engerix-B is the current primary vaccine for hepatitis B and is manufactured and distributed by drug giant GlaxoSmithKline (NYSE:GSK). It has to be administered in three separate doses. HEPLISAV - B was effective in two doses, another clear advantage for this new vaccine over the current standard.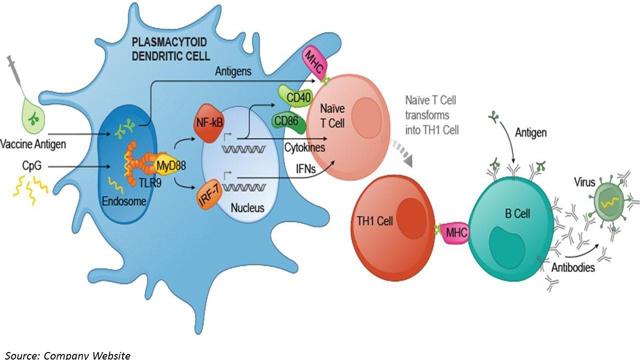 Click to enlarge
Hepatitis B can be a chronic disease that may lead to cirrhosis of the liver, hepatocellular carcinoma and death. Over 750,000 people die of hepatitis B each year. About 300,000 of these are due to liver cancer. There is no current cure for hepatitis B, and disease prevention through effective vaccines is critical to reducing the spread of the disease. Engerix-B had just over $1 billion in sales in 2013. However, the global market for a hepatitis B vaccine is generally believed to be roughly $600 million to $750 million annually, with just under $300 million of that in the United States. Given its superior protection to Engerix-B (95.4% versus 81.3% in recently concluded Phase III trial and 90% versus 65.1% for the diabetic population in the trial) and fewer doses needed to achieve protection, Dynavax's new vaccine should quickly garner the lion's share of the global market.
The PDUFA date now that the FDA has accepted the BLA on the vaccine is mid-September. The trial results approval is more than highly likely to be granted allowing Dynavax to begin commercializing the biologic compound by the end of this year.
Pipeline:
Dynavax has two other intriguing compounds in mid-stage development, SD-101 and AZD149. SD-101 is a proprietary TLR9 agonist designed to elicit a potent and focused immune response to cancer. SD-101 was designed for highly efficient activation of the two principal TLR9 signaling pathways. One pathway leads to rapid Interferon-α production which in turn stimulates a number of critical activities, including activating natural killer cells, blocking immune suppression, and promoting Th1 and CD8+ T cell homing into the tumor. The second pathway leads to efficient generation and activation of tumor-specific cytotoxic CD8+ T cells. By stimulating the natural immune response, SD-101 has the potential to be broadly effective in multiple tumor types.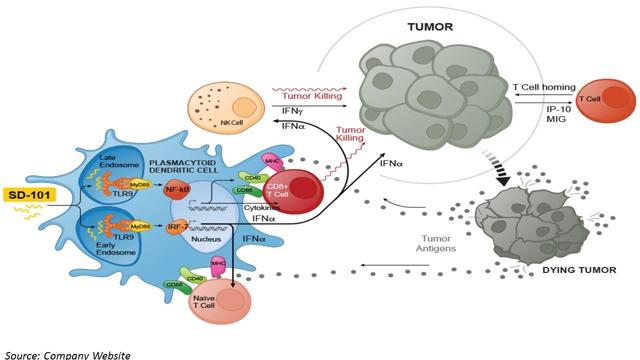 Click to enlarge
SD-101 has completed two Phase I trials in 60 subjects which have provided safety data and dose optimization for biological activity. Dynavax is currently conducting a Phase I/II study (known as LYM-01) to assess the safety and preliminary efficacy of Intratumoral SD-101 in adults with untreated low-grade B-cell lymphoma in combination with low-dose radiation. At least one investment analyst has stated SD-101 has more possible potential than HEPLISAV-B.
AZD1419 is seen as a possible treatment for asthma, under their worldwide collaboration with AstraZeneca (NYSE:AZN). AZD1419 is another proprietary TLR9 agonist and represents a new strategy for the treatment of allergic respiratory diseases. Obviously, this compound has a huge target market. According to the World Health Organization, asthma affects 300 million people worldwide. In addition, 210 million people worldwide are affected by COPD, a term used to describe chronic lung diseases that limit airflow in the lungs.
Analysts estimate the current worldwide market opportunity for asthma and COPD therapies to be over $15 billion annually. Just a small piece of that market would be significant to state the obvious.
Dynavax has completed a Phase I study in healthy subjects which demonstrated an acceptable safety and tolerability profile and proof of mechanism observed through induction of interferon regulated genes stimulated by AZD1419. A Phase II study in moderate to severe asthmatics in partnership with AstraZeneca is in the works currently.
Balance Sheet:
The company has just under $200 million of cash on the balance sheet. However, it will need to generate additional funding to support the worldwide rollout of HEPLISAV - B. This has been an overhang on the stock recently as demand for secondary offerings has dried up. However, I believe this will be resolved without significant dilution given the visibility of potential hepatitis B vaccine sales. A straight debt deal a la one Merrimack Pharmaceuticals (NASDAQ:MACK) did in late December that raised $175 million of funding from the debt market with no equity dilution is one possibility. Merrimack was able to do this debt offering after its first primary drug candidate "MM-398" also known as "Onivyde" was approved by the FDA. A position Dynavax should be in as well in the near future.
In January, Dynavax amended its development deal with AstraZeneca so the latter will now conduct the Phase II trial for AZD1419. This strategic move will help free up resources and allow Dynavax to concentrate more fully on the rollout of HEPLISAV - B. AstraZeneca also possesses expertise in international clinical development of respiratory products.
Analyst Commentary & Outlook:
Only four analysts cover the company. Their price targets range from $35.00 to $60.00 a share. The lowest price target was twice the level of DVAX, until its 25% run in April so far. This is also hardly outlandish as the stock traded near the lower end of that range before the recent "washout" in the biotech sector. The last analyst activity was on January 7th when Cowen reiterated their "Outperform" rating and $60.00 a share price target.
A buyout is also a distinct possibility. This would alleviate Dynavax's funding needs and would make sense even at a substantial premium for a variety of larger players. GlaxoSmithKline would be a logical suitor given it is going to be the biggest loser from the rollout of HEPLISAV - B. It is also a very big player in the vaccine market and is in the process of rolling out new vaccines for malaria and shingles. It already has a global sales force in place for this niche of the market as well. Gilead Sciences (NASDAQ:GILD) also makes sense as it has said it is looking for acquisitions in $1 billion to $5 billion range. The company is testing treatments for hepatitis B as well and SD-101 would be a nice addition to its growing oncology pipeline.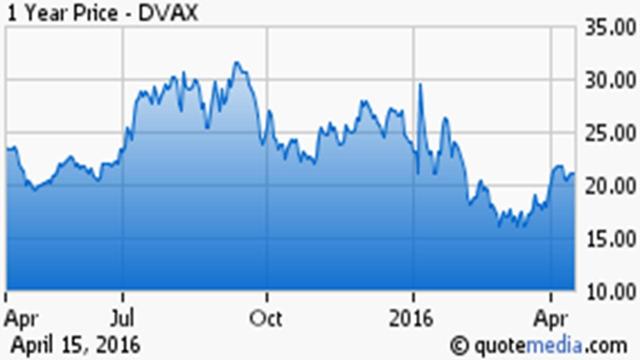 Click to enlarge
Whether as a standalone entity or as an acquisition target, the shares of Dynavax are deeply undervalued at present levels. The company has multiple "shots on goal", is on its way to its first commercialized product that soon should generate hundreds of millions of dollars in annual sales and has upcoming milestones. Catalysts in coming months should include FDA approval of HEPLISAV-B and resolution of funding needs. The risk/reward on this biotech concern is very attractive after the pullback in the biotech sector has clearly brought the stock down deeply to oversold levels.
Disclosure: I am/we are long DVAX, GILD, MACK.
I wrote this article myself, and it expresses my own opinions. I am not receiving compensation for it (other than from Seeking Alpha). I have no business relationship with any company whose stock is mentioned in this article.