The biotech sector is finally starting to recover after a brutal bear market that saw the major biotech indices decline more than 40% from their peak in July to their recent trough in February. Small caps were particularly abused on the way down. However, the sector has started to bounce back as of late and is one of the stronger performing areas of the market so far in the second quarter. This rally could well be in the early stages given how oversold the sector had become, meaning there are many bargains in this space.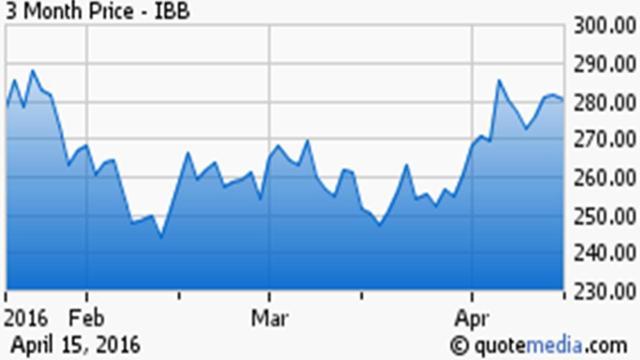 Click to enlarge
In this article, we will highlight one of these "opportunities" as we profile a small biopharma concern that just officially launched its biggest product yet, has unique technology, a key strategic partner, net cash on the balance sheet and is deeply undervalued at its current level of under $3.50 a share.
Company Overview:
BioDelivery Sciences International (NASDAQ:BDSI) is a specialty pharmaceutical company based in Raleigh, North Carolina. The company engages in the development and commercialization of pharmaceutical products principally in the areas of pain management and addiction. The company provides its products based on its patented BioErodible MucoAdhesive ('BEMA') drug delivery technology, which consists of a small, bi-layered erodible polymer film for application to the buccal mucosa. The company has an approximate market capitalization of under $200 million.
It is basically a company building a better delivery system. Think of its products as film strip you can use as a substitute for a breath mint. In that way, it reminds a bit of Eagle Pharmaceuticals (NASDAQ:EGRX). My regular readers on Real Money Pro and Seeking Alpha know what a winner that turned out to be in 2015. In fact, it was the best performing "best idea" by a country mile on Real Money Pro in 2015. After being put on this list in late December 2014, it provided an over 400% return before it was removed from the list for valuation reasons in the early summer of 2015.
Although the shares of that company have been under pressure recently, Eagle's business model continues to be taking an existing drug and then give it a new and more effective delivery system. This shortens the development and approval process and positions the new compound in an established market. BioDelivery has a similar developmental and business model.
Products/Pipeline: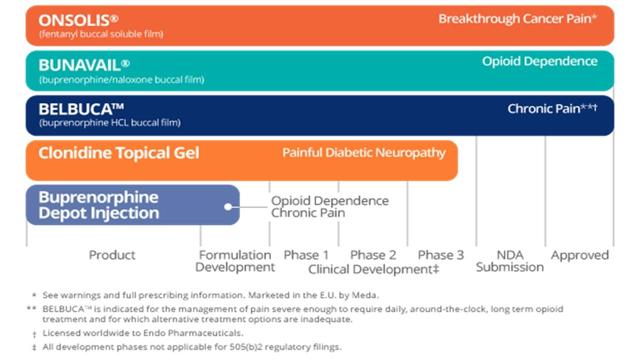 Click to enlarge
In June of 2014, the FDA approved BUNAVAIL. The compound was BioDelivery's first approved product and has rolled it out to the market. BUNAVAIL is the first mucoadhesive buccal film formulation of buprenorphine to compete directly with Suboxone sublingual film. In 2014, sales of Suboxone sublingual film totaled approximately $1.3 billion in the U.S. while the total market grew to more than $1.7 billion, driven by an 11 percent increase in prescriptions according to data from Symphony Health Solutions. BUNAVAIL has gotten off to a slow rollout but I am optimistic growth will pick up in the near future as are some other analysts.
In late October of 2015, the company's second pain focused medication "BELBUCA" was approved by the FDA. The company "officially" launched this new pain management product into the marketplace on February 22nd. This drug is a mu-opioid receptor partial agonist and a potent analgesic with a long duration of action that utilizes BDSI's patented BioErodible MucoAdhesive (BEMA®) drug delivery technology. Through the BEMA delivery technology, buprenorphine is efficiently and conveniently delivered across the buccal mucosa (inside lining of the cheek).
This product will be marketed by partner Endo Pharmaceuticals (NASDAQ:ENDP). Endo will also be responsible for any additional development costs for this product. FDA approval triggered a $50 million milestone payment to BioDelivery and the company will also receive royalties in the mid-to-high teens depending on net sales. BioDelivery could also receive up to four sales milestones totaling $55 million from Endo as well.
Stern Agee estimated peak sales of BELBUCA could reach $500 million or better in peak sales. Royalties to BioDelivery would be ~$75 million a year, which would be almost pure profit if this scenario played out. If these projections come even close to fruition, BDSI is undervalued given an under $200 million market capitalization just on this one product alone not to mention the sales milestones.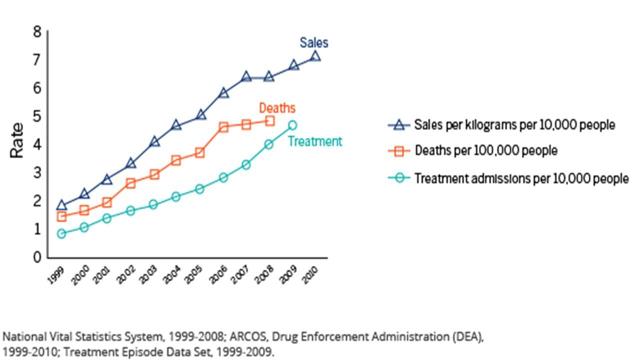 Click to enlarge
This product should also benefit from a growing national effort to tackle opioid abuse in this country. Nearly 30,000 Americans die each year from the misuse and abuse of prescription opioids and heroin and this has become a campaign issue this year especially in the New Hampshire primary. Opioid dependence is a significantly under-treated condition in the United States with approximately 2.5 million people dependent on prescription opioids according to the National Survey on Drug Use and Health, conducted by the U.S. Department of Health and Human Services. This dependence has costs for both the individuals that get addicted but society at large as well. Both BUNAVAIL and BELBUCA effectively treat chronic pain but also have less abuse and addiction potential.
The FDA has also approved ONSOLIS®. This is an opioid agonist indicated for the management of breakthrough pain in cancer patients 18 years of age and older who are already receiving and who are tolerant to opioid therapy for their underlying persistent cancer pain.
Analyst Outlook:
Eight analysts currently cover the stock and their median price target on BDSI is $9.50 a share, approximately triple the current level of the stock but only two thirds what the shares sold for a year ago. Earlier this month, Roth Capital assigned a Buy rating and a $9 price target to BioDelivery. On March 29th, FBR Capital reissued its Buy rating and $12 price target following news of a proposed opioid dependence treatment cap from the HHS, which should benefit the company.
Its analyst had previously stated BUNAVAIL will gain significant market share in 2016 and the company is well positioned as avoiding opioid dependence becomes a bigger focus area for pain management specialists so the HHS announcement supports that view.
Outlook:
The stock cratered early in 2015 when a clonidine topical gel that BioDelivery was developing for the treatment of painful diabetic neuropathy and potentially other indications failed Phase III trials. Clonidine is thought to relieve pain by decreasing the abnormal excitability of these functional nociceptors. The stock was selling north of $15.00 a share before this news broke but as the earlier stock chart in this report showed, the shares look like they have built a significant technical floor in recent months.
The company plans to use the cash infusion from Endo to develop an injectable version of BUNAVAIL and BELBUCA. This would be delivered to patients in a sustained-release formulation. Patients could receive an injection as infrequently as once per month. Its current delivery method typically requires one or two doses per day. BioDelivery will also use these funds to develop an indication to treat opioid dependence.
At these prices, the market seems to be severely undervaluing the drugs that BioDelivery already has approved, let alone its pipeline. Yes, the company has a disappointing Phase III trial and a slow initial sales ramp of BUNAVAIL. However, it has strong underlying technology that should not be discounted. In addition to quickening sales growth I would not be surprised if the company enters into further collaboration deals or perhaps gets bought out in the year ahead.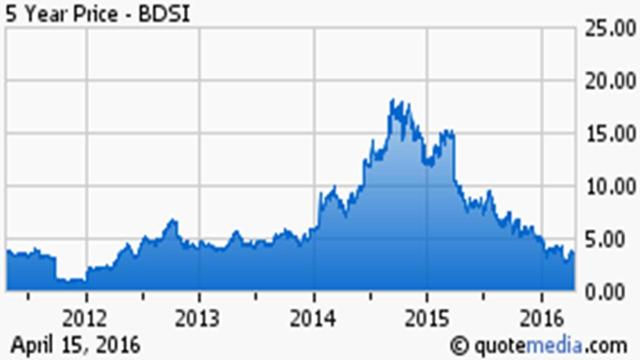 Click to enlarge
If sentiment continues to improve on the biotech/biopharma sectors of the market and as sales of BUNAVAIL and BELBUCA ramp up, it is not hard to imagine the stock hitting the $9.50 a share median price target analysts have on the shares over the next 12-24 months or at least not recovering most of its recent losses.
Disclosure: I am/we are long BDSI, EGRX.
I wrote this article myself, and it expresses my own opinions. I am not receiving compensation for it (other than from Seeking Alpha). I have no business relationship with any company whose stock is mentioned in this article.