Introduction
As an investor that's lived through two bursting bubbles, I began a quest to become better at evaluating the investment environment. Conquering the Divide (Cornehisen/Carr) has been the most personally influential book on creating an allocation model. They describe a process of creating and analyzing indicators to measure the economy. The time period covered in this Allocation Model starts with 1994, the year that Forecasting Financial and Economic Cycles (Miemira, Klien) was published. The title of the final chapter is "The Future of the Business Cycle-Alive and Well but Different."
I currently have 36 different main indicators which are composed of up to 20 sub-indexes in order to detect more changes in the investing environment. The indicators each range from a high of 1 during the best conditions to a -1 during the worst conditions. The Excel Solver application is then applied to weight these indicators to maximize the return over the past 20 years.
I've had some time on planes and in airports to fill.
Benjamin Graham stated in the Intelligent Investor that investors should hold between 25% and 75% stocks. Lance Roberts wrote a great article recently about investing according to the business cycle for 401k investors, which adjusts the stock to bond allocation from 60% stocks in a bull market to 15% stocks in a bear market. I set a minimum stock to bond allocation of 15% and a maximum allocation of 80%. The average allocation in the model is 65%/35% over the past 20 years. A maximum allocation of 15% is made to aggressive or inverse funds and ETFs.
Indicators
Building an allocation model would not be possible without access to reliable, timely data, and the St. Louis Federal Reserve's FRED database is great for allowing people just that. I also include information from the Conference Board, Economic Cycle Research Institute, Recession Alert, New York Stock Exchange, American Association of Individual Investors, Standard and Poor's, FactSet Earnings Insight and Atlanta Fed's GDPNow Forecast. The foundation of the Allocation Model is based on monthly returns of different stock asset classes, bonds, real estate, oil and gold from 1995 through 2016.
The most heavily weighted indicators are Housing, Risk, Recession, Technical, Household, Robert Dieli's "Mr Model," Credit, Turning Points, Corporate, Interest, Investment and Confidence. The next most heavily weighted indicators are Potential GDP, Real Interest, Eurozone, Volatility, Orders, Leading, Final Sales, Technology, Effective Demand, Construction, Banking, Spending, GDPNow and Labor. Moderately weighted indicators are Production, Declining, Monetary, Coincident, Gross Value Added, Valuations and Margin Debt.
Each Indicator consists of sub-indexes which are then weighted to maximize the return over the past 20 years. For example, the Recession indicator consists of 18 indicators that have an average correlation of 56% to an average of the monthly Chauvet Recession Probability Model and the Quarterly Recession Probability available at FRED. The chart includes NBER and OECD recession time periods. A third of the 18 indicators are negative as of March.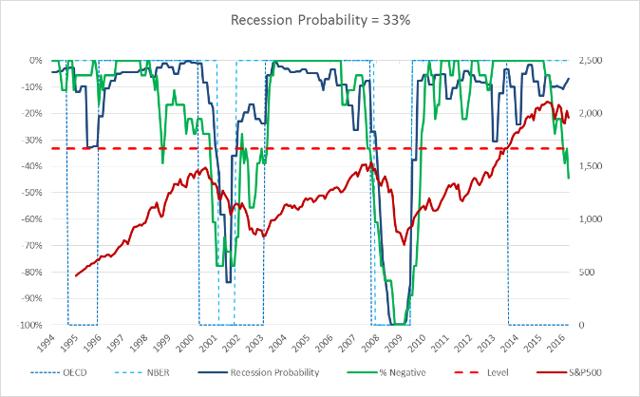 Click to enlarge
"Mr Model" consists of a relationship between long-term interest rates, federal funds rates, inflation, unemployment and financial spreads.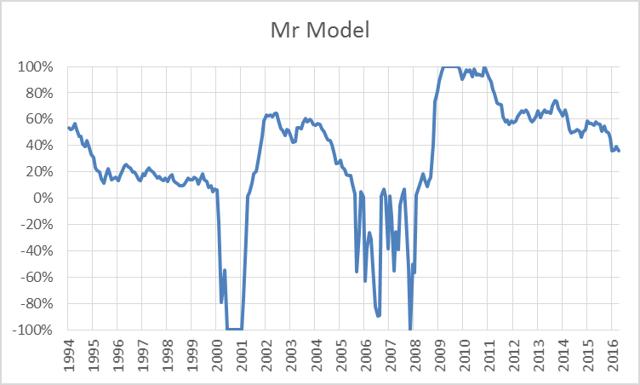 Click to enlarge
Leading Indicators is a weighted average of the Conference Board's Leading Indicator, Philadelphia Fed's Leading Index for the United States and Future General Activity for the Philadelphia District. The Confidence Indicator consists of Economic Uncertainty, AAII Bullish/Bearish Sentiment, University of Michigan Sentiment, and spending on vehicles, apparel, dining and hobbies. The interest indicator is comprised of Total Bond Return, Corporate Bond Spread, Yield Curve, High Yield Spread and Ted Spread.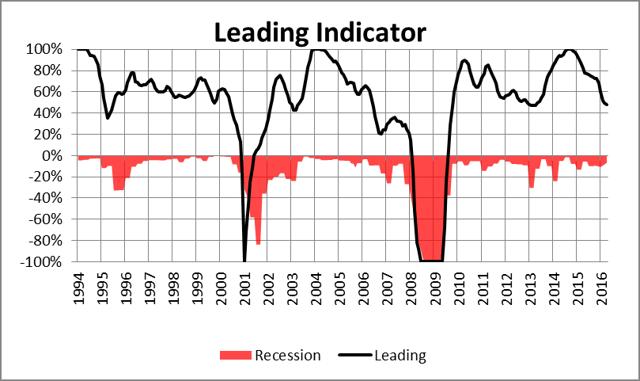 Click to enlarge
The Declining Indicator expands on a concept from an article by John Hussman. It consists of Value of Manufacturer's New Orders, Industrial Production, Retail Sales, Construction Spending and Small Cap Growth Index.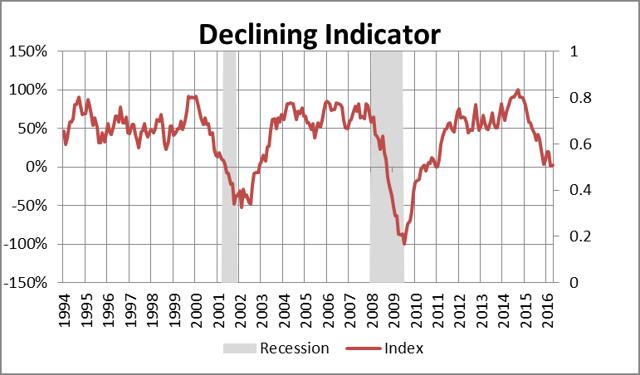 Click to enlarge
Effective Demand Research describes Effective Demand as "demand limit upon the utilization of labor and capital." Effective Demand (shown below) is a reliable indicator of economic weakness.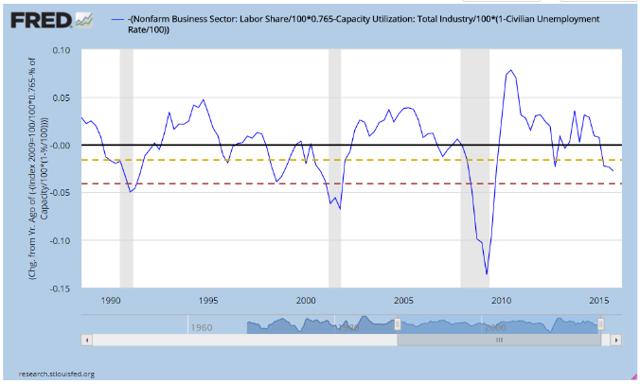 Click to enlarge
The Corporate Indicator consists of 12 sub-indicators including sales, profits, operating surplus, net value added and exports. It is one of the most concerning as shown below.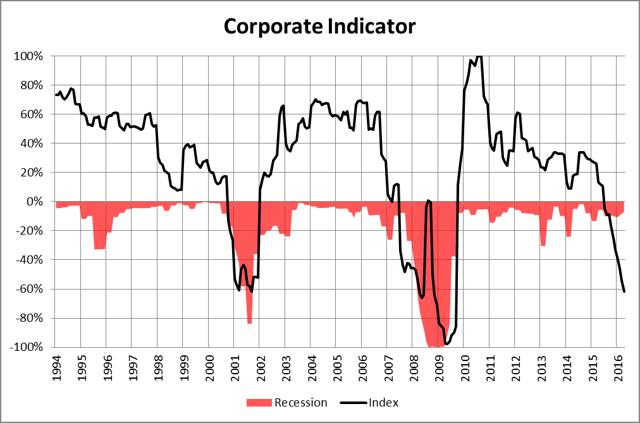 Click to enlarge
Labor has a lot of noise so I combine Change In Labor Conditions (FRBLMCI), Temporary Help Services (TEMPHELPS), Initial Claims (IC4WSA), Job Openings (JTSJOL), Layoffs and Discharges (JTS1000LDR), Working Age Population (LFWA64TTUSQ647N), ISM Non-manufacturing employment (NMFEI), KC Federal Labor Market Conditions (FRBKCLMCIM), unemployment rate (UNRATE), Hires (JTS1000HIL), Quits (JTSQUI) and average weekly hours worked (AWHMAN) into a single indicator. The indicator estimates Labor conditions with respect to the investing environment to be moderate, but declining.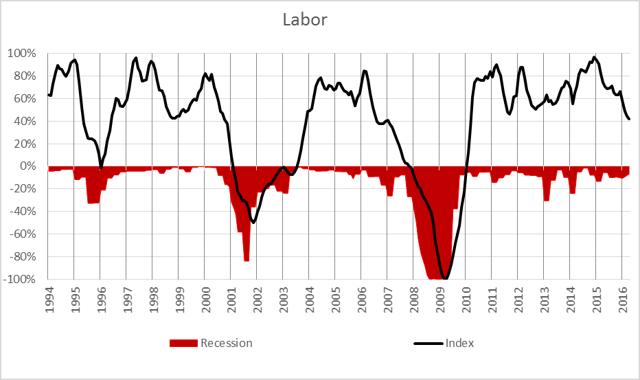 Click to enlarge
I combined multiple stock market momentum indicators into just one so that the Allocation Model is not overly influenced by stock market trends. Investing with the Trend (Morris) was a great help. The Technical Indicator consists of a weighted average of Moving Average Convergent Divergent (MACD), Relative Strength, Percent off 2 Year High, Bollinger Bands, ratio of Stock to Bond Returns, simplified Martin Pring Business Stages, American Association of Individual Investors Bullish/Bearish Sentiment, Economic Cycle Research Institute Weekly Growth Index, and Recession Alert Weekly Index.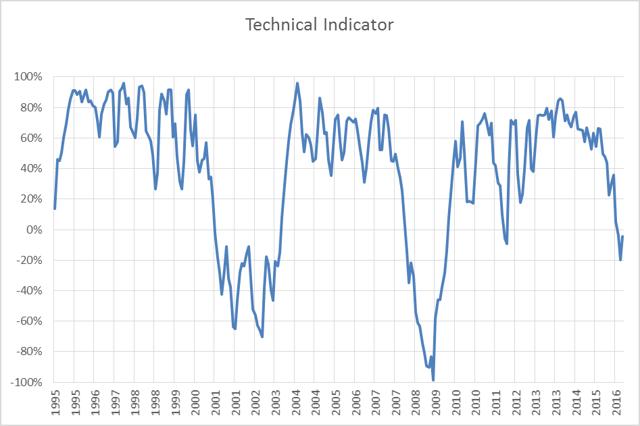 Click to enlarge
Trends
The chart below shows how the main indicators have been declining starting in late 2014. William Hester at Hussman Funds wrote an article in October 2015 describing the relationship of multiple indicators combining to be more representative of the economic environment. This chart shows there is a general slowing of the economy across many areas.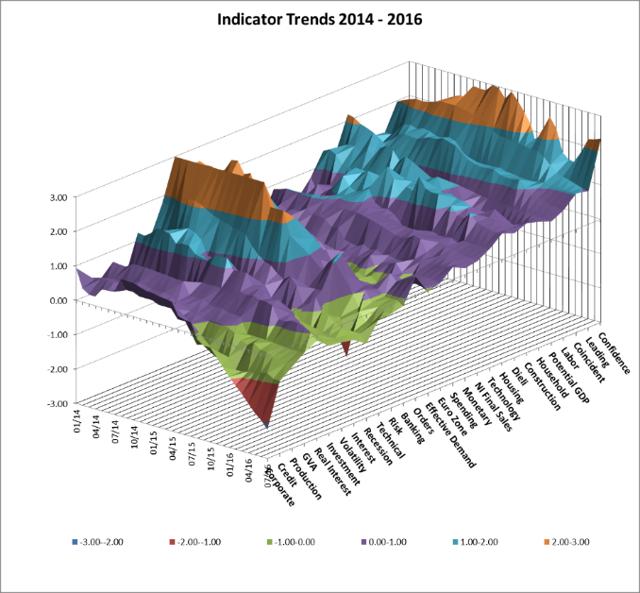 Click to enlarge
The next chart shows how the Indicators have performed over the past 20 years. The investing environment is not as bad as during the Technology Bubble nor the Housing Bubble, but it is deteriorating.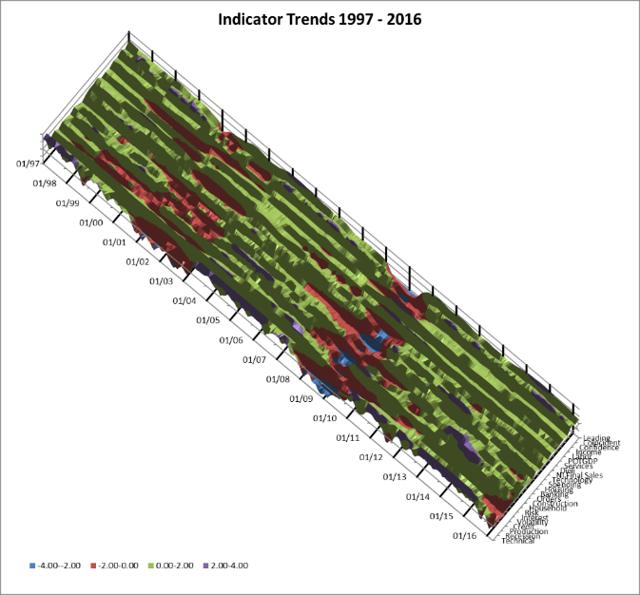 Click to enlarge
Allocation Model
The blue line in the following chart is the resultant index used to create the Allocation Model. I then compare favorable and unfavorable time periods (shaded) looking at the direction and level of the index with confirmation from the direction of the stock market. Five investment stages (black line) are created to determine allocations by stage. The stages are 1) recovery, 2) top of the cycle, 3) deteriorating conditions, 4) late-stage rally and 5) bear market.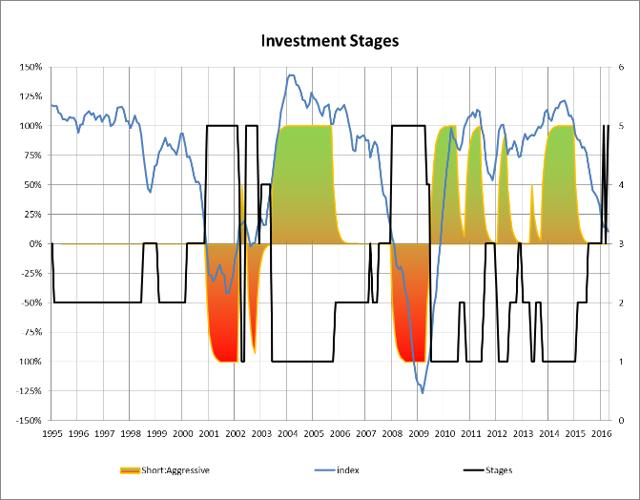 Click to enlarge
Returns by Stage
Average returns are estimated by stage. Allocation among the different assets are then set by Stage and transition between the stages to reduce turnover.

The allocations since 1995 are shown below. The average annual return is 13.5%.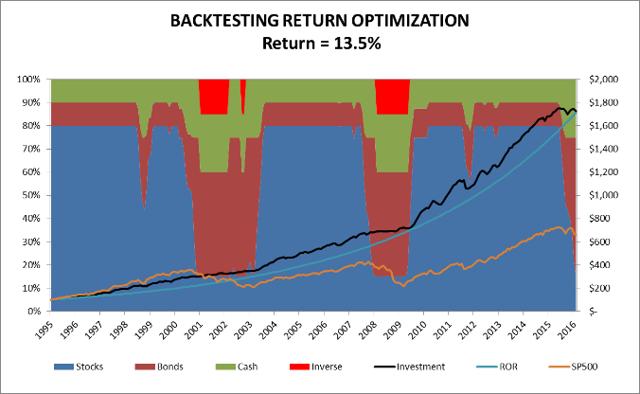 Click to enlarge
The next chart shows the Allocation Model along with the S&P 500, recession probability, bear markets and the Declining Indicator. These models are customized for the individual investor who has most of his or her assets in tax advantaged savings accounts with low transaction fees. I have tried to make the model sensitive enough to guide me to become more conservative 6 to 9 months before a major stock market decline, yet is easy to follow. The dip in the index in 1998 was the Asian credit crisis and the dip in 2011 was a slowing of the economy when QE was applied.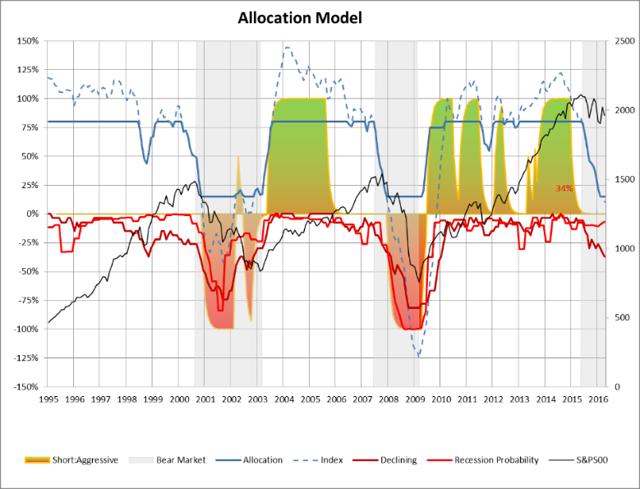 Click to enlarge
Validation
Raw data is reviewed each week to validate what the model is showing. The chart of weekly data shows financial stress and volatility have been increasing for more than a year.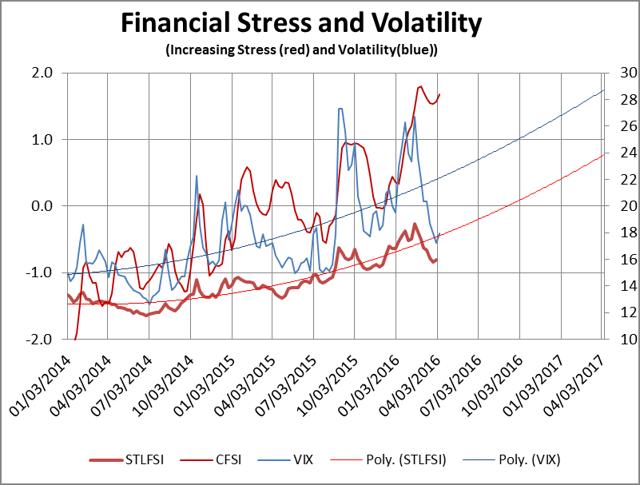 Click to enlarge
Many prominent monthly indicators have been slowing in growth or declining.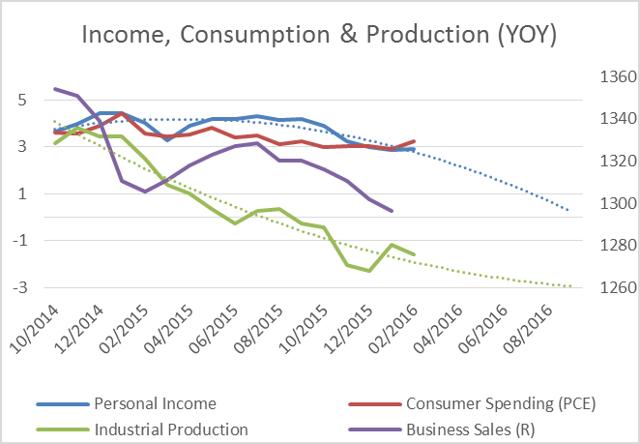 Click to enlarge
Quarterly data shows corporate profits are declining since mid-2014.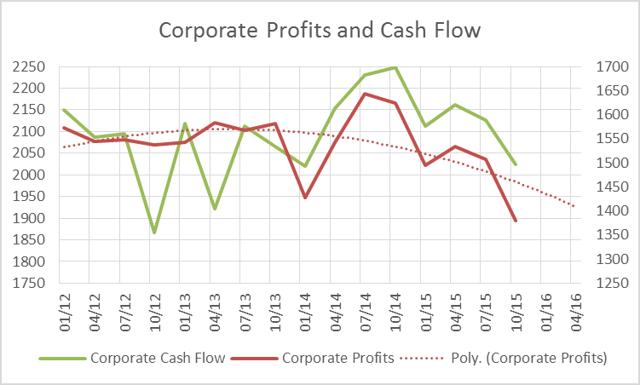 Click to enlarge
Bubble Comparison
John Hussman shows a great chart of the 1972-1974, 1992-2002, and 2007-2009 bear markets compared to the market today. The next chart shows how the current stock market compares to the Housing and Technology Bubbles. The shaded area represents the topping process. The thin red line shows a polynomial trend of the current stock market if it continues along the current trend. The two dark lines are my optimized allocations averaged for the past two bubbles compared to the one today.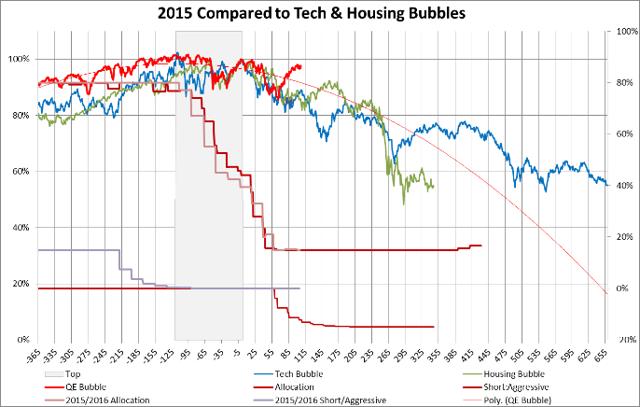 Click to enlarge
Short-Term Trends
Using the Allocation Model for guidance, short-term trends in the stock market are reviewed. The chart below of MACD, Moving Averages and Bollinger Bands indicate that the Bear Market rally may be ending soon.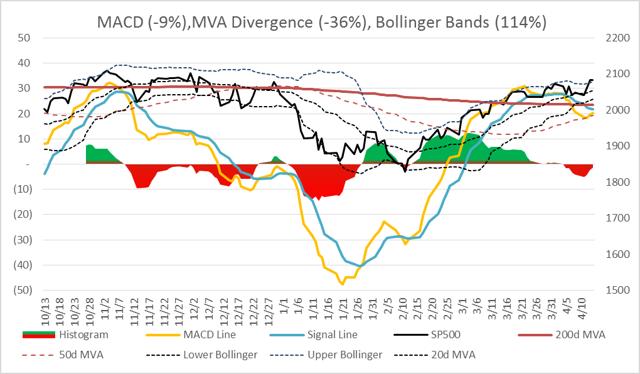 Click to enlarge
Longer-Term Trends
Longer-term concerns have to do with population trends, high levels of credit and declining trade. There are some excellent books on the subject including, Investing in the Second Lost Decade(Pring), The New Depression (Duncan), The Great Rebalancing (Pettis), The Death of Money (Richards), Global Pension Crisis (Marin), and Aftershock(Wiedemer/Wiedemer/Spitzer). Supporting these books, the next two charts show the rise in debt compared to Gross Domestic Product (GDP) since World War II and the decline in world trade as the world struggles with China's excess investment, high debt and over capacity.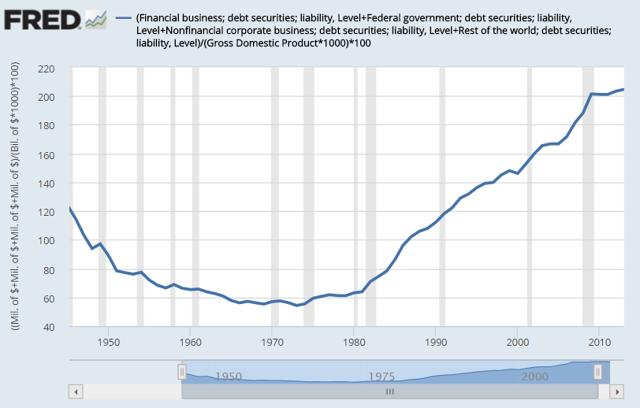 Click to enlarge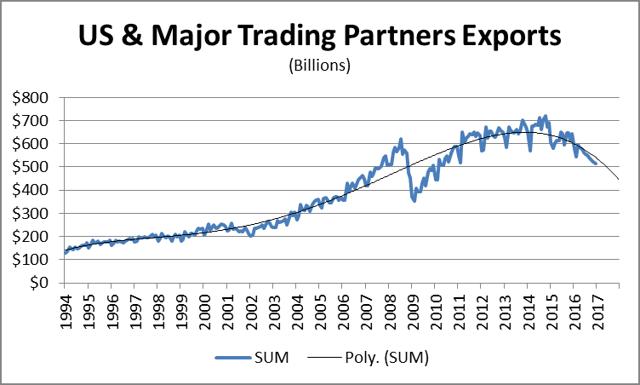 Click to enlarge
Conclusion
Now is a good time to be at the defensive end of your comfort zone. I don't try to predict the future of the stock market, only the current environment. A weak economy is susceptible to many ills. There is a possible slow-down for "Sell in May and go away," a distraction for the Presidential election, post-election hangover and a global slowdown. I am preparing for a major correction starting within the next 12 months by over-weighting in cash, bonds, and gold and owning inverse ETFs for small and mid-capitalized firms.
Disclosure: I/we have no positions in any stocks mentioned, and no plans to initiate any positions within the next 72 hours.
I wrote this article myself, and it expresses my own opinions. I am not receiving compensation for it (other than from Seeking Alpha). I have no business relationship with any company whose stock is mentioned in this article.
Additional disclosure: I received Article Status Notification from Seeking Alpha Editors (4872298) asking me to simplify and shorten the Introduction. This has been done throughout the article. Please let me know if other changes are required. I emailed my ID to Seeking Alpha as requested. Thank you.