Two best performing sectors this year have been telecommunications services and utilities. Year-to-date performance for the combined sector is currently 10.66%, while other sectors have clearly underperformed it. Investors looked to preserve their capital at the start of the year when market turned negative. Usual candidates are: stocks that have lower beta, higher yield and less volatility. When the same idea is shared amongst investors, the trade gets crowded and it usually overshoots to either direction.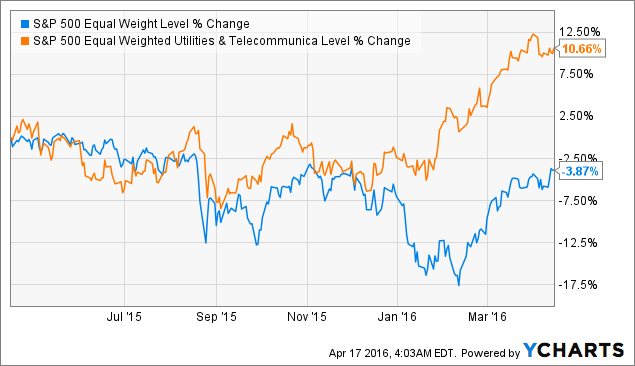 Data by YCharts, 1-year performance chart
Characteristics of the trade
People find utilities and telecoms sector as a defensive strategy when there is turmoil in the markets. Earlier this year there was a significant downturn in the overall market, but utilities and telecoms rallied. Investors looked for defensive and stable companies with predictable non-cyclical businesses. While these were all great measures to take when the market tumbled, the trade got crowded. Meaning a lot of people got long on the sectors. Such a high outperformance compared to rest of the market, leaves challenges for further capital appreciation going forward into 2016.
Utilities tend to underperform when the rate hiking cycle begins as other traditional instruments such as bonds start to look more attractive. Since the first hike in December, the Federal Reserve turned more dovish and went from projected four hikes to only two in 2016. News from the Fed helped to fuel the rally in overall market as risk was back on, however the spread between telecoms and utilities versus other sectors remained unchanged.
Some of the largest telecommunications services companies' price changes year-to-date excluding dividends: AT&T (NYSE:T) 11.83%, Verizon (NYSE:VZ) 11.1% and CenturyLink (NYSE:CTL) with impressive 28.22%. Some of the largest utilities companies' price changes year-to-date excluding dividends: American Electric Power Company (NYSE:AEP) 13.35%, Consolidated Edison (NYSE:ED) 18%, Duke Energy (NYSE:DUK) 12% and NextEra Energy (NYSE:NEE) 13.03%.
Money flows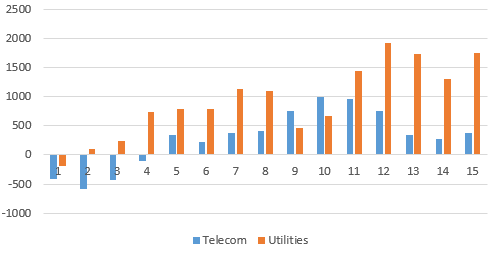 Source: Money Flows Year-To-Date in millions $. Dow Jones U.S. Select Telecommunications Index (25 companies) Dow Jones U.S. Utilities Index (57 companies)
During February's sell-off, investors bought into telecoms and even more money were put into utilities since they are one of these risk-off trades.
Positives
Utility and telecommunications companies are usually favored by dividend investors as their key holdings. Any weakness in the market pricing, these stocks might be bought by yield seekers. However, individual investors can't hold large-cap companies' prices up, if funds start to sell their positions. Looking beyond the fundamentals and about the market environment where these companies operate, there are some tailwinds for these sectors, for example the possibility of higher electricity prices, natural gas expansion, increasing mobile data usage and new users coming online.
There is a possibility that other sectors might just catch up without any significant price declines, but with stagnant capital appreciation only source of performance is relied on the dividend. If bought into today, these stocks are yielding clearly less compared to the beginning of the year.
Negatives
Utilities and telecoms are highly leveraged since they operate in a low volatile sector. Companies have issued debt which is at all-time highs. But if the cost of capital rises, can they improve business to offset the costs? Telecoms are operating under a lot of pricing pressure and the competition for subscribers remains as a headwind. But the main negative is the sector rotation that will follow when funds turn to look for other opportunities in the market.
Conclusions
First of all, let me start by saying that I like these sectors and the stocks. It's part of every investor's job to consider alternative views for their holdings and evaluate risks and rewards, especially when there have been fast appreciations or declines in the stocks they hold.
For the rest of the year, I expect stagnant stock prices or declines in telecoms and utilities. From these companies the only performance will come from dividends which isn't necessarily a bad thing, but I think going now long in these sectors has more downside than upside potential.
Disclosure: I/we have no positions in any stocks mentioned, and no plans to initiate any positions within the next 72 hours.
I wrote this article myself, and it expresses my own opinions. I am not receiving compensation for it (other than from Seeking Alpha). I have no business relationship with any company whose stock is mentioned in this article.