Tesla Motors (NASDAQ:TSLA) unveiled its most affordable car, the Model 3, on the last day of March at a special event. The car will go into production early in 2017, with deliveries expected to begin by the end of the year. Now, apart from announcing the car launch, CEO Elon Musk also revealed plans to launch the Model 3 in other potential markets that were yet untapped.
Of these, the biggest market is India, both in terms of population and the projected growth of the auto market in the country. The following tweet by Elon Musk tweeted just before the event tells that Tesla is mostly targeting the Asia-Pacific region, South America, and Africa, and other countries where the affordable price of this model alone could drive numbers.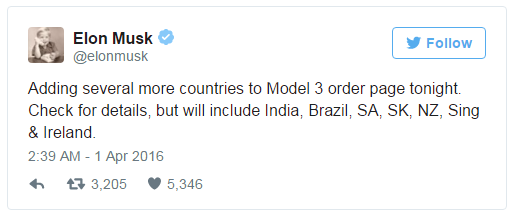 But, will this model sell in India? Let's find out.
The opportunity in India
The opportunity in the electric car market in India is huge, at least theoretically. In fact, India's power minister, Piyush Goyal, announced late last month that the country plans to become a 100% EV nation by 2030. The plan to make India a complete EV nation sounds quite aggressive, with the power minister forecasting that the ministry of power is self-sufficient for this venture and does not need any additional grants from the government.
More importantly, the EV sector in India has gained some impressive traction of late. From sales of just 7,000-8,000 units in the nine-month period from April-December 2014, sales of electric vehicles in India tripled to 21,000 units in the same period in 2015. This impressive growth in EV sales of late is driven by the Indian government's Faster Adoption and Manufacturing of (Hybrid &) Electric Vehicles India venture that was launched a year ago, but became fully-operational only in October last year.
Thus, the opportunity for EVs in India seems strong and this might look like good news for Tesla at first. However, there are a number of strong challenges that Tesla faces in India for the Model 3.
The challenges
The base price of the Model 3 has been set at $35,000. So it will translate into a little more than INR 2.3 million in India before taxes and customs duty. For these new markets that include India, the customers can pre-book the Model 3 for an initial token amount of $1,000 (₹INR 66,435 approx), which is fully refundable in case the booking is cancelled. However, since the Model 3 will be a completely built unit that will be imported into India due to the absence of any production facility in the country, it will attract an import duty of 125%.
Thus, for the Indian market, the car will become prohibitively expensive at over $70,000. In comparison, per capita income in India last fiscal year stood at just INR 87,748 (or $1,320 approx). Thus, pricing will be a huge barrier for Tesla in India despite the government being supportive of EV adoption, and this is because the Model 3 will be an import. Now, there is a difference between the law that applies to providing subsidies to EVs that are locally-manufactured and cars that are imported, and the Model 3 will fall into the second category.
As a result, the Model 3 won't be a mass market car in India as it will cost more than the base models of BMW, Mercedes, and Audi. As a result, India won't be a huge market for Tesla since these premium car makers don't sell a whole lot of units in the country. For instance, Mercedes and Audi together sold only 25,000 units in India last year, so it is evident that Tesla will not be a volume player in India and nor will it drive the country's EV revolution.
Most car buyers in India fall below the INR 10 lakh (approx $15,000) mark when it comes to buying a car, which is evidenced by the strong sales of hatchbacks and compact sedans in the country. So, a buyer of relatively cheaper Suzuki cars cannot be expected to upgrade to Tesla's Model 3.
As such, Tesla will be handicapped by the prohibitively high import duties in the country, which is why it needs to open up a factory here and increase localization levels. Now, there are no plans for Tesla to set up a car-making facility in India, though the company might set up a Gigafactory in the country.
Finally, the biggest hurdle will be the lack of a supercharger network or a charging infrastructure in India. Now, Tesla Motors is planning to increase the number of places offering supercharger networks to 7,200 globally by next year, twice of what it is currently. Moreover, Musk also said that Tesla plans to build a supercharger network in India in the long run, though there is no timeline on this.
Conclusion
Therefore, even though the opportunity in the EV market in India is huge, Tesla Motors is in no position to tap the same. The high price of the Model 3 according to Indian standards, apart from the lack of charging infrastructure, will weigh on sales with only very high net worth individuals buying the product. So, despite the launch of a supposedly budget car in the form of the Model 3, Tesla Motors still cannot capitalize on the opportunity presented by the Indian car market.
Disclosure: I/we have no positions in any stocks mentioned, and no plans to initiate any positions within the next 72 hours.
I wrote this article myself, and it expresses my own opinions. I am not receiving compensation for it (other than from Seeking Alpha). I have no business relationship with any company whose stock is mentioned in this article.