Why Alibaba Is Better Positioned For Emerging Markets
Alibaba's (NYSE:BABA) global sales are still a very tiny percentage of the company's total revenues. For instance, as of the most recent quarter, International Commerce Retail & Wholesale only accounted for 6% of Alibaba's total revenues. We say a "very tiny percentage" because Alibaba's chairman shared the company's vision on Bloomberg Television that it wanted more than 50% of Alibaba's total revenues to come from outside China.
(Source: Alibaba's December Quarter 2015 Presentation)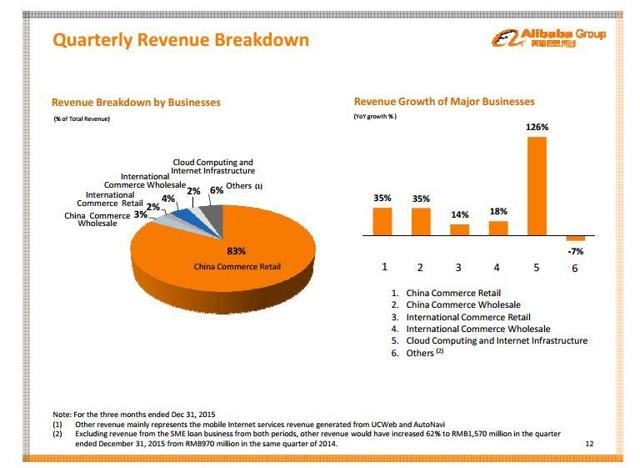 This vision partly stems from the fact that growth in urban China is maturing and revenue growth might start to plateau in the near future. But with TTM profit margins of 73%, y/y quarterly growth rate of 110% and TTM ROE of 34.68%, Alibaba's investors are wary of a maturing e-commerce market in cities in China.
Hence, the reason why Alibaba and its main competitor JD.com (NASDAQ:JD) started looking for growth in remote areas of China.
Alibaba has been dedicated in its efforts to tackle its next growth frontier within China - the sprawling countryside. This is critical for success in remote areas of China but the infrastructure is not well-developed.
Logistics hurdles are numerous. Apart from the aforementioned infrastructural challenges, the other logistics challenges include: the rail system is meant for passengers not freight, many rural residents do not have formal addresses, there is lack of warehousing space, many facilities are located in areas that are tough for trucks to access and pick-and-pack systems (for instance, "Less than 20 percent of China's warehouses are categorized as modern, with fully computerized tracking systems and the latest in retail technology, according to GLP and other warehouse builders).
Alibaba's Delivery Network
Despite the aforementioned hurdles, logistics is a huge business in China. In FY2015, according to the China Federation of Logistics & Purchasing, China's logistics cost accounted for ~16% of the country's GDP and created over 30 million jobs. According to KPMG, by 2020 China's e-commerce sector will be larger than those of the U.S., Britain, Japan, German and France combined.
This is why Alibaba decided to prioritize its efforts to improve China's logistics network with an initial investment of $16 billion to start Zhejiang Cainiao Supply Chain Management Co. Alibaba is taking a lead role in developing China's fragmented package delivery industry by crunching data from order delivery trends routes to weather patterns to increase efficiency.
"Cainiao President Judy Tong today said "Cainiao has established a complete logistics network and aims to offer next-day delivery service in 50 cities by the end of the year," up from 34 currently. Since its launch, Cainiao has partnered with thousands of logistics service providers, is establishing warehouse and distribution centers in 12 key cities, has opened service centers in 1,200 villages and rural provinces, and has expanded international delivery to 217 countries and areas. The company even recently launched a mobile app so consumers can use smartphones to track their orders and locate nearby package pick-up points...The ultimate goal of Cainiao is to make it easy to deliver goods to anywhere," Tong said, "so that parcels delivered in China can arrive in 24 hours and parcels delivered cross-border can arrive in 72 hours" instead of several days currently for China shipments and days or weeks for international orders." - Aabaco Small Business.
Zhejiang Cainiao Supply Chain Management Co. is Alibaba's offshoot logistics company (Alibaba has a 48% stake in the company) that facilitates the delivery of 70% of China's express packages using a network logistic companies in the mainland and globally.
But Cainiao derives its business model from Alibaba. It is not an ordinary logistics company like FedEx or UPS. Cainiao is a consortium of logistics companies. As a result, by aggregating different logistics companies, Cainiao manages to be a powerful platform. In turn, this enables them to provide an efficient transportation network and cost savings for both Alibaba and its customers.
Tying It All To The Lazada Deal
On April 12th of 2016, Alibaba announced an agreement to acquire a controlling stake in Lazada. Lazada is the one-stop e-commerce gateway for local and international brands and distributors to consumers in six distinct Southeast Asian markets: Indonesia, Malaysia, the Philippines, Singapore, Thailand and Vietnam.
Southeast Asia has the same logistics challenges Alibaba encountered when it embarked on expanding to rural China. For instance, "Southeast Asia doesn't have a bevy of warehouses, information-technology management or, in some cases, decent roads, making delivering goods bought online more challenging." This why the Alibaba deal is expected to bring cost-efficiency and shorten delivery times in Southeast Asia by replicating some of its robust e-commerce and logistics network.
In addition, the Lazada deal brings Alibaba closer to its goal of generating more than 50% of its total revenues outside China. This deal is lucrative for a variety of reasons: Lazada gains a well-capitalized partner with a proven business model that works in emerging markets and Lazada's website will be able to get all the help necessary to make its website and logistics network as robust as possible considering that Alibaba's has been a successful e-commerce company. Aside from learning from each other, Alibaba has the time to scale Lazada and dominate the e-commerce market in the six distinct Southeast Asian markets before any tough competition comes in the region.
Looking Past The Lazada Deal: The Tmall Global Advantage
Alibaba will be able to bolster investor confidence in the stock price by aggressively pursuing its goal to generate more than half of its sales outside the mainland. This is critical for Alibaba's shareholders as it signifies continued growth prospects both in China and outside China.
The transaction just made Alibaba the leading e-commerce platform in Southeast Asia. The deal opens Alibaba's doors to new markets and it also makes its global platforms such as Tmall Global much more lucrative.
To comprehend the Tmall Global advantage from the Lazada deal we first need to look at Tmall Global's selling point. Tmall Global is just one of Alibaba's global platforms that gives foreign companies access to Chinese consumers.
Consequently, Alibaba can now create access not only to the Chinese market but also to the Southeast Asian markets. Therefore, Alibaba selling points for Tmall Global just became more compelling for international brands.
It is compelling to both Alibaba's customers (businesses that sell on Tmall Global) and Alibaba's shareholders. It is compelling because the combined population of Indonesia, Malaysia, the Philippines, Singapore, Thailand and Vietnam is ~560 million with an estimated internet user base of 200 million. But "only 3% of the regions total sales is conducted online." This implies tremendous growth opportunities for Alibaba (sales growth) as the region start to conduct more businesses online.
In addition, it is now even more cost-effective for brands to use Alibaba's platform than to set-up their own platforms for China and Southeast Asia. Therefore, as Alibaba's Tmall Global continues to offer more compelling reasons for brands to use it platforms, consumers will start to consider it as a platform of choice for getting quality, foreign brands at reasonable price. This value proposition will be a great catalyst in enabling Alibaba reach its goal of attaining more than 50% of its total sales outside of China.
Conclusion
Alibaba's global growth strategy depends on attracting more companies to its international platforms. The more these companies join the more traffic Alibaba is likely to attract. This is why Alibaba's move to give international brands access to Southeast Asian markets will be a great value proposition for Alibaba. Besides being a great value proposition, the Lazada deal is also a very cost-effective way to expand into new markets as it avoids the perils of brand penetration in new markets. We believe Alibaba's global expansion plans will involve creating a seamless experience between its Chinese operations and that of its global partners and the Lazada deal is a step ahead in that direction.
Disclosure: I/we have no positions in any stocks mentioned, and no plans to initiate any positions within the next 72 hours.
I wrote this article myself, and it expresses my own opinions. I am not receiving compensation for it (other than from Seeking Alpha). I have no business relationship with any company whose stock is mentioned in this article.