Shares of Intel (NASDAQ:INTC) have been trading along the 100-day moving average after bouncing off the low in February, as analysts raised concerns about PC and notebook sales during the first-quarter 2016. Intel will report its first-quarter 2016 earnings after the market close on April 19. Investors will be closely watching the results from the Client Computing Group, or CCG, Intel's mobile and PC business, and the Data Center Group, or DCG, as about 88.9% of their revenues last year came from these two groups.
Less than a week ahead of the earnings report, Pacific Crest warned it expects Intel to report first-quarter earnings below the midpoint of guidance, and to lower its guidance for the full-year as well. Wall Street opinions about Intel's data center outlook are mixed, according to Barron's. Investors may want to pay attention to the average selling prices, or ASPs, of the DCG platform, which are on the decline during the past several quarters.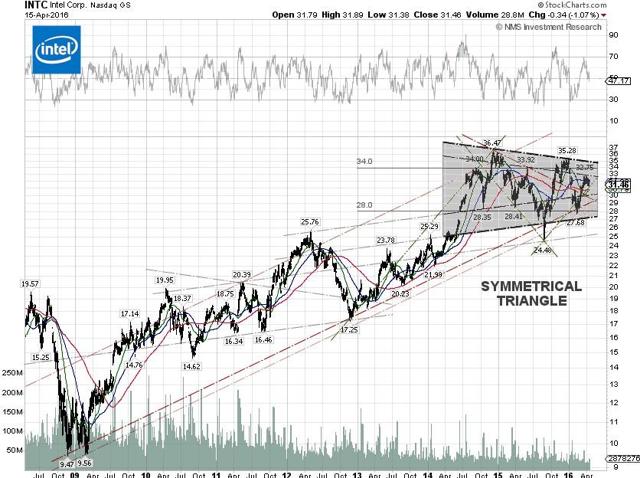 Click to enlarge
Since mid-July 2014, Intel shares have been trading in a range between $28 and $34 per share within a symmetrical triangle chart pattern, meaning investors can't decide in which direction the stock will move next. In our view, INTC could bounce off from the 100-day moving average to the upside even if their earnings report misses estimates, as expectations for Intel may already be low.
Nonetheless, a negative earnings report and guidance surprise could send the stock back to retest the lower trendline support of the symmetrical triangle at about $30 per share, and eventually $28 per share.
Weak Demand in Global PC and IT Markets and Intel's Chip Prices
Last week, Gartner and IDC said that based on their preliminary data, global PC shipments took a 9.6% and 11.5% nosedive in the first-quarter, respectively, from a year ago. IDC, however, anticipates an upturn later this year when the enterprise upgrades to Windows 10 may start to kick in.
Notebook sales aren't doing so great either, according to Chris Danely at Citigroup, who reiterated his view in March that Intel will have to cut its 2016 forecast given worsening trends in the PC market. Danely said Taiwan notebook ODM shipments in the first-quarter 2016 are expected to decline 20-25% quarter-over-quarter, below the normal seasonality of down 14% quarter-over-quarter.
More bad news might be Gartner's latest forecast saying that global IT spending will decline 0.5% in 2016, instead of the 0.6% growth previously reported in January. Although Gartner kept the estimates for spending on data center systems at $175 billion for 2016, it revised spending growth downward to 2.1%, from the January forecast of a 3% increase, on a year-on-year basis.
Intel investors are hoping for a revenue rebound in its lucrative Data Center Group, which makes microprocessors, chipsets and SoC that are used in servers, storage, and switches to power data centers. In the fourth-quarter 2015, the company said DCG revenue grew 5.3% year-on-year, compared to a 25.4% clip during the same quarter in 2014. Most analysts had expected previous double-digit percentage gains to continue.
Revenues and operating income growth from the Data Center Group, which accounted for 28.86% and 15.53% of total revenue and operating income in 2015, are decelerating. From Intel's earnings statements, DCG revenue grew 11.05% in 2015, compared to 18.3% in 2014, while the operating income grew only 6.14% in 2015, compared to the explosive growth of 30.17% in 2014.
Notably, the average selling prices of the DCG platform increased just 3% in 2015, compared to a 10% increase in 2014, while the unit volume growth was 8% in 2015, as it was in 2014. In fact, the ASP during the fourth-quarter 2015 was down 1% compared to the third-quarter 2015 and the fourth-quarter 2014. Intel may want to cut the ASP deeper if enterprise buying remains cool and new competitors begin to emerge, as they try to maintain high single-digit growth.
In early April, Jerome Ramel at Exane BNP Paribas cut his rating of Intel to Neutral from Outperform, citing that ARM Holdings (NASDAQ:ARMH) is making more inroads to Intel's server chip franchise than he had expected. Ramel revised his revenue growth forecast downward for Intel's Data Center Group to 13.13% from 13.75% for 2016, and to 6.63% from 11.54% for 2017.
Intel Data Center Chips Come Under Siege
The thesis that a real threat to Intel's data center market may still be years away since large scale data centers still mainly run on x86 chips, comes into question after the recent announcement by Google, a division of Alphabet Inc., Class A (NASDAQ:GOOGL) and Class C (NASDAQ:GOOG), at the OpenPower Summit in San Jose, California. Google said it's developing a data center server with cloud-computing company Rackspace Hosting Inc. (NYSE:RAX), code name "Zaius", which will run on a new Power9 IBM (NYSE:IBM) OpenPower chip.
To make matters worse for Intel, Google plans to submit its final design through the Facebook (NASDAQ:FB) Open Compute Project, so other companies can use it to build their own data center servers. Rackspace Hosting said they will deploy their solutions into production.
Thus far, Google is not yet sure about switching to the Zaius Power9 server, running on OpenPower chips, or to processors based on designs by ARM Holdings, as the decision is going be based on performance-per-dollar, said Gordon MacKean, a Google senior director of Infrastructure in an interview with Bloomberg. Regardless, Google will have more leverage with Intel, even after Intel launches a brand new server platform in the second-quarter 2017 known as Purley, which according to them, is the "biggest platform enhancement since Nehalem".
Early in January, Annapurna Labs, Ltd., an Israeli chip designer that Amazon (NASDAQ:AMZN) bought for between $350 and $375 million last year, sent out a press release saying that it will start rolling out a new line of ARM-based chips called Alpine, which can run WiFi routers, power connected devices, and handle networking and storage functions for data centers. The chips will be sold to makers of products for homes and data centers.
Qualcomm (NASDAQ:QCOM) announced in mid-January that it had entered into an agreement with the Chinese province of Guizhou to create a joint venture called Guizhou Huaxintong Semi-Conductor Technology Co.. Qualcomm plans to enter the server CPU market that Intel dominates, with a customer processor chip built using the ARM architecture, which is less expensive and may also consume less power.
Intel immediately fired back several days later with an announcement of a new joint venture to design chips through a research partnership with Tsinghua University and Montage Technology Global Holdings. Intel will put $100 million into the venture.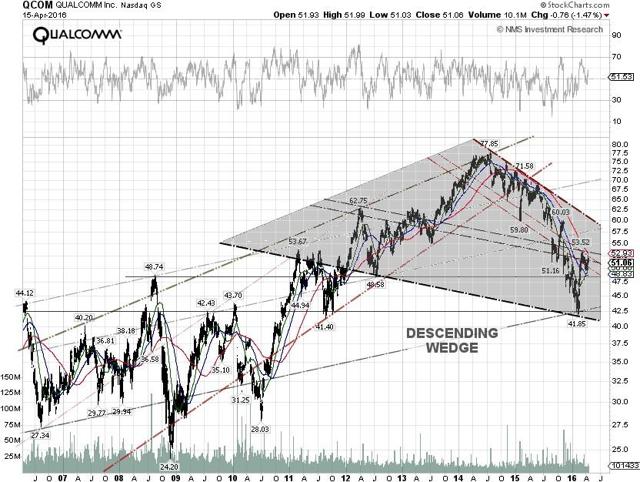 Click to enlarge
A Barclays analyst turned bearish on QCOM in late March after Intel became a second source for the Apple (NASDAQ:AAPL) iPhone 7 "baseband" cellular modem. More bad news also came from Google's announcement that it singled out an IBM OpenPower design rather than one from Qualcomm. Shares of Qualcomm have performed poorly during the past 10 years. QCOM bounced off a four-year low at $41.85 a share in mid-February and the stock is now trading under the 200-day SMA, near the $51 a share trendline resistance level.
Advanced Micro Devices (NYSE:AMD) announced in January that they had started volume shipments of its "Seattle" Opteron A1100 ARM processors, designed for high density server systems. The Opteron A1100 chips will power web servers, networking appliances and storage arrays. So far, analyst views of the new AMD 64-bit ARM chip have been mixed.
Chip companies, including Broadcom Ltd (NASDAQ:AVGO), Applied Micro (NASDAQ:AMCC) and Cavium (NASDAQ:CAVM), could soon try to take a bite from Intel's near-monopoly market share with their Vulcan 64-bit ARM server processor, X-Gene family of ARM server chips and ThunderX ARM processor, respectively.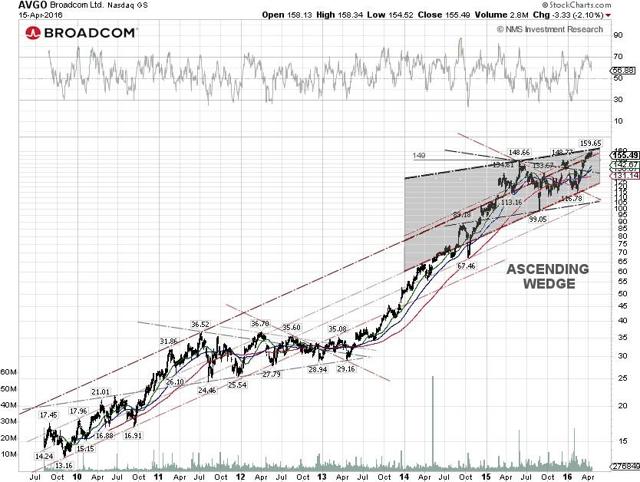 Click to enlarge
Shares of Broadcom, one of the largest ARM server chip companies, is trading at the top of the range of the bearish ascending wedge chart pattern. The stock could bump along the upper trendline resistance, as long as momentum continues and earnings power support a premium valuation. There are several supports if AVGO pulls back.
Intel's High Performance Chips Aren't a Game Changer
The acquisition of Altera by Intel was completed in early fiscal year 2016 and Altera emerged as a stand alone unit called the Programmable Solutions Group. Intel just announced that the company had begun shipping a development module that features Xeon E5 server processors and field-programmable gate arrays, or FPGAs, from Altera, which will improve the performance-per-watt of systems by as much as 70%.
Late last year, Qualcomm and IBM already signed deals with Xilinx (NASDAQ:XLNX), Altera's competitor, to allow Qualcomm and IBM to incorporate Xilinx FPGA chips in Qualcomm's ARM-based server chips and IBM's Power-based systems to accelerate their performance.
As competition in the data center business is heating up, it is highly critical for Intel to convince Google, Facebook, and others to switch from the graphics processor unit, or GPU, chips to the Intel hybrid Xeon-FPGA chip to power their artificial intelligence tools, including speech recognition, image recognition, and natural language processing.
Conclusions
Investors will be closely watching Intel's earning report, to be released after the close of April 19, with an eye on results from their Data Center Group, as revenues, operating income growth, and average selling prices had previously been decelerating as global IT spending is on the decline and competitors make further inroads.
Intel's Data Center chip business is coming under direct siege so the thesis that a real threat to Intel's data center market may still be years away comes into question after the recent announcement by Google at the recent OpenPower Summit. Google said it's developing a data center server, code name "Zaius", which will run on a new Power9 IBM OpenPower chip. Google will thus have more leverage with Intel, despite Intel's new server platform, known as Purley, to be launched next year.
After the earnings report is released, the stock could bounce to the upside, as expectations for Intel may already be low.
Disclosure: I am/we are long AAPL.
I wrote this article myself, and it expresses my own opinions. I am not receiving compensation for it (other than from Seeking Alpha). I have no business relationship with any company whose stock is mentioned in this article.