BlackRock (NYSE:BLK) thrives through its ETF business iShares and I'm worried about the sustainability of that business. The recent earnings call did little to quash that. I've been an evangelist about ETFs since something like 2006 and helped to spread the word. I believe they were/are an amazing new tool in the retail investor's toolbox that deserved widespread adoption. And adopted it was.
I still love the broad market ETFs, tax efficient and at ultra low cost but I don't love every new issue nor the massive flow from actual active strategies to passive strategies and strategies active only in name.
BlackRock shareholders don't like to think about it (as BlackRock is crushing it in the space) but when do you have too much of a good thing?
ETFs allocate capital according to rigid rules. If there are inflows into a certain ETF, the funds get invested across its holdings in a mechanical way. To avoid price impact, ETFs tend to only hold liquid issues. Over the past few years, money has poured into "passive" strategies, greatly benefiting ETFs.
BlackRock saw $50 billion in fixed income inflows in 2015 and this last quarter generated record net inflows of $27 billion. That's just its fixed income business. Another segment with terrific growth is the firm's smart beta segment. Smart Beta incorporates factors in order to increase risk/adjusted returns. It sells well and BlackRock can charge a higher fee on these more complicated products. BlackRock now manages over $125 billion in Smart Beta products.
Especially the iShares minimum volatility product did extremely well for the firm last quarter adding close to $7 billion globally in the quarter, leading the ETF industry's smart beta category and increasing its AUM to $67 billion. BlackRock plans to continue to launch multi-factor iShares. Meanwhile, high-beta ETFs like the PowerShares S&P 500 High Beta Portfolio (NYSEARCA:SPHB) struggle to attract capital at all.
The defense often used to downplay the effect ETF flows on asset price dislocation is the size of ETF allocation ($3 trillion globally). In light of all managed assets, it's still only a modest sliver of the pie. There's still almost $16 trillion in mutual funds...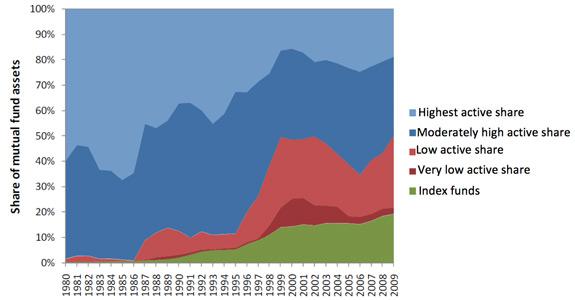 Source: Benefits Canada
Unfortunately, I believe their influence is greater than their total allocation would imply. While ETFs have been growing AUM, mutual funds have decreased their active share. In effect, becoming more like index funds albeit charging higher fees.
ETFs, because of their transparent mechanisms can only trade in highly liquid issues or run the risk of getting hammered by savvy traders taking advantage of their rigidness in combination with temporary dislocation. That limits their influence to a smaller sub-set of the market.
More importantly not all the other market participants are value arbitrageurs. There are many active participants that have their own limitations or employ strategies like momentum or risk controlling strategies like low beta. ETFs utilizing momentum tactics are especially egregious as these can get caught up in a cycle where ETF inflows slowly drive up prices, which triggers active momentum traders, which triggers momentum ETF buying which triggers more momentum traders and so on.
This inspired Murray Stahl, whose body of work on ETFs is worth reading from the first letter to the last, commentary:
One would do well to remember that this state of affairs is not a new phenomenon in investing. In prior eras, it was known as go-go investing, or trend following. Now it takes the guise of index-based asset allocation. All such phenomena have ended unpleasantly. The index universe has become, simply, a big momentum trade. It is the most crowded trade in the history of investing. And crowded trades eventually attract short sellers.
None of this is fun to read as a BlackRock investor but I believe it's important to take note of, as it's the Achilles heel of this asset manager. There is an optimum level of allocation through ETFs. Up to a certain point, ETF investors enjoy a free lunch. They benefit from the market's price setting mechanism while paying lower fees and/or doing no valuation work themselves. Freeing up time and money. At some point, relying on the fewer and fewer active market participants to keep the market efficient isn't going to be sustainable. Too much passive money is causing dislocations the remaining active money can't remedy fast enough.
BlackRock's Enterprise Value of $57 billion, while overseeing $4.7 trillion of AUM, isn't out of line. It's actually a modest multiple, which is understandable given its large slice of AUM under passive (low fee) management and high amount of institutional money under management. I'd say BlackRock looks about fairly valued to me but the sustainability of ETF inflows are something I question.
Disclosure: I/we have no positions in any stocks mentioned, and no plans to initiate any positions within the next 72 hours.
I wrote this article myself, and it expresses my own opinions. I am not receiving compensation for it (other than from Seeking Alpha). I have no business relationship with any company whose stock is mentioned in this article.