American Renal Associates (NYSE:ARA) expects to raise $142.3 million in its upcoming IPO. Based in Beverly, Massachusetts, American Renal Associates provides outpatient dialysis services in the United States. We previewed this IPO on our premium platform, which you can sign up for here.
American Renal Associates will offer 7.5 million shares at an expected price range of $20 to $23. ARA filed for the IPO on August 31, 2015.
Lead Underwriters: Barclays Capital, BofA Merrill Lynch, and Goldman Sachs
Underwriters: Leerink Partners LLC, SunTrust Robinson Humphrey, and Wells Fargo Securities
Business Summary: Provider of Outpatient Dialysis Services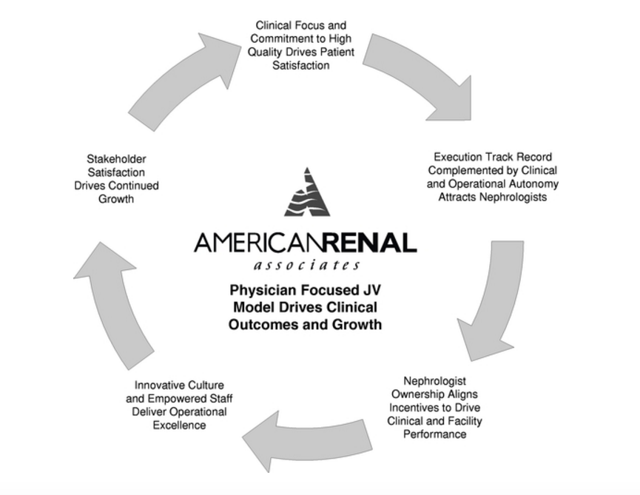 Click to enlarge
(Source)
American Renal Associates provides outpatient dialysis services in the United States. The company operates through joint venture relationships with nephrologists. In addition, the company offers services to hospitals that include dialysis patient discharge coordination, and acute patient dialysis services such as inpatient peritoneal dialysis, inpatient hemodialysis, C.R.R.T., C.V.V.H., and apheresis.
American Renal Associates has locations in Washington, D.C., Pennsylvania, Florida, Georgia, South Carolina, Virginia, Maryland, Delaware, New Jersey, Connecticut, Rhode Island, Massachusetts, New York, Ohio, Michigan, Wisconsin, Illinois, Missouri, Colorado, Louisiana, Texas, Arizona, and California.
Through December 31, 2015, ARA owned and operated 192 dialysis clinics in partnership with 347 nephrologists. It currently treats over 13,000 patients, and the number of treatments grew at a CAGR of 15 percent between 2012 and 2015.
ARA operates its clinic solely with the joint venture model, which it uses to partner with local nephrologists to develop and operate dialysis clinics. Each clinic is maintained as a separate joint venture, and American Renal Associates has controlling interest while the nephrologist partners have non-controlling interest. At the end of 2015, ARA held on average a 54 percent controlling interest in the clinics.
The company intends to use $142 million of the net proceeds of the IPO, along with aggregate borrowings of $75 million, to repay in full all outstanding amounts under a second-lien credit facility. In addition, any remaining proceeds may be used for working capital and general corporate purposes, including the acquisition of new clinics or the expansion of existing clinics.
Executive Management Overview
CEO and Chairman Joseph Carlucci has been with American Renal Associates since 2006. He has more than 30 years of experience in the dialysis services industry. His previous experience includes senior positions at Optimal Renal Care and Fresenius Medical Care North America (NYSE:FMS). Mr. Carlucci received his B.S. degree in Accounting from Bentley College.
CFO Jonathan Wilcox also serves as CFO and VP of American Renal Associates Holdings. His previous experience includes senior financial positions at Cynosure (NASDAQ:CYNO), Forrester Research (NASDAQ:FORR), Vlingo, and Arthur Anderson. Mr. Wilcox received his B.S. degree in Government and History from Centre College and his Master of Public Accountancy and MBA from Northeastern University.
Potential Competition: Fresenius Medical Care, DaVita Kidney Care and U.S. Renal Care
American Renal Associates faces competition from the largest providers of dialysis in the United States including Fresenius Medical Care, DaVita (NYSE:DVA) Kidney Care, U.S. Renal Care, Dialysis Clinic, Inc., DSI Renal, Satellite Healthcare, Renal Ventures Management, Atlantic Dialysis Management, and Centers for Dialysis Care.
Valuation: Strong Top- and Bottom-Line Results
American Renal Associates provided the following figures from its financial documents for the years ended December 31:
| | | |
| --- | --- | --- |
| | 2015 | 2014 |
| Net patient service operating revenues | $652,981,000 | $560,734,000 |
| Net Income | $93,077,000 | $82,406,000 |
As of December 31, 2015:
| | |
| --- | --- |
| Assets | $939,469,000 |
| Total Liabilities | $780,548,000 |
| Stockholders' Equity | ($129,193,000) |
Conclusion: Consider Buying In
Backed by Centerbridge Partners, ARA's ESRD patients have grown approximately 77% from 2000 to 2014. We like ARA as it's one of the few healthcare IPOs in recent history that is already making money.
While obtaining new patients covered by commercial insurance is still a noted risk, we suggest an allocation of the deal.
Disclosure: I/we have no positions in any stocks mentioned, but may initiate a long position in ARA over the next 72 hours.
I wrote this article myself, and it expresses my own opinions. I am not receiving compensation for it (other than from Seeking Alpha). I have no business relationship with any company whose stock is mentioned in this article.