Many investors preparing for, or already living in retirement, often wonder what are the primary risks to a successful retirement. I'll touch on some of the biggest threats. Hint: none of them involve finding the next big stock.
Most of the risks can be appropriately mitigated with a few tweaks leading up to, and early in, the golden years.
Spending too much
In my book the No. 1 threat is excessive spending, especially in the early portion of retirement. The primary mitigation is living below your means by developing and adhering to a reasonable budget that factors in the ravages of inflation over time.
Some spending, such as on taxes and savings, will decline but others, for example healthcare, are likely to be bigger burdens on the investor's purse strings going forward. Fidelity estimates that a 65-year old couple will spend nearly a quarter of a million dollars on medical care over the next 20 years and that medical costs will increase at a 4% annual rate.
Practicing retirement during the last few years of your working career is a great way to fine-tune the budget.
An article, "Careful Spending And Attention To Medical Costs May Be As Important As Investment Success During Retirement Planning", discusses this subject in more detail.
Having too little stock exposure
Retirement income will need to grow each year in order to stay ahead of price increases. Even at a benign 2.5% average inflation rate the purchasing power of the dollar will decline by 40% over the next two decades. At a 4% rate (the high end of the historical average) an item that costs $10 today will set you back over $20 in the year 2036.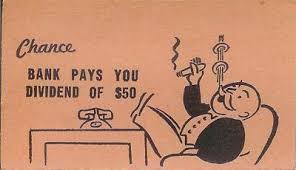 One of the best ways to ensure income keeps up is to hold a basket of stocks that have boosted dividend payments annually for decades upon decades such as Johnson & Johnson (NYSE:JNJ), every year since 1963, and AT&T (NYSE:T), each year since 1985.
These so-called dividend growth stocks all have a few things in common including reasonable valuation and debt levels, modest payout ratios, lots of cash, and competitive yields as compared to alternatives such as bonds.
The case for Johnson & Johnson right now includes a fairly valued stock with a P/E of 20, inline with the market and its recent past, average earnings growth of 13% over the past five years, a yield of 2.7%, manageable debt represented by a debt/equity ratio of 0.18, and a payout ratio of 65% of earnings.
I, and many other analysts, expect the good times to keep rolling along. Johnson & Johnson has an excellent management team in place, always has a multitude of drugs in its research and development pipeline, and makes judicious use of mergers and acquisitions to keep on its steady upward growth pace.
AT&T also has a lot of the metrics going for it right now. The stock seems fairly valued at a P/E of 16 and both revenue and earnings have been growing at double-digit rates recently, much higher than over the longer term. Throw in a juicy 5% yield and a payout ratio under 75% as of the end of 2015 and it is likely that the board of directors will keep authorizing dividend increases, which have been averaging about 2% a year, in the future. Even the debt, which the company increased when it acquired DirectTV last year, doesn't look like too much of an issue based upon a debt/equity ratio of 0.96.
Not enough diversification
Another retirement risk involves lack of diversification in terms of both asset class and the number of individual holdings.
In the event of a major stock market meltdown, like that experienced twice in the last 15 years, it is possible that both the stock price and the dividend will decline. For example, during the 2000-2002 bursting of the dot-com bubble seven members of the SP500 Dividend Aristocrats stopped boosting the payout and after the 2008 financial crisis about a third of the firms that had previously increased dividends for at least 25 years in a row were forced to stop the practice. Selling shares to find alternatives might not be such a great strategy when both capital and the dividend are in free fall.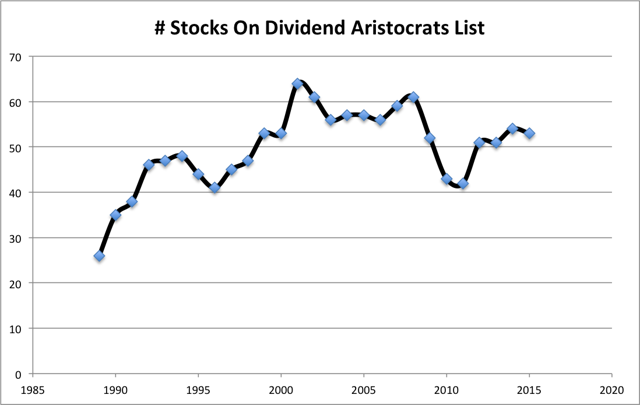 Click to enlarge
To prevent any problems in this area the prudent retiree should not hold all their eggs in one basket and have more than one basket. One technique I like to use is to ensure that two to three years worth of expenses are in cash and another few years are in bonds to ride out any storm in the equity markets. I wrote a series of articles, including "Retired? Follow These Four Steps To Generate Income", on this subject.
It also might be wise to own more than just a handful of stocks in an income-producing portfolio. A good idea is to perform a stress-test to verify that losing the dividend, or growth, from two or three stocks will not put a damper on total income. I wrote about that in the article, "HALT: Testing Your Dividend Growth Portfolio To Failure"
Conclusion
Excessive spending, too little stock exposure, and lack of diversification are three of the biggest risks that investors might face in retirement. Having a plan in place to deal with each of the threats is always a good idea.
Disclosure: I am/we are long JNJ, T.
I wrote this article myself, and it expresses my own opinions. I am not receiving compensation for it (other than from Seeking Alpha). I have no business relationship with any company whose stock is mentioned in this article.