At the end of February I wrote an article titled 'MLP Closed End Funds Are Becoming Overvalued, Time to Switch to ETFs', which outlined that MLP closed end funds were trading at premiums for no discernible reason. The average discount to NAV for the 29 funds mentioned was -6.08% and at that time they were trading at -3.38%. Now this discrepancy has corrected itself and the same 29 funds are trading at an average discount of -6.79%. It is always nice to be right so let's try one more time; I have noticed that some funds have traded too far into the discount range and this has created a nice opportunity to trade on the opposite side.
Readers unfamiliar with MLP closed end funds and the terms used can learn more here from one of my previous articles.
Let's start with the most popular exchange traded fund in this sector- the Alerian MLP (NYSEARCA:AMLP). This is the fund we always choose as a benchmark and is usually our main hedging vehicle. The top 10 holdings of the fund are: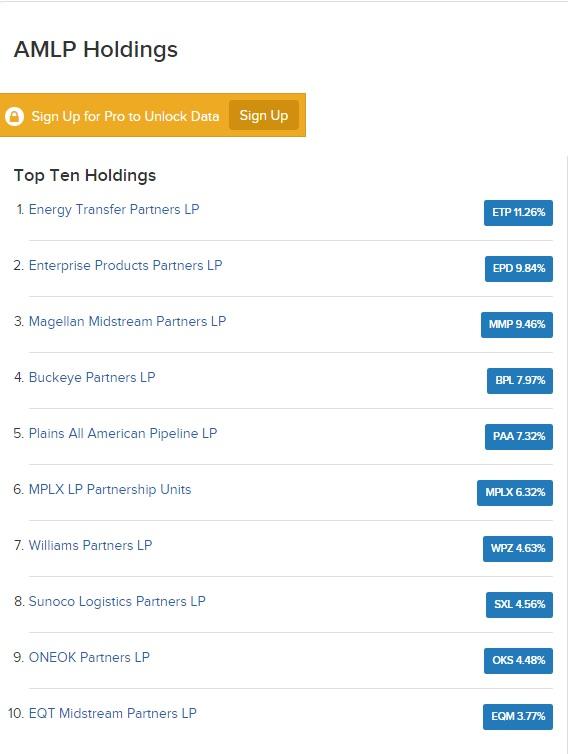 source: Etfdb.com.
The recent oil related moves have made the correlation between all MLPs very high. There is no way for us to make a decent analysis of which holdings will outperform and our approach is more statistical. Diversified portfolios of MLPs move with a correlation very close to 100%. This may very soon change once the markets calm down, but currently the statistical research does more than the fundamental (at least for us). We accept that AMLP, being an open end fund, will have lower deviations vs. its NAV and will look for a way to outperform this ETF regularly, by choosing the most deviated closed end funds.
The 3 funds:
Cohen and Steers MLP Income and Energy Opportunity Fund, Inc (MIE)
This fund has total net assets of $247.1m, allocated over 79 holdings in mid-stream MLPs and energy investments. It's top 10 holdings are as follows: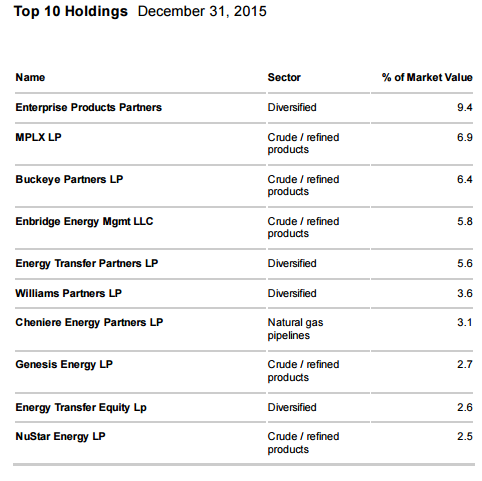 source: Cohen and Steers
Perhaps interesting to note that a 7.11% stake in Kinder Morgan in July '15 has been reduced to just 1.42% currently. However we are not too concerned with each holding. The following data is more compelling: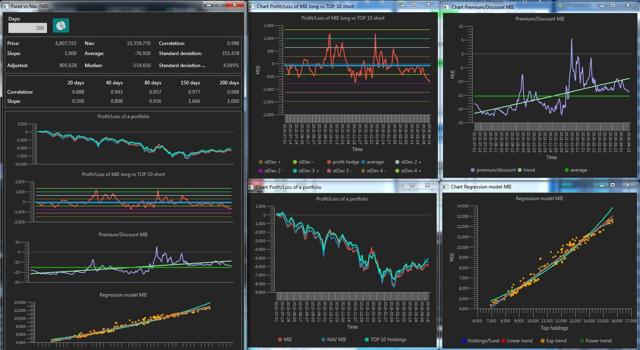 Click to enlarge
source: author's software
The discount to NAV has clearly diverged from its normal path. The YTD average is -8.43% and current discount is nearly -14%. This maybe due to some underlying problem with the fund that we can't see, but usually it is produced by little more than market inefficiency and soon corrects itself. We saw some inexplicable premiums of up to 25% in a few funds recently (as highlighted in the second linked article above), and these have come down back to average values.
ClearBridge American Energy MLP Fund Inc. (CBA)
This fund has total net assets of $445.6m. These assets are allocated as shown below: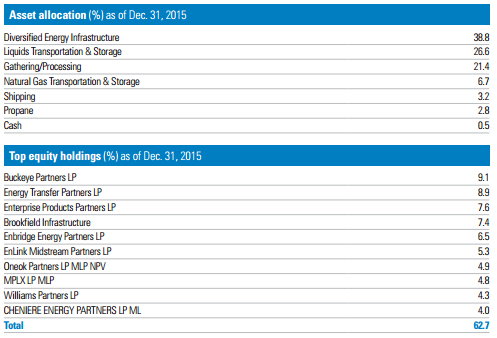 source: www.leggmason.com
It would take us too long to analyze each holding of each fund in this article. We will only direct you where to find out all the necessary information and invite you to do your own due diligence. No-one wants to buy a find full of turkeys, even if it is at a small discount. What we can do is show that these funds are currently offering decent entry points based on historical discount patterns.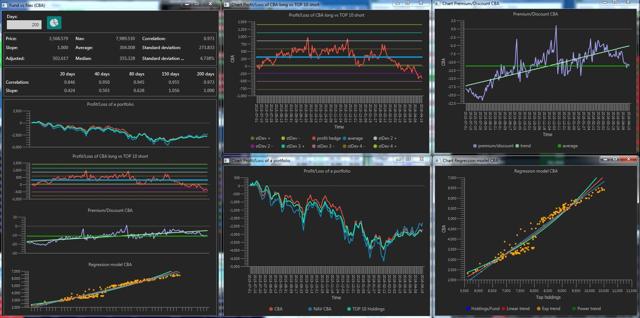 Click to enlarge
The fund has a YTD average discount to NAV of -5.91%, but is currently trading at a discount of close to -11%. An entry at these prices offers good risk vs. reward. Either the fund market price will rise towards the NAV, or if the holdings fall, the fund should fall less than the NAV. Both these scenarios will push the current discount closer to average levels.
Fiduciary/Claymore MLP Opportunity Fund (NYSE:FMO)
This fund has total net assets of nearly $700m.
The top 10 holdings can be seen on this picture: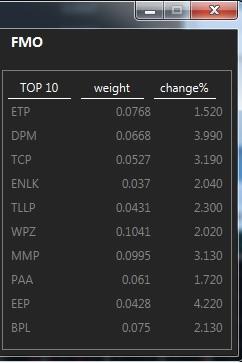 source: author's software
The relation with NAV and top 10 holdings is best seen here: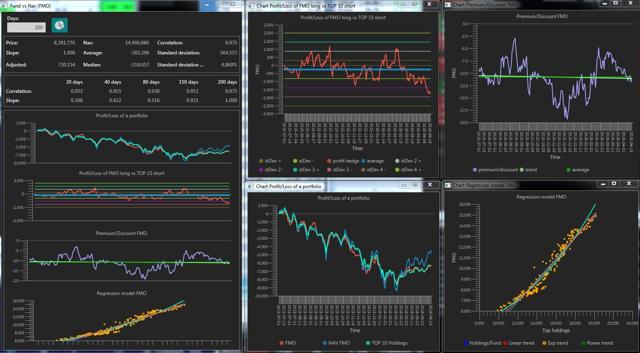 Click to enlarge
It is easily seen that the fund is lagging its NAV. The discount is not at the same extreme level it was a few months ago, but currently it is one of the funds that is lagging its NAV and can also be traded as an alternative to its top 10 holdings. There is no guarantee that this discount will narrow or that the fund will outperform its top 10 holdings, but based on its cyclical performance against its NAV and top 10 holdings the odds are favorable.
Comparisons with AMLP
We are constructing a portfolio with the 3 funds and will track its performance vs. AMLP. The 2 portfolios are build in a way that their slope is 1. This means that if they follow their simple regression model, they will move together without any deviations. In our strategy every deviation from average can give us a signal to switch between the 2 portfolios.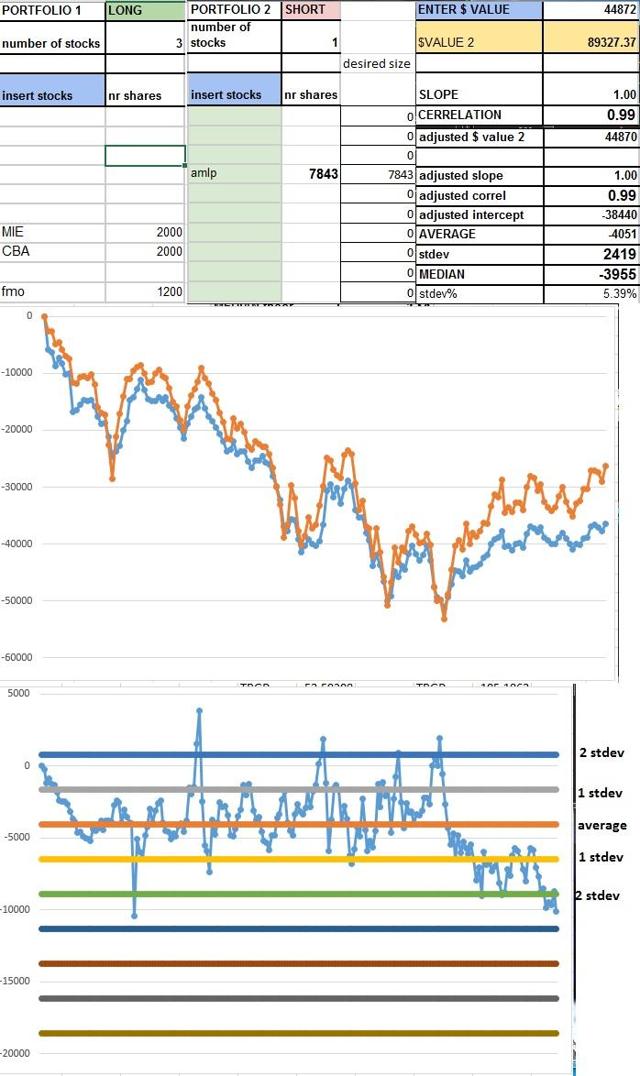 Click to enlarge
source: author's software in a building mode.
It is clearly seen that AMLP is outperforming the 3 funds currently. If you cannot find any fundamental reason for that, maybe it is time to switch. There is one thing that may make this strategy a poor one and it is the unknown behavior of the funds' managers. It is possible that they have switched to less volatile stocks than AMLP and the deviation would then be justified. What acts as an extra protection is that the 3 funds are lagging their NAVs and there is a little room for them to go back to their extreme discount levels. There is some bullish sentiment in the energy sector and usually closed end funds( being a low volume vehicle) create overvaluations. If this happens they will definitely outperform AMLP
Conclusion
Closed end funds are the perfect instruments to participate in any sharp move in the MLP sector. There will always be one lagging fund that has lost his orientation and is waiting for you to either buy it or short it while you have a hedging opportunity available.
Disclosure: I am/we are long FMO, CBA, MIE.
I wrote this article myself, and it expresses my own opinions. I am not receiving compensation for it (other than from Seeking Alpha). I have no business relationship with any company whose stock is mentioned in this article.
Additional disclosure: I am short AMLP