Foreign stocks posted strong gains last week (in unhedged US dollar terms), with emerging market equities in the lead. In close pursuit: stocks in developed markets ex-US. Meantime, bonds suffered over the five trading days through Apr. 15, with foreign corporates posting the biggest decline among the major asset classes, based on a set of proxy ETFs.
The Vanguard FTSE Emerging Markets ETF (NYSEARCA:VWO) led the markets higher last week with a 3.7% total return. The week's biggest loser: the PowerShares International Corporate Bond Portfolio ETF (NYSEARCA:PICB), which slipped 0.6%.
The upside bias in assets last week lifted an ETF-based version of the Global Markets Index (GMI.F), an investable, unmanaged benchmark that holds all the major asset classes in market-value weights. GMI.F advanced 1.4% for the week through Apr. 15.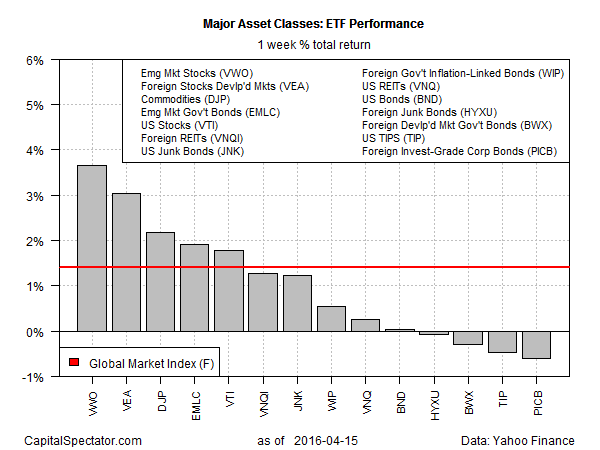 The one-year return ledger, however, shows a clear downside bias via returns through last week. Broadly define commodities (NYSEARCA:DJP) are still the biggest losers via a roughly 24% loss for the past 12 months. Meantime, the US real estate investment trusts continue to hold the top spot for trailing one-year return. The Vanguard REIT Index ETF (NYSEARCA:VNQ) is ahead by more than 6% on a total return basis over the past year.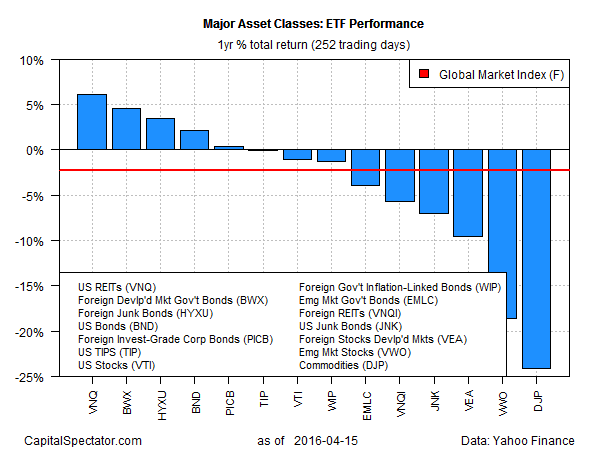 Note, however, that there's still a negative wind blowing for assets generally for the one-year period. GMI.F continues to post modestly negative results vs. the year-earlier level and is currently off by 2.3%.