The share price for Hercules Technology Growth Capital (NYSE:HTGC) is up around 17% since my article, "HTGC: Is It Time To Take The Plunge?", as shown in the chart below. However, as discussed last week in "BDCs Are Blowing Away High-Yield Bond Funds", business development companies ("BDCs") in general have recently been outperforming the general markets.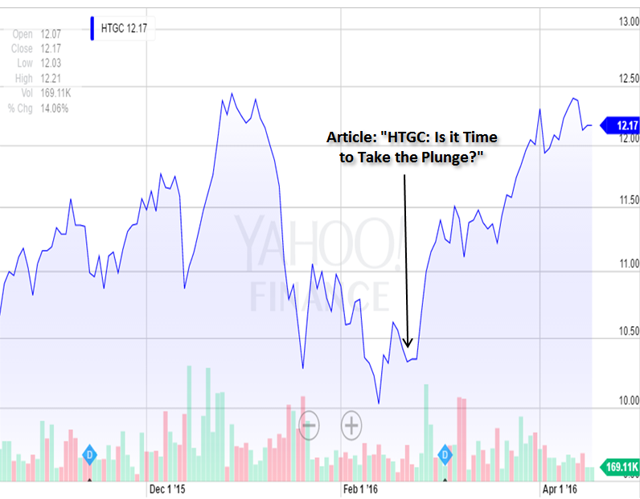 Rising Interest Rates
Earlier this year, the Fed indicated that it would likely raise interest rates two times this year, which is less than the four times originally anticipated by investors. I have recently updated my projections and pricing for HTGC to take into account the Q1 2016 portfolio update announced on April 11, 2016, as well as the impact from the Fed rate increase in December 2015.
As discussed in many of my previous articles, most BDCs will not benefit from rising interest rates below 100 basis points due to investment floors, and some will experience higher borrowing costs related to credit facilities. However, HTGC is likely the best-positioned BDC for rising interest rates, and the Fed increase from December should add $0.03 to annual net investment income (NII). There is the possibility for two more 25-point increases in 2016.
"In December, we saw the United States Federal Reserve increase benchmark interest rates by 25 basis points. This led to an increase in the prime rate from 3.25% to 3.5% on December 17th, which impacts our investment income favorably. Due to the late timing of this increase it did not have a meaningful impact on our financial statements in the fourth quarter. We anticipate a 25 basis points increase in prime so approximately $2 million or $0.03 NII per share favorable impact on an annual basis as we are highly asset sensitive given 94% of our investment loans are variable interest rate loans and 100% of our long term debt is fixed rate debt."
Interest Rate Sensitivity Analysis
Interest rate sensitivity refers to the change in earnings that may result from changes in interest rates. Each quarter, I track the amount of variable and fixed rate investments and borrowings for each BDC to determine which companies will benefit or have reduced net investment income from increased borrowing costs.
As of December 31, 2015, HTGC had 91% fixed rate borrowings and 93.7% of portfolio loans bore interest at variable rates.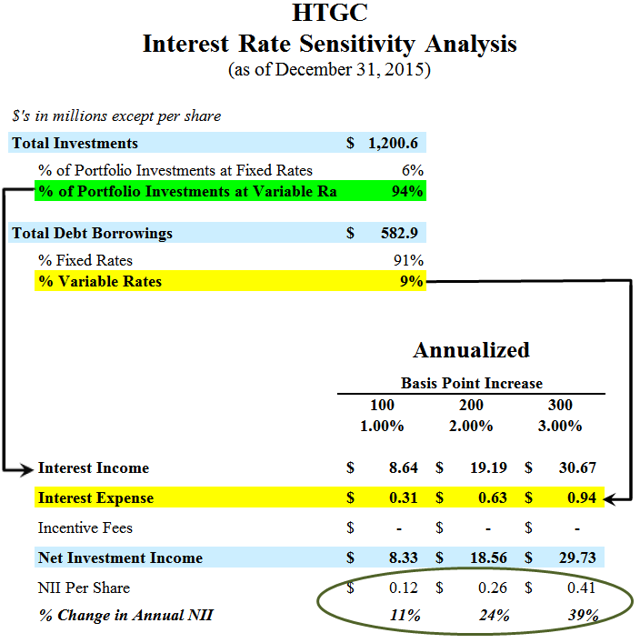 BDCs will begin reporting next week as shown in the table below. As mentioned in previous articles, due to potential later stage related credit issues, investors need to watch restructuring of investments, individual writedowns, management discussions on calls and footnotes.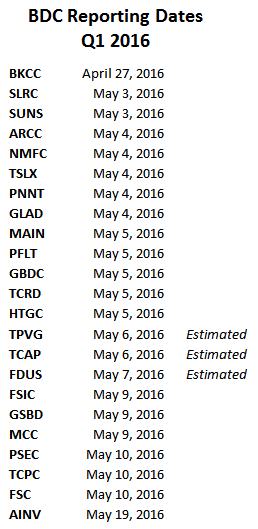 Personal note: I have updated my positions to reflect changes in my holdings, but please keep in mind that some of the positions are VERY small and mostly for research purposes.
Disclosure: I am/we are long HTGC.
I wrote this article myself, and it expresses my own opinions. I am not receiving compensation for it (other than from Seeking Alpha). I have no business relationship with any company whose stock is mentioned in this article.