A Brief Introduction
Honda Motor Co., Ltd. (NYSE: HMC) is one of the top vehicle brands in the world. This Japanese auto maker strives for great quality at a fair price. The Honda Civic continues to be one of the most popular and affordable cars in the United States, rising even more, thanks to leasing. However, even the best auto companies endure some rough financial periods. Ever since 2009, Honda has been struggling with its quality reputation due to recalls along with the profit slide from the financial crisis and natural disasters. On February 23, 2015 Honda chose Takahiro Hachigo to become the new CEO in June to help turn the company around.
Recent History
Over the past several months, results under Takahiro Hachigo's leadership have been mixed. Last fall, the 2016 Civic was released enjoying high praise from consumers and critics alike. It even won the North American Car of the Year award from the Detroit Auto Show. Despite the warm reception, over 42,000 units were already being recalled in February 2016 for potential engine failure. It was revealed that a 2.0 engine's piston pin's restraining ring was either in the wrong area or missing. If failure occurred, it would cost even more time and money to fix on top of the recalls, especially for a newly released car.
The Turnaround Proposal
During Q1 2016, Hachigo has proposed a "fundamental transformation" which would give more control to R&D. The sector will have more time and freedom for planning and testing. R&D is needed much more in this day and age due to Honda's own quality issues and massive technological advancement. Honda will also place more emphasis on production in Japan and exporting its products while taking advantage of the cheaper yen. Failure to utilize exporting combined with the stronger yen at the time had added to its financial troubles. The long-term goal of Hachigo's plans is for two-thirds of Honda's sales to come from "green cars" by 2030. This includes hybrids, electric vehicles, and even fuel cell vehicles which now have plenty of attention. The 2016 Clarity Sedan can seat five people and travel 470 miles when full, an impressive step for fuel cell progress.
Financial Analysis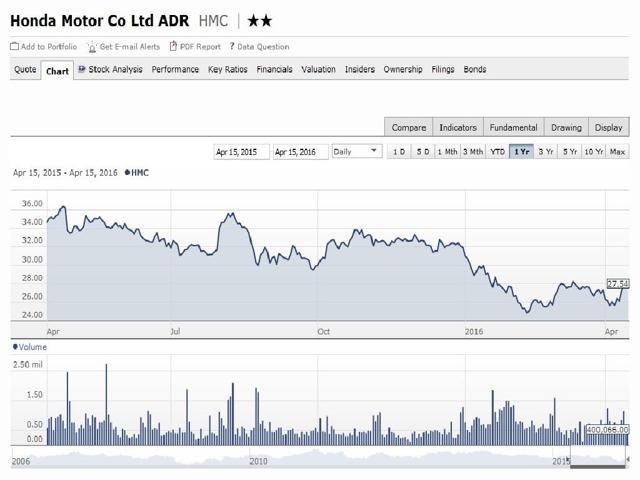 Source: morningstar.com
The chart from Morningstar reflects Honda's current financial situation. February 2016 is the month Honda had to do a recall for the engine piston pin ring mentioned earlier. The current stock price hovers around $27 with risk of dropping lower depending on future events. According to 5-year (April to March) financials, earnings per share has decreased from 346.62 in 2014 to 282.66 in 2015 representing an 18.45% decrease. This has resulted from net income decreasing to $509.44 billion, despite higher sales revenue year over year. Sales revenue itself experienced a much lower growth of 6.57% over last year's 26.61% sales growth. On the ratio section of the financials, current ratio has decreased from a high of 1.35 in 2010 to 1.19 in 2015. Honda is still able to pay its short-term debts but now has less capital to do so. The debt/equity ratio tells an interesting story on how it decreased from 0.53 in 2010 to 0.46 in 2011, then slowly increased over the past four years. It now stands at 0.55 where the company is using more debt to finance its assets which involves greater risk.
Future Growth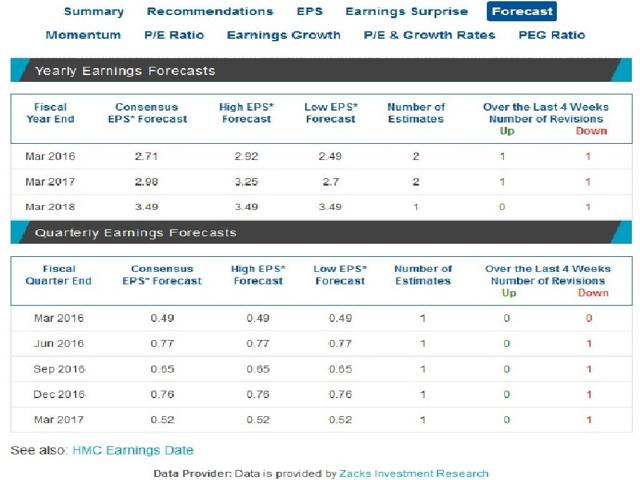 Source: NASDAQ.com
Despite the current financial hiccups, the company is forecasted to grow in some key areas. NASDAQ has shown that the EPS ratio would increase annually for the next two years and even increase for the next few quarters. Earnings are expected to grow year over year with the highest expected in 2018, an impressive 17.31% increase over 2017's 9.98% expected increase. At the same time, the P/E ratio is expected to decrease every year, so investors will be paying less for shares and earning more down the road. Both earnings and P/E determine the PEG ratio which now sits at an attractive 0.90 for March 2017. This means Honda stock is cheap now and will yield a high return for the next fiscal year.
Conclusion
Honda has experienced a rough cycle that has cost it and its investors time and money. It was mostly due to many batches of recalls relating to airbags affecting millions of vehicles and billions of dollars spent to replace them. In 2015, it appointed a new CEO to help turn the company around. Takahiro Hachigo is currently focusing on returning the company to its roots from a production standpoint while taking advantage of the current market. Stock prices along with financials are currently down but will rise again in the future. Investors will be able to buy at a low price and sell high when earnings improve, thanks for forecasts and the company's turnaround. Honda still remains a top vehicle company known for overall quality at a great price. Top analysts have recommended "Buy" to any potential investors due to the success going forward.
Disclosure: I/we have no positions in any stocks mentioned, and no plans to initiate any positions within the next 72 hours.
I wrote this article myself, and it expresses my own opinions. I am not receiving compensation for it (other than from Seeking Alpha). I have no business relationship with any company whose stock is mentioned in this article.