Aside from hedges, most shale drillers can't make any money with crude oil prices where they are. With the lack of an agreement yet again from OPEC's latest meeting, it appears the shale isn't going to be making money any time soon.
Over the next 12 months, I see a lot of the weaker shale plays shutting off. Many geographies just aren't profitable anymore. With cost of production where it is, ultimately the only places that will see lots of drilling will be the Eagle Ford and the Permian (although I suspect the Bakken, Niobrara and SCOOP will still be around in some form).
Carrizo Oil & Gas (NASDAQ:CRZO) is a mid-sized E&P with a big focus on the Eagle Ford, as well as smaller holdings in the Niobrara and Marcellus. Carrizo has a good core position in the Eagle Ford, and despite that, even CRZO is facing difficult times. Carrizo has some of the lowest breakeven costs among shale players. Have a look.

Click to enlarge
Source: Courtesy of Carrizo Investor Relations
Despite its low cost, even Carrizo isn't going to make any money, hedges notwithstanding. The one saving grace with Carrizo is that the company is better than most, meaning that it would be one of the last "dominoes" to fall, which in this case makes trouble much less likely in the long term.
Just recently, Carrizo attended the well-known IPAA oil and gas seminar in New York, and highlighted its unique position among shale-based E&Ps, particularly with the company's low cost of production as shown in the chart above.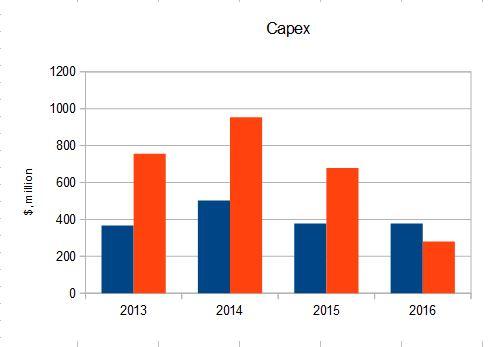 Capital Expenditure (in red) vs. Operational Cash Flow (in blue).
Source: Data by Morningstar
The thing to understand about Carrizo is that it has taken a "whatever it takes" attitude toward living within cash flow, for the time being at least. That meant cutting capex to under $300 million and spending only on the company's most profitable acreage. As a result, Carrizo has removed all the rigs from the Niobrara and Marcellus, and is focusing exclusively on its Eagle Ford acreage. If Carrizo generates as much cash flow this year as it did last year, the company should be spending within its means in 2016.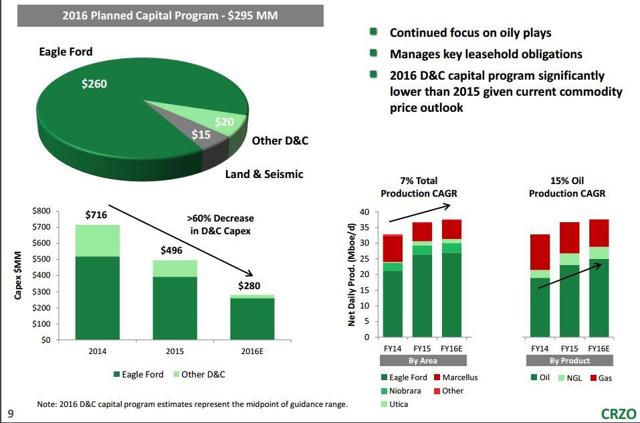 Click to enlarge
Source: Courtesy of Carrizo Investor Relations
What does such a cut in capital expenditure do to oil production? Not too much, at least not yet. Notice the above bar chart on the right-hand side. Production in 2016 is a tick higher than in 2015. I believe this growth is due largely to the drilling momentum from 2015 carrying over into 2016 and translating into higher production. If so, it will be much more difficult to keep production flat in 2017.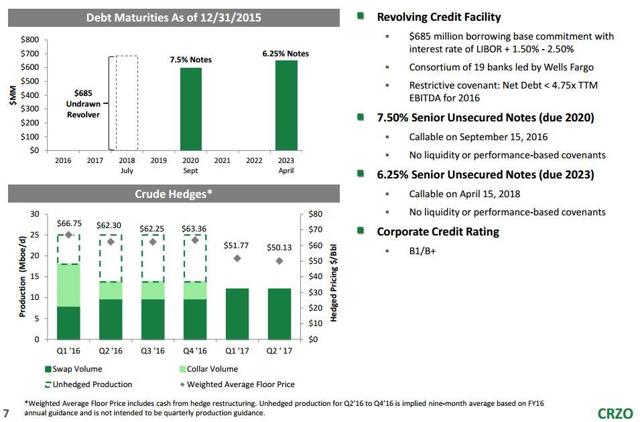 Click to enlarge
Courtesy of Carrizo Investor Relations
Here's another way things could get tougher for Carrizo in 2017: Hedges. By Q1 2017, hedges are set to decline to about 50% of production, with realized hedges to drop over $10 per barrel. Unless WTI recovers and exceeds $60 per barrel by 2017, a scenario which is looking increasingly unlikely, this will have a negative impact on operating cash flow.
All that said, it's difficult to imagine Carrizo running into a liquidity situation even if oil prices stay low in 2017. The company has a $680 million undrawn credit facility with a 4.75 debt/EBITDA ceiling. Currently Carrizo's net debt is 2.7 times EBITDA. There is still a lot of breathing room here; much more so than most peers. For that reason, I find it difficult to be too pessimistic on Carrizo. The company probably won't generate too much cash for a while, but there's no disaster looming ahead. Not only that, but also Carrizo will be in a very good place whenever WTI may recover, although I'm not sure when that day may come.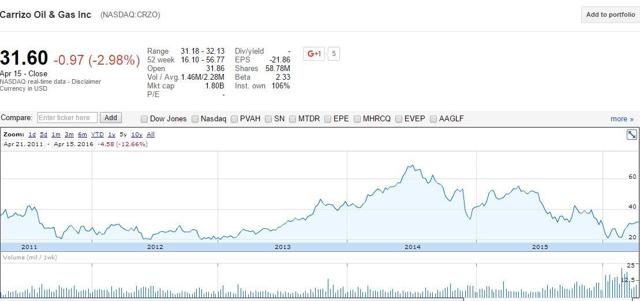 Click to enlarge
Five-year chart of Carrizo.
Source: Courtesy of Google Finance
Carrizo is down by quite a bit, as many E&Ps are. But also like most E&Ps, there will be lots of time by which to take advantage of these low prices. For that reason, I don't recommend buying Carrizo at this time. There just isn't any urgency. One thing is inarguable, though, and that is that Carrizo remains a top-tier shale driller that can weather its way through this storm better than most.
Disclosure: I/we have no positions in any stocks mentioned, and no plans to initiate any positions within the next 72 hours.
I wrote this article myself, and it expresses my own opinions. I am not receiving compensation for it (other than from Seeking Alpha). I have no business relationship with any company whose stock is mentioned in this article.