Elevator Pitch
Multi-family homes have been on a tear in recent years. In 2013, they comprised about 25% of all housing units constructed, but latest data suggests they already comprise much more than 35% of total constructed homes in 2016. Rents on multi-family homes have been going up relentlessly as March 2016 marked another all-time high national average rent price of $1181/month. The fact is that people cannot afford to own homes anymore and need to resort to the multi-family home market. This will be extremely bullish for Milestone Real Estate Investment Trust (OTCPK:MSTUF).
Company Description
Milestone Apartments REIT owns and manages attractive, well-capitalized garden-style apartment communities in growing major metropolitan markets throughout the Southeastern and Southwestern United States, which is called the sun belt.
MSTUF is the largest REIT listed on the TSX focused solely on the U.S. multi-family sector. Its platform employs approximately 1,500 personnel nationwide with corporate offices in Dallas, TX and New York, NY and ten regional acquisition and management offices throughout the U.S. The REIT's portfolio is made up of over 70 multifamily garden-style residential properties, comprising over 22,000 units that are located in 14 major metropolitan markets throughout the Southeast and Southwest U.S.
Thesis and Catalyst For Milestone Real Estate Investment Trust
Let's look at the facts. People in the United States cannot afford to buy homes anymore. Homeownership rates have been plunging since 2005 to multi-decade lows of 63%.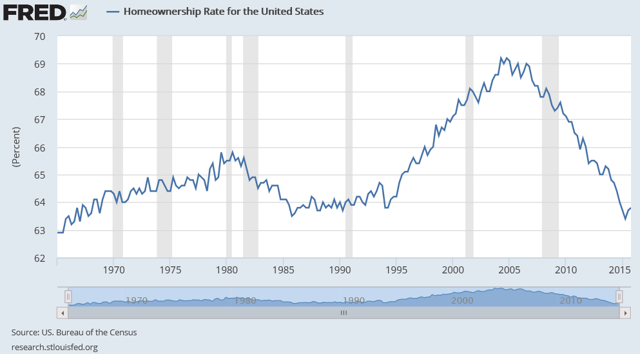 Click to enlarge
This will force people to opt for multi-family homes, as can be seen on the next chart from Harvard University.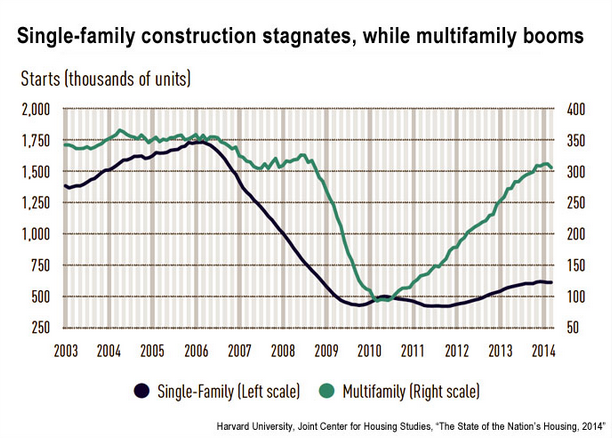 We can see this trend also in the rental rates, which have been going up every single year (see chart below from Yardi Matrix). I believe we will keep seeing rents rise at least 3% per annum if market conditions stay the same.

Click to enlarge
Another trend that we see is that the sun belt is reviving. Latest census data suggests that people are migrating to the south (see chart below from the U.S. Census Bureau).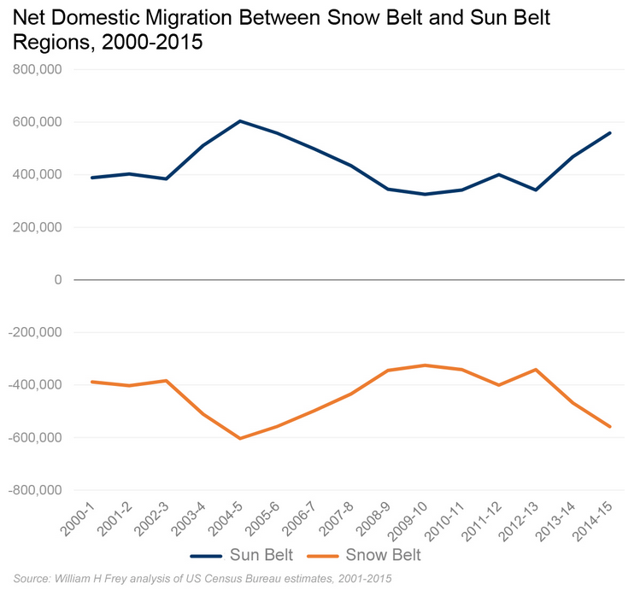 Click to enlarge
Moreover, housing prices have been recovering, and I believe they will keep rising for at least another few years. There is one very good leading indicator that will predict if the housing market will rise or drop in the next few years, and that leading indicator is the number on housing permits. On the following chart, you can see that housing permits have been rising since the financial crisis of 2008. As long as these housing permits keep rising, the house price index will keep going up with a lag of at least 2-3 years. So, we are pretty safe on the equity value of our real estate.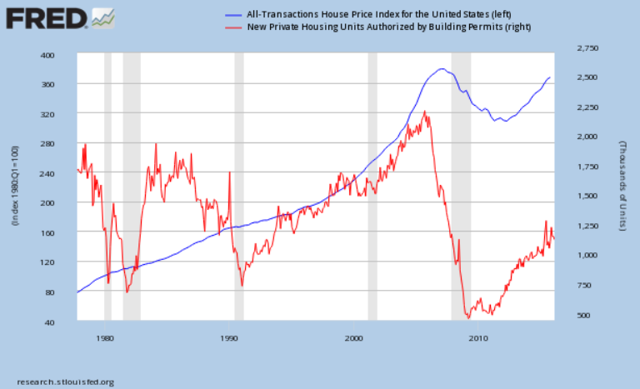 Click to enlarge
With all of these fundamental growth indicators improving, there is one company that has all of these items incorporated in its strategy. Milestone Apartments REIT is invested in the popular sun belt area, is focusing on the growing multi-family homes industry, and has a nice portion of its earnings in rental units.
The company just completed the acquisition of a 15-asset Landmark portfolio with an average age of 2005, totaling 4172 units for an aggregate purchase price of $502 million. What I like about this purchase is that these are residential property in the sun belt area. The REIT is the most visible in the Texas and Florida area, and these are among the states that have the strongest population growth. So, it is strengthening its core assets in the high-growth areas. This acquisition also gives the company the opportunity to grow revenues, as the newly acquired apartments are located in areas where there is no rental control. This means it can bump up the rents by 60% by making improvements on those apartments.
Valuation, Revenue and EPS Outlook
The company has a market capitalization of $910 million. With an FFO (Funds From Operations) of $70 million in 2015, this cash flow represents almost 10% of its market capitalization. With a 50% payout ratio, this will give us 4-5% dividend, which is pretty good considering there is growth in the future. The average payout ratio in REITs is generally around 60% or even higher. With a payout ratio of 50% for Milestone Apartments REIT, we have a very good deal here. The company also recently announced an increase of 12% on its dividend.
Rents of the company's assets are growing at an annual rate of 10% (see chart below), which is above the average of 3.5% in the U.S. So, I expect Milestone Apartments REIT to outperform the average REIT.

Click to enlarge
What I like the most is that the market capitalization is at a discount of 13% to net asset value. So, you are essentially guaranteed to have a profit of 13% if you buy the stock now. The REITs' earnings are positive, the housing market is still rising, and rents are rising. So there is no reason why the shares should be trading at a discount to net asset value.
I also like to look at net operating income of the REIT from its latest earnings report, because it tells me if its assets are appreciating or depreciating. Net operating income was $117.6 million in 2015, while FFO was $69.7 in 2015. If we use the following formula, we can conclude that the company has been increasing the asset value of its properties: FFO = Net income + Depreciation + Amortization - Gains on Sales of Property.
The P/FFO ratio is at 10.9 and the P/AFFO ratio is at 12.8, according to the latest estimates from the company. These multiples are pretty good value, as it will guarantee investors a return of about 10% per annum. When you look at how the company has grown its cash flow by 30% in a year, I have to say that management has done a pretty good job.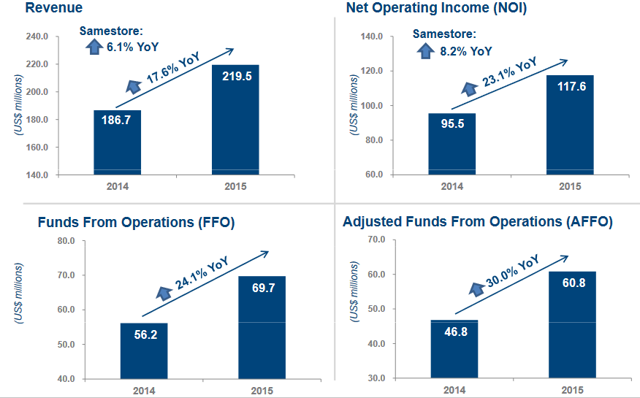 Click to enlarge
Competitive Landscape
If we compare Milestone Apartments REIT to its competitors, we see that this company is very undervalued to its peers (see table below). So, that is another incentive for investors to buy this company's shares as soon as possible. Of the eight analysts surveyed by Reuters Estimates that cover Milestone Apartments REIT, the consensus rating is a buy at this moment.

Click to enlarge
Variant View
I do expect that the U.S. is going into a recession, which I already wrote an article about here, but that doesn't mean we need to panic. We should be identifying opportunities in the equity markets and buy into their growth story. It is possible that a recession will trigger higher unemployment and lower GDP growth, and this has negative implications on the housing market. Milestone Apartments REIT has a pretty high asset value ($2.3 billion of assets) compared to its equity ($1 billion equity), so a drop in housing prices could do damage to the equity value of the company.
All in all, I expect Milestone Apartments REIT will come out of this recession much faster than other companies due to the fact that it is focused on multi-family homes, which builds on the unaffordability of housing. I advise investors to look into this company and assess if it fits their portfolio.
Disclosure: I am/we are long MSTUF.
I wrote this article myself, and it expresses my own opinions. I am not receiving compensation for it (other than from Seeking Alpha). I have no business relationship with any company whose stock is mentioned in this article.