It has been a little while since my last article here on Seeking Alpha, but not a lot has changed in terms of the gold (NYSEARCA:GLD) price since then. It put on an extra $30, then dropped back a touch, and is now trading about 1% lower overall - a pretty boring sideways grind one way or another.
The miners (NYSEARCA:GDX), however, did manage to go a fair bit higher and there has been a huge amount of improvement in terms of the technical picture, but I'm not sure you could say the same thing about the fundamentals which in my opinion have not really changed a great deal - many are still debt laden and producing at or around breakeven, and if gold were to resume its downtrend, the pressure would no doubt be heaped back onto their shoulders.
In the last 6 months, I managed to pick out the range for the December low, but I severely underestimated the strength of the subsequent rally and it is at times like this I tend to go back to the drawing board and look for ways to improve. I have been studying ratio charts recently and have found some interesting correlations and ways to use the data, the results of which are below.
What is the Gold/Silver Ratio Telling Us?
The ratio of gold to silver can be used to gauge both investor sentiment and appetite for risk within the precious metals market. When the ratio is rising, it means that gold is outperforming silver in relative terms, but it does not necessarily mean gold is rallying - it could be that both are declining but gold is falling at a more gradual pace - but it does tell us that investors view silver in a more negative light at that point in time.
When the ratio is falling, it indicates that silver is outperforming gold in relative terms. Again, it does not necessarily mean silver is rising in price (although often it is); it simply means investor sentiment towards silver is more bullish than towards gold at that point in time, and this is reflected in price performance.
Since gold acts as both an investment vehicle in its own right and a safe haven in times of economic uncertainty, this duality means it tends to hold its value better than silver in downtrends, and during the precious metals bear markets, the gold/silver ratio tends to rise. However, when precious metals prices are rising and investors become more bullish on the complex, we typically see more money flowing into the silver market (in relative terms to the size of each market) as appetite for risk increases i.e. the gold/silver ratio tends to fall during precious metals bull markets.
Plotting the gold/silver ratio on a chart in standalone format gives you a very spiky signal line with no real markers other than prior highs and lows to tell you when the ratio may be getting extended and ready to change course. To compensate, I took the data and created an oscillator that both smoothed the signal line to reduce false signals, and gave us a range with which we could identify overbought and oversold readings: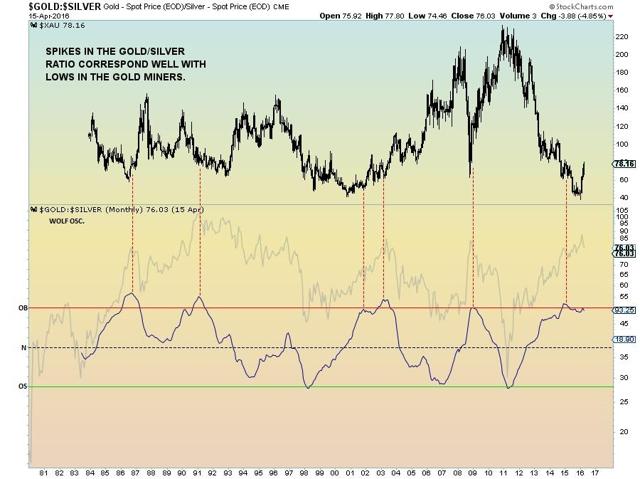 Click to enlarge
The correlation between advances and declines in the gold/silver ratio and performance in the miners is reasonably high, at least over the 36-year period shown on the chart. When the gold/silver ratio spikes to overbought levels and turns lower, we have tended to form lows in the gold and silver mining index and when it drops to an oversold level then starts to rise, we have typically formed highs (although with a far lesser degree of accuracy). As a side note, spikes in this ratio have often marked major lows in the broad equity markets too.
No indicator is perfect and this one is no exception - in the early nineties, we have a buy signal just before a 16% drop, and the most recent signal generated gave us only the briefest of rallies before plunging 50%, but in its defense, we should note that those losses are now fully recovered. The plunge following the buy signal and the general shape of the signal line itself (curling up) may give us a clue in terms of what the future holds - to me it looks like the gold/silver ratio could be heading higher over the coming months.
That does not necessarily mean that gold and silver mining index will make new lows (although it most definitely could), but if I am correct, there will be a significant retrace of the current rally at a bare minimum. Regardless, given the very high reading in the oscillator, we are no doubt on the cusp of a major change in trend in terms of the big picture.
What Can We Learn From The Long-Term Ratio of Gold to The US Dollar?
With metals predominantly priced in US Dollars, the strength of the greenback at any given moment will potentially have an impact on the price movement of gold. At various times, they rise or fall together, but on a long-term basis, they are very strongly inversely correlated.
When we look at the ratio of gold to the dollar and see it rising, it means that gold is outperforming and we would therefore expect to see it rallying. However, since the ratio tracks the relative performance of comparable assets, it doesn't guarantee gold will pop when the ratio rallies - gold and the dollar can fall in value at the same time, and it would simply indicate that gold is falling in value at a more gradual pace.
For that reason and the fact that the ratio in isolation gives no discernible warning before changing direction, we cannot use it that effectively to aid our buy and sell decisions with respect to gold. Using the same format as the chart above, I created an oscillator that would both smooth the ratio line to reduce the number of false turn signals generated, and give us an approximate indication that the ratio was at an extreme and therefore poised to make a major change in trend.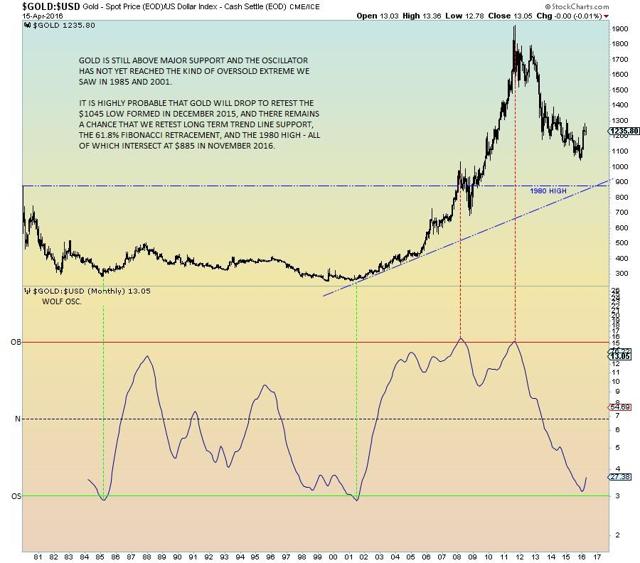 Click to enlarge
Any time the signal line changes direction, we typically see a turn in the gold market, but to mark a major low or high, the ratio should hit overbought or oversold levels, and as you can see from the chart above, the oscillator has accurately picked out the major highs and lows over the last 35+ years.
Looking at the current reading, we can see that it has not yet reached the kind of oversold extreme we saw in 1985 or 2001, but you should note that gold made the price low in 1999 with the indicator at a similar level, and only on the retest of that low in 2001 did the oscillator officially hit oversold.
It is therefore entirely possible that the low is in place for gold (assuming the oscillator has to hit oversold before the major rally begins), although my personal opinion is that gold will test rising trendline support and the 1980 high before the bear concludes. Those levels meet at $885 in November this year.
In 1999, gold made the low and spent the next year backtesting it; the gold mining index dropped 70% and made new lows over that same period. Given how the two ratio charts above are positioned I am wondering if the roles will be reversed this time around.
Is The New Gold Bull Market Underway?
Looking at the evidence above, there is a case for it yes, but I have seen some ludicrous claims being made all over the financial media in recent weeks.
Apparently, because we have rallied 20%+ gold is "100% bona-fide you can count on me ma'am" in a new bull market. Let's get real here - if that was the true qualification for confirmation of primary trend, there will be some very sorry bulls (and bears) in the oil market right now. In fact, oil has had 3 bull/bear cycles since I started writing this article. There's one just gone now. And another..
And what about the price targets being given for gold and silver? I've seen people claiming silver will rally to $600 and gold to $10,000 which is patently ridiculous unless we are talking about a 100-year timeframe. A world with silver priced at $600 would probably mean a trip to the cinema costs you a grand.
It has gotten just a touch frothy out there, and while there is scope for the rally to continue (I'll cover that later) we are perhaps getting a little too feverish for this to be sustainable. Typically, the wackiest claims mark some kind of inflection point, as the image below from 2011 highlights: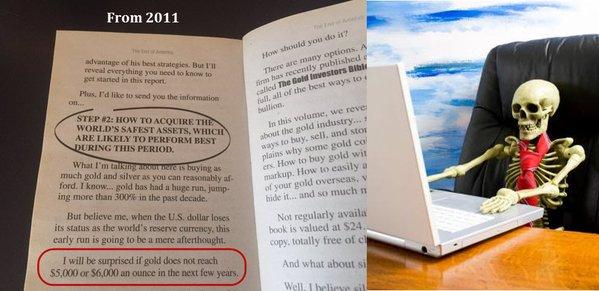 Source: Stockcats
I made the case in my last piece that the fundamentals for gold and the gold miners have not really changed that much, and but for a move lower in the dollar coupled with a stock market correction, I doubt gold would have rallied so keenly. I stand by that view and I maintain my longer-term bullish outlook on the US Dollar, so unless gold takes out major resistance on the upside or the dollar breaks major support, my view is that this is just an oversold bounce within an ongoing downtrend.
One final comment, and this is addressed to those who feel they have missed the boat in terms of buying the low in the metals market - if we have made the low, we are about to embark on a long lasting and sustainable uptrend during which gold (and more specifically the gold miners) will multiply in value many times over. There is plenty of time to position for it (on a pullback) and lots of money to be made in the years ahead, so don't rush in just yet or you face potentially buying the high. Big money waits for confirmation before deploying the artillery - in chess the pawns go first.
Data Points
USD
The US Dollar has been moving sideways for the past year, but appears ready to resume the rally in the near term. The consolidation looks a lot like the period in 1998 before we took off to the upside, and market conditions are similar too - the dollar rally through 1999 coincided with an equity market top and a low in gold (although don't forget that gold did not begin a sustainable ascent until the equity bear market concluded).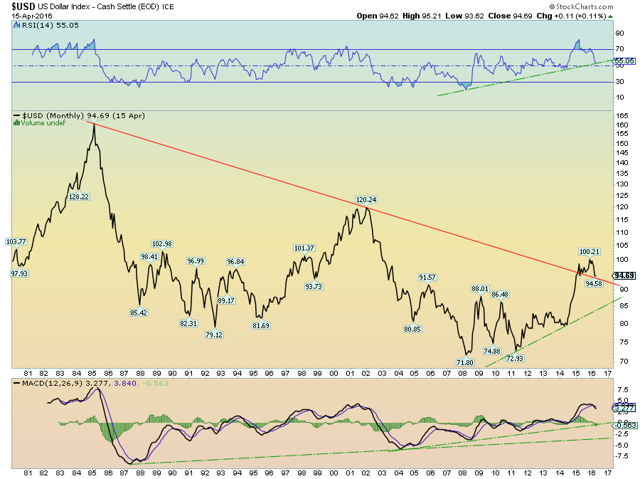 Click to enlarge
I am looking for the dollar to hold in the 90.00-93.25 range and resume the rally, although if we are forming a triangle, the consolidation may last a while longer yet (whilst holding above that range). Should we break down through 88, I'd be worried and if we break 84, I am wrong.
CoT
The net long position of the non-commercial trader category has now reached an extreme - in fact they are now more heavily net long than in 2012 just before the plunge, and all this while price has moved sideways to down since the $1283 high on March 11th.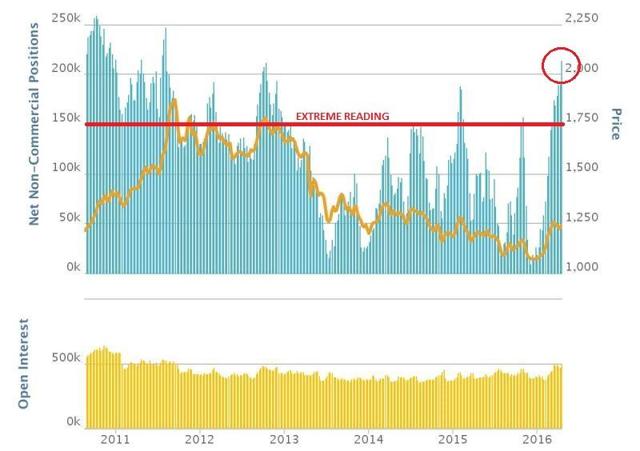 Click to enlarge
Source: Oanda
Typically with a reading this elevated price either reverses completely or moves down sufficiently for traders to become a little less bullish and positioning to become a little less extreme. This is a serious headwind to an immediate further advance in the gold price.
Miners
The gold miners have had an outstanding rally and have completed it in 5 waves. There is scope for a minor new high towards 23.50 but it looks ready for the first significant retrace since the rally began in January this year. My indicator is now in overbought range and starting to roll over.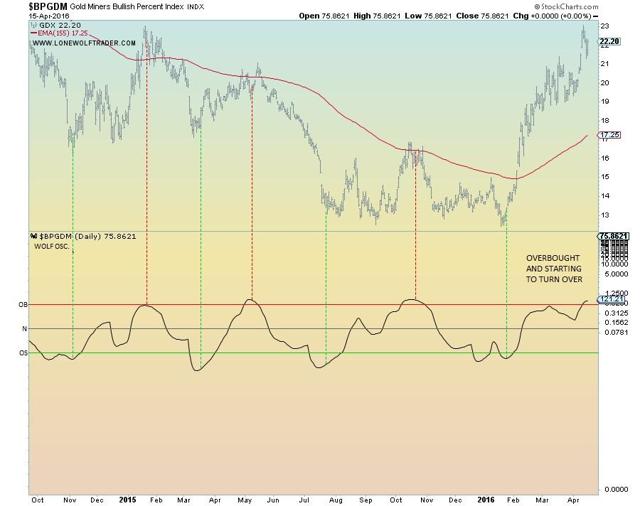 Click to enlarge
If/when a pullback begins, I expect us to hold support in the 15-17 range for both the bull and bear counts i.e. if the bear market low is in place, this will be the spot to buy before the rally resumes; and if the bear has not concluded I would expect us to retest the current highs and fail before moving much lower into year end.
The Gold
Gold has consolidated in sideways fashion since making the top on March 11th. We look to be within an ABC correction which leaves both the bullish and bearish count on the table i.e. this could be part of the ongoing bear market correction, or a retracement from the first leg of the bull market higher.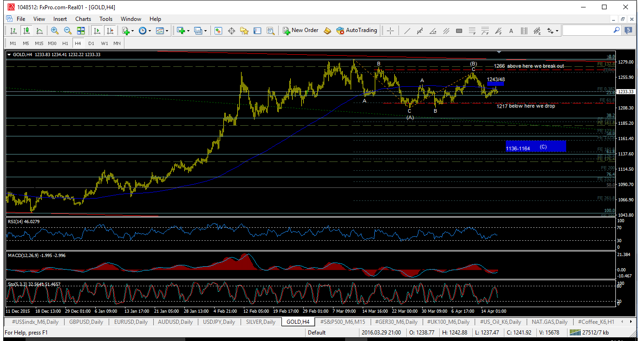 Click to enlarge
The key level on the upside is $1266 and a breakout that consolidates above would be a strong indication that gold is going much higher. Resistance in that case comes in at $1311, $1343, $1375 & $1415.
The key level on the downside is $1217 and a breakdown below that level should result in a drop to the blue box target zone. Support in that case would come in at $1192, $1181, $1164, $1158 & $1136.
At this point in time, I am leaning towards the wave down into the blue box target zone, but of course you should keep an eye on the key levels and position accordingly. As usual, I wish you good luck for the coming week!
This writing is for informational purposes only and does not constitute an offer to sell, a solicitation to buy, or a recommendation regarding any securities transaction, or as an offer to provide advisory or other services by Lone Wolf Publications Ltd, in any jurisdiction in which such offer, solicitation, purchase or sale would be unlawful under the securities laws of such jurisdiction. The information contained in this writing should not be construed as financial or investment advice on any subject matter. Lone Wolf Publications Ltd (lonewolftrader.com) expressly disclaims all liability in respect to actions taken based on any or all of the information on this writing.
Disclosure: I/we have no positions in any stocks mentioned, but may initiate a short position in GDX, GLD over the next 72 hours.
I wrote this article myself, and it expresses my own opinions. I am not receiving compensation for it (other than from Seeking Alpha). I have no business relationship with any company whose stock is mentioned in this article.