Over the last several years, as I have established myself on Seeking Alpha (as well as other platforms) as a REIT analyst, many investors and readers have asked me to expand my coverage universe to include other income-oriented investments.
As you know, REITs are the center of my investment universe, my core of competence, and the sector in which I have the most experience. Many readers also know that I have collaborated with other analysts over the years and have worked more closely with Rubicon Associates than other analysts.
I am pleased to announce that Rubicon and I have decided to team up, and now my friendly competitor and I will be writing for the iREIT Investor team, bringing his experience in REITs, preferred stocks and fixed income to the iREIT Investor platform. We believe that having a combined focus on fundamental analysis, durable/repeatable income as well as our deep understanding in our core markets will inure to the benefit of investors as we broaden coverage to other income investments and sectors.
With that in mind, we bring you the following analysis of a new preferred stock issue by Bank of America (NYSE:BAC).
Click to enlarge
This Is My Preferred Path For Bank of America
Bank of America tapped the preferred market today with a $900,000,000 (36,000,000 share) issuance of a perpetual preferred stock. The details of the issue are as follows: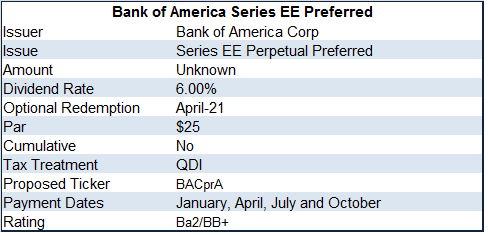 The preliminary prospectus for the issue can be found here, the term sheet can be found here.
Bank of America has been nearly dead money for the last few years, vacillating between $14 and $18, more of a trade than an investment.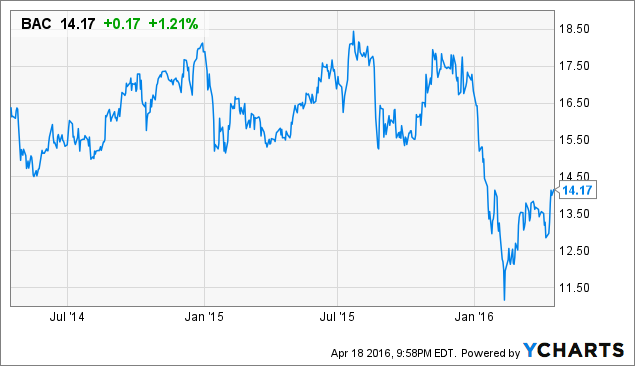 Compared to the S&P 500 Index, the bank has massively underperformed: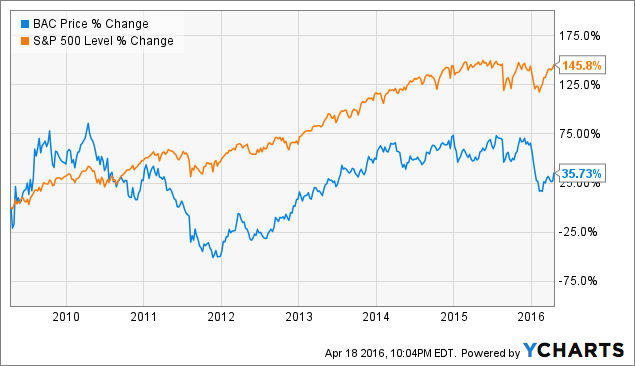 And as a result of its performance and its capital levels (as well as its CCAR plan which was originally conditionally approved in early 2015 and formally approved in December 2015), Bank of America does not offer much to income investors (only Citigroup investors receive less):
Ultimately, we believe that BAC is getting its capital where it needs to be, but the regulatory environment has created a "utility" model for banks where ROE and total returns will not see their pre-crisis heights and dividends will have an increased importance. As a result, we are not fans of Bank of America equity from an income investment standpoint, but think the new preferred is worth exploring further.
The outstanding BAC ($25 par) preferred stocks have the following characteristics:

Click to enlarge
The new issue is highlighted in yellow and the bolded issues are others we believe have value (one fixed and one floating). Importantly, the new issue allows investors to purchase BAC at or below par, which is important to many investors.
The BACprWs, which have the highest yields (with a positive YTC), trade at pretty lofty levels, given their rate. We would prefer to own fixed to float (listed above as variable) issues, but given the yield-to-call on the Merrill capital trusts, we don't see a reason to get involved.
As the chart below evidences, the stripped yield of the new series of preferred is approximately equal to numerous other issues, with the only advantage being a price closer to par (as mentioned above):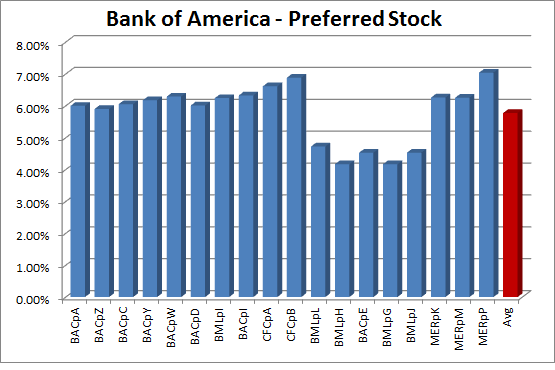 Thus far, the issue is only modestly compelling, nothing to write home about.
How does it stack up to the preferred stock of its peers:

Click to enlarge
It has a higher yield than many of its peers, with the exception of Citi, Morgan Stanley (NYSE:MS) and Royal Bank of Scotland (NYSE:RBS). The MS and C preferreds have higher yields (and are fixed to float structure, which we prefer) but they also have higher dollar prices - which are not always preferable. The RBS preferred is lower rated and the direction of RBS isn't fully known, which makes the preferred riskier, and therefore a higher yield is required.
Graphically, the comparison on a stripped yield basis is as follows: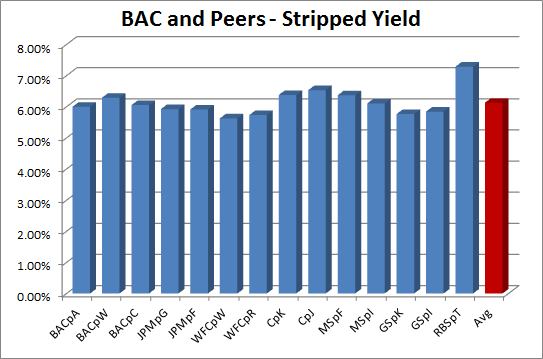 The new BAC Series EE is generally in line with its peers on this basis. On a yield-to-call basis, the peer group looks like the following: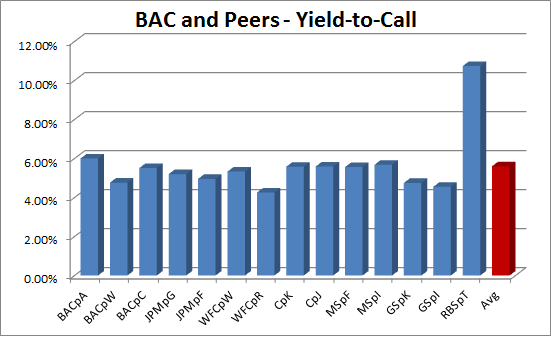 Given the fact the new BAC series trades at par, on a yield-to-call basis, it is more attractive (with the exception again of RBS).
Finally, it is always worth seeing if investors are paying for safety or getting paid for lack of growth (paying for safety would be a yield lower than the common, getting paid for lack of growth would be a yield higher than the common):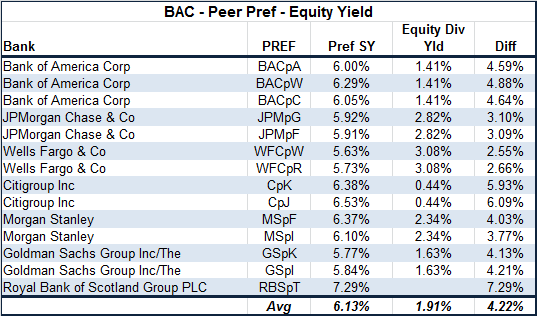 In this case, investors are getting paid for lack of growth as the preferreds yield more than the common (unlike a sector like mREITs, where the common yields more, so investors are paying for safety).
Graphically, we see the difference as: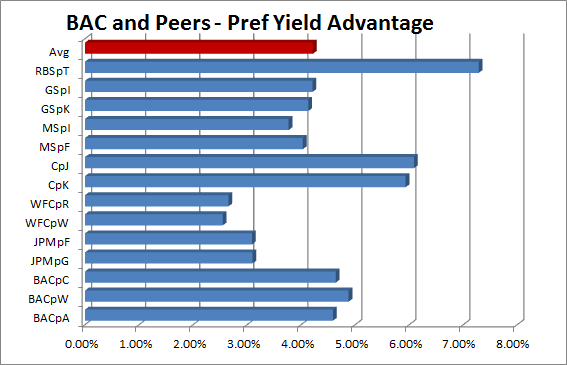 Interestingly, the Wells Fargo (NYSE:WFC) preferred stock has the closest margin (pref yield less equity yield) of the peer group, which would imply a lower growth rate in the common (price and/or dividend) or higher risk/volatility, which for this peer group is improbable.
While the equity has risen and fallen - averaging unchanged to lower - over the last few years, the preferred has shown a similar pattern, albeit less volatile (especially if you consider that the passage of time from the issuance date burns away call protection).
In order to demonstrate this, we are using the BACprI preferred and the common equity prices. Keep in mind, that investors like sideways price action in preferred stocks, but don't seem to be as big a fan of sideways equity movement (which is what they have unfortunately gotten with BAC):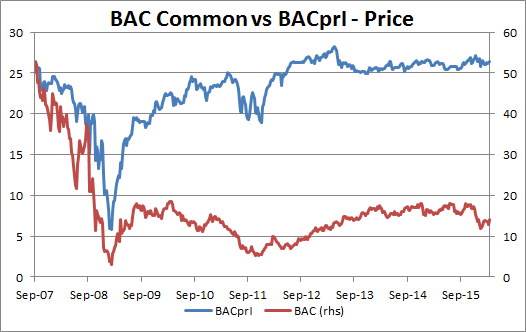 The Bottom Line: If you are an income investor, the new preferred stock - the Series EE or BACprA - is a good way to get par exposure to Bank of America preferreds while picking up over 4.5% versus the common. While we prefer the Morgan Stanley Series F due to the yield and the fixed to float structure, the price will be unpalatable to most.
We hope you like the enhanced coverage we will be bringing to readers and our ability to bring, at times, different perspectives to income investments generally and REITs specifically. We are excited to be on this new course and look forward to your feedback. Also, special thanks for Rubicon Associates (aka Mike) for joining the dark side (of dividend investors) and becoming a valuable second-level thinker for the iREIT Investor team.
Author's Note: I'm a Wall Street writer, and that means that I am not always right with my predictions or recommendations. That also applies to my grammar. Please excuse any typos, and I assure you that I will do my best to correct any errors if they are overlooked.
Finally, this article is free, and my sole purpose for writing it is to assist with my research (I am the editor of a newsletter, Forbes Real Estate Investor) while also providing a forum for second-level thinking. If you have not followed me, please take five seconds and click my name above (top of the page).
The only guarantee that I will give you is that I will uncover each and every rock I can in an effort to find satisfactory investments that "upon thorough analysis promises safety of principal and satisfactory return. Operations not meeting these requirements are speculative." (Ben Graham).
Disclaimer: This article is intended to provide information to interested parties. As I have no knowledge of individual investor circumstances, goals, and/or portfolio concentration or diversification, readers are expected to complete their own due diligence before purchasing any stocks mentioned or recommended.
Disclosure: I am/we are long O, DLR, VTR, HTA , STAG, GPT, ROIC, HCN, OHI, LXP, KIM, WPC, DOC, EXR, MYCC, BX, TCO, SKT, UBA, STWD, CONE, BRX, CLDT, HST, APTS, FPI, CORR, NHI, CCP, WSR, CTRE, WPG, KRG, SNR, LADR, HCP, PEB.
I wrote this article myself, and it expresses my own opinions. I am not receiving compensation for it (other than from Seeking Alpha). I have no business relationship with any company whose stock is mentioned in this article.