If you're the average American consumer, chances are that you have a subscription to Netflix (NASDAQ:NFLX), and have either cut your cable service or have plans on cutting it fairly soon. Television on-demand has simply spoiled us and allowed us to take control of every segment of our leisure time.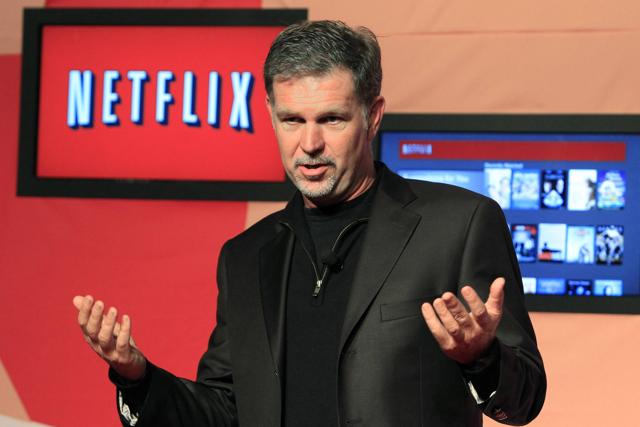 Click to enlarge
(Source: TechnoBuffalo)
On Monday afternoon, Netflix kicked off a busy earnings week by reporting disappointing results from the first quarter of 2016. With revenue coming in a little light at $1.96 billion versus the $1.97 billion expected, the major blow came from management's guidance of only adding around 2.5 million new subscribers globally throughout the second quarter of 2016. I don't believe that the concern regarding US net additions (500K) is too bad, but the expected 55% decrease in international net additions on a q/q basis doesn't particularly bode well for the rosy narrative management has been preaching regarding growth overseas. Granted that the launch and penetration will certainly take time to push, but a growing competitive streaming TV market doesn't help with the story.
Competition Isn't Backing Down and Netflix Can't Do Anything To Stop It
Netflix should be happy with their domination over the past decade, convincing consumers to dispose of their cable and satellite TV packages and conform to the Netflix content collection. However, given the nature of the tech industry and the society we live in, it's nearly impossible for one company to dominate the market (granted a few exceptions). With Hulu, HBO Now, Amazon Prime and Disney (NYSE:DIS) all stepping up their game to compete with Netflix, I don't believe Netflix can sustain their current valuation of around $46 billion with a trailing P/E of 387 despite exhibiting a potentially meager 8% increase in Q2 2016 revenue and 4% decrease in operating income. The growth story in Netflix is taking a pause for the time being, and investors can find a better bang for their buck in several other growth plays.
Aside from the convenience of knowing one can enjoy their favorite TV runs on-demand, many subscribers are finding original content to be a strong enough factor in convincing them to sign up. There's no doubt that shows like Orange is the New Black and House of Cards (which is now in its fourth season) have been hits for Netflix, but I have serious doubts about the company's ability to retain some customers solely based off original content and/or continue to develop quality original content. The highly awaited series Fuller House that debuted in February wasn't exactly the hit many were expecting, and rightfully so considering the lack of a "fresh" story line. Being a sequel, I don't believe that many hoped for a completely different plot, but I still would've hoped that it wouldn't turn out to be viewed as something that would originally air on Disney Channel. Considering the wreck Disney Channel has driven itself into by buying "cheap viewership" with inappropriate references that have only increased over the years, I fear that Fuller House may be viewed with the same mindset. Management referred to Fuller House as a "family comedy that met with overwhelmingly positive viewer reception" in their Q1 letter to shareholders. In stark contrast however, the majority opinion on Fuller House seems to be rather negative and critical regarding the effort put forth by the producers and cast. Popular media review website Metacritic gave Fuller House a score of 35 based on a scale from 0-100. Moreover, several other prominent media outlets had concurrent negative reviews. Margaret Lyons from Vulture had the following to say about the series:
The first four minutes of 'Fuller House' are four of the most excruciating TV minutes ever broadcast; shrill, garish, unfunny, and further poisoned by the live audience's baffling apparent appetite to hear the catchphrases of the show repeated now, in modernity.
So much for a well-received debut of arguably the most anticipated original series on Netflix this year, right?
On Monday, Amazon (NASDAQ:AMZN) announced that it will be offering its Prime Video service at $8.99/month, a jump from its prior $99/year complete Prime package. I think this is a big step for Amazon, given the fact that many consumers simply aren't interested in paying for the whole nine yards with Prime for a year, but may dip their toes in Prime Video given the option of a monthly plan. Amazon is also ramping up its plans for original content and its purchase of Manchester by the Sea could be the catalyst the service has been in need of. Both Netflix and Amazon had bid for the series, but Amazon is rumored to have edged out Netflix and purchased the series led by Kenneth Lonergan for around $10 million. The type of reception that Amazon's original series will bring on is yet to be known and will become more clear as we move into the second half of 2016, but I do think that the company's aggressive spending towards the idea will pay off handsomely.
The Effects of "Un-Grandfathering"
Netflix states that more than half of their subscribers pay either $7.99 or $8.99 for their $9.99 plan. Management expects the rollout of "un-grandfathering" to be gradual, and I don't blame them for being cautious given the competition the service faces. If the rollout was to be aggressive, the negative impact on the top and bottom line would likely be significant. Despite the promise of a slow rollout, I expect a significant amount of current subscribers to leave the service either temporarily, or for good if price becomes a big issue. Why, you may ask? Well, price increases tend to have a significant psychological effect on our view of the product and company after the price increase. Sure, a dollar here and there is likely immaterial to the majority of households globally, but it gives an individual a reason to question their dedication to a service and survey other options. Purchasing an Amazon Prime package would be much more economical ($99/year) and would indeed be the better value, but it ultimately comes down to the taste of the viewers.
How Much Longer Can Netflix Trade at a Ridiculous Valuation?
The FANG trade was a massive hit in 2015, with the move being led in large part by Netflix and Amazon themselves. Despite a bearish sentiment coming into 2016 for FANG, the group has managed to trade higher for the most part of 2016.
Netflix distinguishes itself from the rest of its friends in FANG in an unappealing manner. The company has proved the bears wrong during the past 5-7 years, but I'm afraid the bull argument may be arriving at an actual halt this time around. The reason for a pause in Netflix's growth is simple. The market the company currently dominates (the USA) is overly saturated, and the company fails to display progress in penetrating markets that possess massive amounts of untapped potential. To say the least, the USA has really been hit or miss for Netflix when speaking of net additions each quarter. Sure, they won't be able to continue the huge growth exhibited in the early stages of penetration, but one would expect that they would continue given the supposed craze behind the service.
As mentioned previously above, the expected drop in international subscriber growth is concerning given the high hopes the company had about their ex-US plans. This specific blunder only adds to the timeline of the company's vision of becoming free cash flow positive in the future.
With the company currently trading at an EV/EBITDA multiple of around 130, I believe that the market was waiting for a reason to ditch Netflix's proposed growth story for the near future. There are merely too many growth opportunities in the market aside from Netflix, and being married to the story frankly makes no sense. Their closest friends in FANG for example provide more reasonable valuations and compelling growth plans in a variety of sectors within their respective business industries. Netflix will soon pay the price of being a "jack of one trade."

Click to enlarge
Note: Suffice to say that Net Income (Earnings) is practically irrelevant to Netflix as they put forth the majority of their sales into expansionary efforts. Focusing on revenue growth amongst the group members is more important.
Perhaps Netflix has become the victim of their own success and CEO Reed Hastings overly aggressive vision for expansion. The service launched in 130 new countries in January, notably India and Russia, and many had high hopes for the launch. I'll give the team some time to work some kinks out, but I'm afraid the company will have a tough time growing abroad and replicating the type of success they had in the USA during the early stages of the company.
As investors seem to be revisiting the "risk on" investing approach, I'd typically expect high beta names like Netflix and the rest of the FANG sector to appreciate in synchrony. However, given stagnant revenue growth being exhibited by Netflix along with rough progress regarding overseas market penetration, I believe that the market may have finally found a reason to throw Netflix out as a viable stock that could potentially have some juice left in it. I often respect the actions and thoughts of Mr. Market, but I have to respectfully and strongly disagree with the valuation being assigned to Netflix at the present time.
Disclosure: I/we have no positions in any stocks mentioned, but may initiate a short position in NFLX over the next 72 hours.
I wrote this article myself, and it expresses my own opinions. I am not receiving compensation for it (other than from Seeking Alpha). I have no business relationship with any company whose stock is mentioned in this article.