SunEdison (SUNE) is the stock of the season. Many people rave about the stock and big name investors like David Einhorn, the founder and portfolio manager of Greenlight Capital, have taken a substantial position in the company. In short, SunEdison is what is known as the darling of Wall Street. Now, with the share currently trading at pennies, many investors believe this is a once in a lifetime opportunity where you will bet X amount of money in the stock and you will make as they say, a killing! Yes, day dreaming about this waters everyone's mouth and places you in a state of mind that heaven does not even get close to.
What is SunEdison? SunEdison is the largest global renewable energy company. It develops, finances, installs, and operates renewable power plants. In the stage of time the world is currently in, renewable energy is of extreme importance and its future dominance and growth seem obvious. However, in theory, this is true but putting it in practice by generating electricity in a continuous increasing manner does not seem so. In finance, it's almost impossible to grow at a faster rate than your return on capital unless you seek additional capital. If you seek that additional capital by raising equity, business activity will increase at the amount of capital raised normally. If on the other side, you raise capital by issuing debt in an uncontrolled fashion, the exponential amount of risk incurred can (and most probably) become worrisome.
So why has SunEdison's stock price taken such a beating to the point it is worth pennies? In summary, SunEdison has in recent years bought billions in assets with debt. As of December 31, 2014, SunEdison had $11.5 billion in assets and $10 billion in total liabilities. As of September 30, 2015, SunEdison had $20.7 billion in assets and $16.1 billion in liabilities. The increase in total debt rose $4.7 billion to $11.7 billion from $7 billion. This financial position has placed a strain on the company, and the belief has been that the company will go bankrupt. Will SunEdison actually go bankrupt? I really don't know but it's important to look at the following facts:
SunEdison's sales have been flat for the most part since 2010. For a company that is highly leveraged, this represents a significant risk as a going concern.
Even with a slight decrease in company sales, the company's gross profit has actually decreased since 2010. This might arise from raw material price increase or tough competition; either is just not a favorable position.
Some companies see a decrease in sales and/or profit due to a decrease in marketing effort. In SunEdison's case, marketing and administration expense has more than doubled questioning their business model effectiveness.
Since 2010, SunEdison has operated at a loss most of the time. In five years (assuming 2015 closes at a loss), SunEdison has not had a profit. When will it be profitable? I understand profitability with biotechs and dot com companies is slim to none for many years since usually they operate at a loss for a long time and carry no debt. In the case of SunEdison, over $10 billion is due.

Click to enlarge
Source: SunEdison Investor Relations
SunEdison's debt has increased over 10 times since 2010 and the stockholders' equity has decreased by over the same amount. It just seems symmetrical the case that for every increase in debt there is a decrease in equity proportionally.

Click to enlarge
Source: SunEdison Investor Relations
Currently, the company is late on its 2015 10-K filing. Clearly, this is a red flag for investors as great results are typically presented on time whereas delayed results are not seen favorably.
Besides quantitative measures, qualitative measures are also important to determine if SunEdison's weak financial position and performance are justified. A Google search was made looking for the quality of SunEdison.
Per bestcompany.com, SunEdison ranked #10, behind other popular installers like Sunrun and SolarCity (NASDAQ:SCTY). Also, searching for the best solar panels, SunEdison was not seen on the search results. Due to the solar industry's extremely competitive nature, on a qualitative measure, it just also don't appear leaders in terms of service.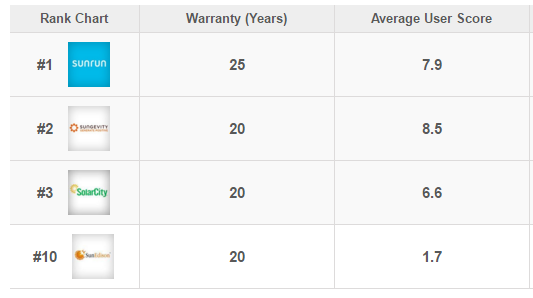 Source: bestcompany.com
Finally, how do employees feel about their employer, SunEdison? Visiting glassdoor, employees don't seem so excited about their leader and surroundings. The company's approval rating of its CEO is not astonishing, nor horrible neither, simply normal.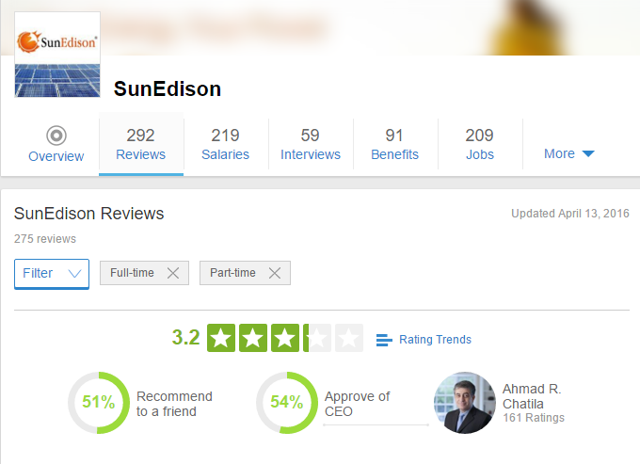 Click to enlarge
Source: Glassdoor
Interestingly, reading some of the recent comments by employees there, there seems to be lots of pressure going on - not a good sign as it shows desperation in order to pull things.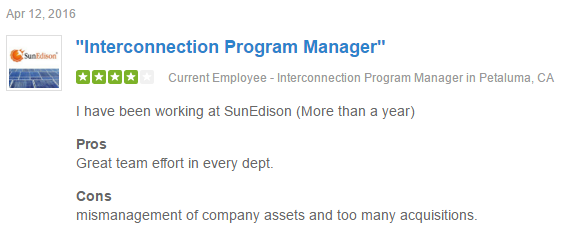 Source: Glassdoor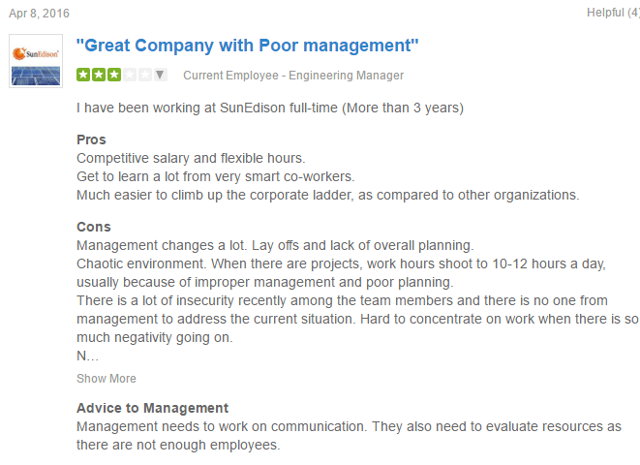 Click to enlarge
Source: Glassdoor
Conclusion
SunEdison is selling at bargain prices. If no bankruptcy occurs and the company returns to profitability, definitely the stock price will turn into a multi-bagger and many of those dreams talked about initially will turn real. However, all facts mentioned state quite the contrary. I'm a big believer in alternative energy and honestly wish for solar and other forms of fossil fuel free energy turn into the norm as soon as possible. However, we can't hide the facts and SunEdison's shopping spree and debt raises have not turned into a path to prosperity. I would not purchase shares as I believe this company will end up in the hands of banks and bond holders.
Additional Disclosure: This post is solely my opinion and data and information contained is not intended to be investment or tax advice. A reference to a particular investment or any observation provided in is not a recommendation to buy, sell, or hold or to make any other investment decision. If you seek advice or counseling regarding your finances or investments, please consult a professional. Investing is risky and adequate precaution should always be taken. We don't take any responsibility for your investment or other action nor we have any liability for the accuracy of the information provided. We make no representation about the suitability of the information contained herein. Past performance is not indicative of future results.
Disclosure: I/we have no positions in any stocks mentioned, and no plans to initiate any positions within the next 72 hours.
I wrote this article myself, and it expresses my own opinions. I am not receiving compensation for it (other than from Seeking Alpha). I have no business relationship with any company whose stock is mentioned in this article.
Editor's Note: This article covers one or more stocks trading at less than $1 per share and/or with less than a $100 million market cap. Please be aware of the risks associated with these stocks.