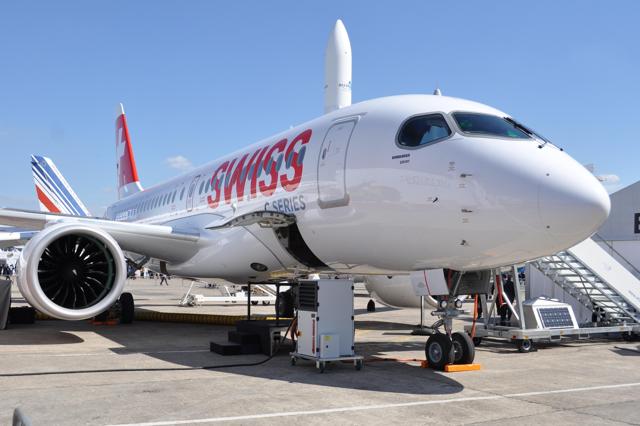 Click to enlarge
Img 1: Swiss Airlines CSeries Aircraft
As Delta Air Lines' (NYSE:DAL) narrowbody aircraft order inches closer to being finalized and announced, more and more news is being leaked regarding the status. The most recent sources have indicated that an order for 30 Airbus (OTCPK:EADSF) A321 and 75 Bombardier (OTCQX:BDRAF, OTCQX:BDRBF) CSeries jets is in the works - something that many have said would be bad for Boeing (NYSE:BA), particularly a CSeries order. I, however, believe quite the opposite and believe a loss for Bombardier would be a win for Boeing.
Pricing and Demand
Despite a slowdown in demand for large long-range jets, such as the 747, demand for single-isle planes has remained fairly stable so far. Losing an order to Bombardier is not an end-all or catastrophe for Boeing, and I believe investors are not seeing this. For the United (NYSE:UAL) order, Goldman Sachs reported that Boeing cut the price of the aircraft to $22 million per frame. Goldman Sachs also believes these aircraft are being sold at a loss, which is highly likely considering United purchased the aircraft for $22 million each, compared to their list price of $80.6 million. Selling at these sorts of losses seems absurd considering there are 4,380 unfilled 737 orders, which, at 2015 production levels of 495 aircraft per year, would take over 8 years to fulfill!
An order by Delta would add a lot of momentum to the CSeries aircraft and would add a major stamp of approval for the aircraft that would carry much more weight than an order from any other airline, as I described in my article here. One positive is that such an event will likely end the insane discounts Boeing was offering to keep airlines from ordering the CSeries product and ending the Airbus-Boeing duopoly that was inevitably coming to an end anyway.
Niche Aircraft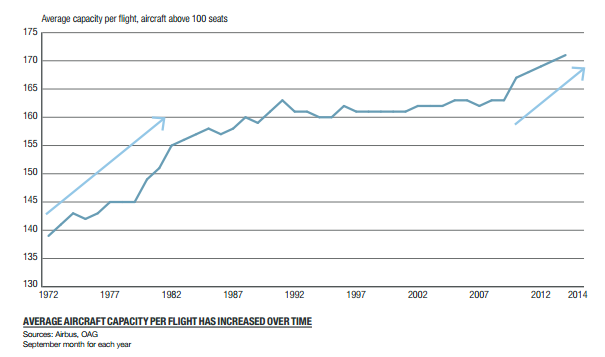 Img 2: Average aircraft capacity over time
The CSeries is a niche aircraft that does not even compete in all aspects with the Boeing 737-700, the smallest aircraft Boeing makes. The aircraft seats at most 130 people when configured in a normal 2-class configuration, which is at the low end of the 737-700 capacity. Even launch customer, Swiss Airlines has ordered the A320NEO and A321NEO, aircraft equivalent to the 737 alongside their CSeries order.
| | |
| --- | --- |
| Aircraft | Number of Orders |
| Boeing 737-700 | 38 |
| Boeing 737-800 | 1,122 |
| Boeing 737-900 | 158 |
| Boeing 737-7 MAX | 60 |
| Boeing 737-8 MAX | 1,694 |
| Boeing 737-9 MAX | 418 |
Table 1: Boeing 737 Outstanding Orders
The demand for aircraft in the CSeries size category has significantly fallen in recent years, as the average number of seats per aircraft has continuously risen. A quick look at the order book shown in Table 1 above for the 737 Max shows that the variant has 60 orders, compared to 1,694 for the larger 8 Max and 418 for the even larger 9 Max variant.
Many aircraft orders today still go to airlines that are run by the respective country's government. Many deals involving aircraft for these airlines are negotiated with governments alongside Boeing, so technology aside, the 737 will win these orders, as the deals are more about maintaining a good relationship with the United States than getting the absolute best product. Despite the CSeries' technical advantages, the Canadian government will not hold the sway of the U.S government in these types of deals.
Despite what I mentioned above, I do see why Boeing is concerned with the CSeries gaining traction, and one major reason is the proposed CS500.
Bombardier CS500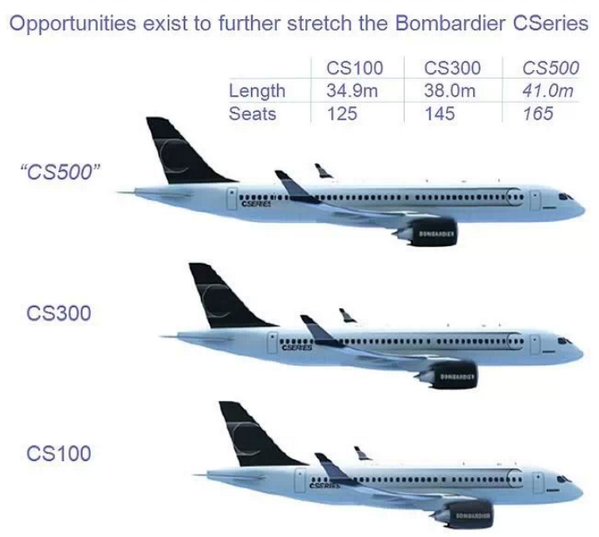 Img 3: Bombardier CSeries Variants
The Bombardier CS500 is what worries Boeing, as once Bombardier gets a foothold with the CS300, the assumption has been that it may venture into a larger aircraft. The wing of the CS300 was designed with a larger aircraft in mind, adding further weight to this possibility. A CS500 would seat around 165 passengers at most, and could be a major competitor in the much larger 150+ seat market.
Despite such a possibility, a CS500 is likely to be very far off and may struggle more than many would assume. Bombardier is in no position right now to imminently launch any new program with its current financial situation, and will need many more orders for the existing CS100 and CS300 before it will have the resources and confidence to proceed with another variant. Its Q400 turboprop, along with regional jets are also due some attention before the company can even think about proceeding with a CS500.
In addition, Bombardier would have to improve its financial situation drastically, and the Canadian government would be unable to give aid to Bombardier to develop the CS500. In the past, European governments giving Airbus aid for the A350 and A380 projects were ruled illegal several years ago by the WTO.
So, by the time Bombardier has the CSeries customer base, has given the Q400 and regional jets some attention and has the financial ability to develop the CS500, Boeing will likely be working on its 737 replacement, and the CS500, based on the older CS300 design, will be much less competitive.
COMAC C919
It seems absurd that Boeing is losing money to maintain the duopoly with Airbus in the single-isle segment when there will be absolutely no stopping the COMAC, the Chinese aerospace manufacturer, from breaking the duopoly with its C919. Unlike the Bombardier CSeries, the C919 actually targets the most lucrative segment of the single isle market. In addition, the aircraft is backed by the Chinese government, and the government has ordered Chinese airlines to buy the aircraft to support it.
Boeing has helped the C919 development by providing suppliers in China, such as Xian Aircraft Cooperation, with highly advanced tooling and equipment to make parts for its 737 aircraft. These suppliers also have contracts with competitors such as COMAC, and have been given permission by Boeing under the terms of the export licence to use this Boeing tooling for COMAC products. Whatever the reason for allowing Boeing tooling to be used for COMAC, it seems insane to indirectly assist COMAC in succeeding, while simultaneously expending significant resources to stop Bombardier, which is much less of a competitor, from succeeding.
New Products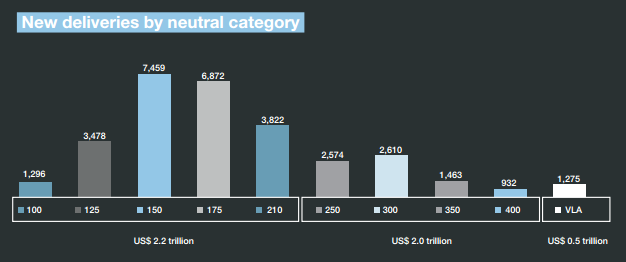 Img 4: Projected deliveries of aircraft by size 2015-2034
An order for the CSeries from Delta will likely give the CSeries program much-needed momentum and could finally end the Boeing-Airbus duopoly in the 100+ seat single aisle market. Boeing spending money to keep Bombardier out of a small segment of the market is silly when COMAC, backed by the Chinese government, is going to break up the duopoly anyway.
Boeing should use this opportunity to maintain its strong position in the 150+ seat market and develop a 757 replacement that airlines have continuously been asking for. In addition, the company should focus on improving the 737 for the long term and coming up with an eventual replacement. This seems like it would be a better use of resources than fighting a losing battle that is losing money trying to maintain market share.
Conclusion
Having the CSeries finally validated with a major order by an airline like Delta should put an end to, or at least reduce, the sort of insane discounts airlines like United received - something that should be good for Boeing shareholders going forward. Focusing on replacing the 757 aircraft and making the 737 more technologically competitive against the CSeries and the C919 seem like better things for Boeing to do. Playing the price game will not lead the company down a very positive path, especially when it is doing so against the C919 in the future, as COMAC could be willing to absorb large losses to get a foothold in the market. I therefore believe that any sell-off in Boeing shares as a result of a loss to Bombardier would be a good buying opportunity.
Disclosure: I am/we are long BDRBF.
I wrote this article myself, and it expresses my own opinions. I am not receiving compensation for it (other than from Seeking Alpha). I have no business relationship with any company whose stock is mentioned in this article.
Additional disclosure: I may initiate a long position in BA over the next 72 hours.