There is no getting away from the fact that Shake Shack (NYSE:SHAK) looks expensive on paper. But if you look at it with a long-term view, then we have little doubt that this is still a great price to get in on the action. It's market capitalization of $1.4 billion is nothing compared to what we think it could become in ten years' time.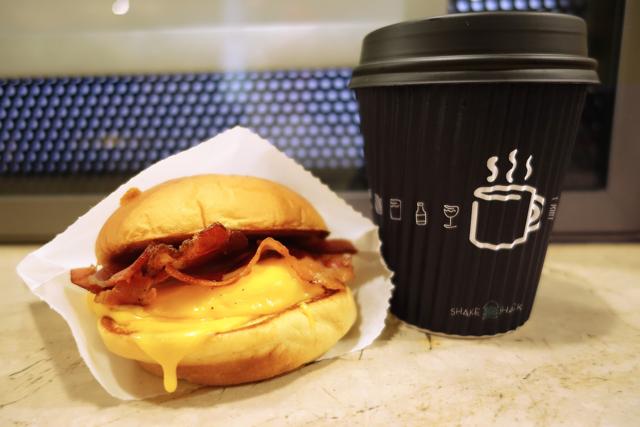 The quick service restaurant industry is as fierce as they come. Everybody from McDonald's (NYSE:MCD) to Yum Brands (NYSE:YUM) and Five Guys to Chipotle (NYSE:CMG) are fighting it out with Shake Shack for market share. But we feel confident that the popularity of the brand and the way it resonates with consumers will give it an edge over a lot of the competition.
The current spending habits of millennials bodes well for Shake Shack. It is believed that millennials like to spend their money on technology, food, and experiences. Well, we see Shake Shack as falling into the bracket of both food and experiences.
It may not be an experience like a music festival or a vacation, but due to its popularity it is a very shareable destination. Many say that millennials are spending more and more money on experiences because of social media and the need to share/show-off what they are doing. Facebook (NASDAQ:FB) sharing may be on the decline, but sharing what you are doing through Instagram or Snapchat (Private:CHAT) certainly isn't.
That leads us onto the spending on food. It's not just millennials either, Americans as a whole are spending more money than ever on eating out. Last year it was reported that Americans spent more money on eating out than on groceries for the very first time.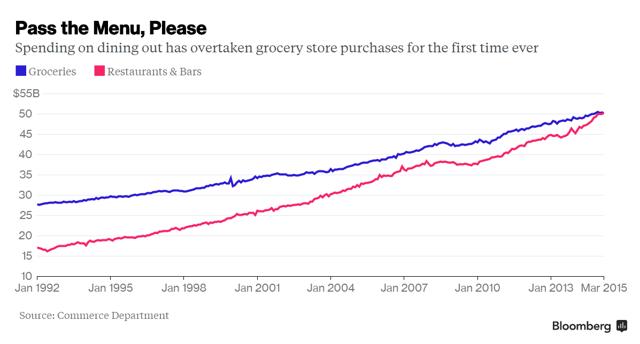 With the spending habits of younger demographics seemingly favoring restaurants over groceries, we would expect to see this trend continue in the years ahead. This will be great news for the likes of Shake Shack and should help support its expansion plans.
In its IPO filing back in January 2015, Shake Shack stated that it plans to expand its domestic footprint to a total of 450 company-operated stores eventually. No timeframe has been given for this, with only around 12 domestic store openings expected in the current fiscal year. We feel its popularity, the growing appetite for quick service restaurants, and the current higher levels of disposable income could mean the company accelerates this growth in the next fiscal year in order to capture some of these benefits. As of the end of the last fiscal year, there were just 49 restaurants in operation in the US, meaning exceptional growth lay ahead.
At the moment each company-owned shack provides $96,000 of sales per week. Each year that works out to being approximately $4.99 million of sales per shack. If the company can grow its domestic footprint to its planned level without cannibalizing sales, then the current sales figures will be nothing compared to what they will be in the future.
And that is just domestically. The international expansion of Shake Shack could prove to be just as impressive. We love the branding, the food, and the general vibe of the shacks. For us, we think it is incredibly likely that it could replicate the domestic success internationally.
There are just 35 licensed restaurants at the moment, but we see significant room for growth in many territories across the world. We expect it may take a little time, as no doubt franchisees will be looking for proof that the business works well overseas. But once this is proven we expect there to be strong demand for franchises.
We would suggest not being distracted by the fact the stock is trading at 100 times forward earnings. If you just look at it like that and compare it to its peers, the stock is incredibly expensive. But it is the growth ahead which we feel investors should focus on.
We expect the company to grow earnings at a strong rate for the next few years, leading to it producing earnings per share of approximately $1.50 in fiscal 2020. If we were to value the shares at a reasonable PE ratio of 35 times earnings, that would give us a fair value of $52.50 in 2020. This represents an almost 40% return from today's price, which annualized is around 8.6%.
We doubt the share price will climb steadily at 8.6% per annum over the next few years, and will most probably have an incredible number of ups and downs. But ultimately we think long-term investors should expect a strong annualized return despite the shares changing hands at 100 times forward earnings today.
Disclosure: I am/we are long SHAK, MCD.
I wrote this article myself, and it expresses my own opinions. I am not receiving compensation for it (other than from Seeking Alpha). I have no business relationship with any company whose stock is mentioned in this article.