Welcome to the April 19th edition of Seeking Alpha's Eye on Tech newsletter.
Eye on Tech Coverage
Google Takes On Akamai And Teams Up With Autodesk As Its Cloud Reach Grows
Google (NASDAQ:GOOG) (NASDAQ:GOOGL) made several cloud-related announcements at the media industry's NAB conference.

The announcements, which include a rendering service launched with Autodesk (NASDAQ:ADSK) and a CDN service that will compete against Akamai (NASDAQ:AKAM), leave Google well positioned to service the video/animation industry.

The moves come amid a big cloud expansion effort, and further Google's efforts to provide advanced services for the professionals directly using its cloud platform.
Facebook Reportedly Promises Its Live Streaming Platform Will Support Ads
Facebook (NASDAQ:FB) has reportedly been telling publishers its Live streaming platform will support in-stream ads. Pre-roll video ads are off the tablet, but other options are being weighed.

Supporting ads on Live isn't just about creating revenue, but giving publishers - some of whom are currently paid to use Live - an incentive to support the platform long term.
Spotify And Apple Music Fuel A 2015 Surge In Music Streaming Revenue
Trade group IFPI estimates music streaming services revenue rose 45.2% in 2015, and download revenue fell 10.5%. Total music industry revenue rose 3.2%, its best performance in nearly two decades.

Subscription streaming's rapid growth highlights the need for Pandora (NYSE:P) to enter the market with its own offering.
Noteworthy Tech News
Netflix tumbles after Q2 subscriber growth forecast disappoints - Netflix's (NASDAQ:NFLX) Q1 net streaming subscriber adds of 6.7M (raised the total base to 81.5M) beat guidance of 6.1M, but a Q2 forecast for just 2.5M net adds disappointed. U.S. net adds are expected to drop to 500K from Q1's 2.23M, as price hikes go into effect in May - Netflix may be guiding conservatively here. International adds are expected to drop to 2M from Q1's 4.51M.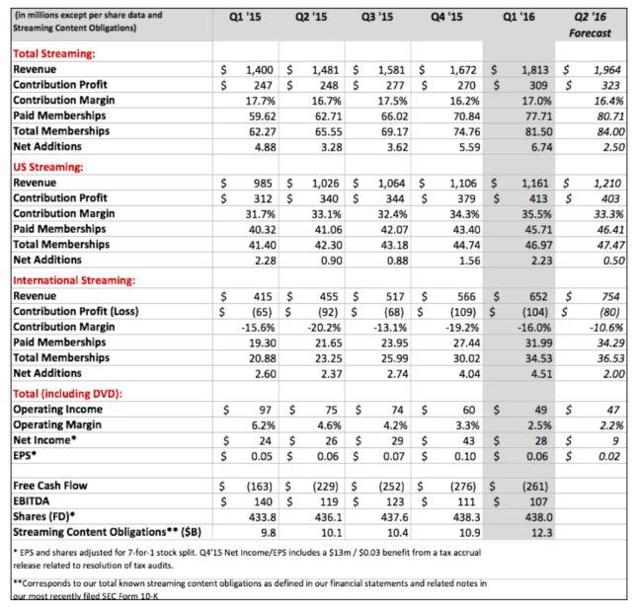 Click to enlarge
Netflix's Q1 metrics. Source: Shareholder letter.
Also: Streaming contribution margin is expected to drop 60 bps Q/Q in Q2 to 16.4%, after rising 80 bps in Q1. And streaming content obligations rose by $1.4B Q/Q in Q1 to $12.3B. On the bright side, U.S. contribution margin was a solid 35.5% in Q1. International margin (hurt by Netflix's ongoing expansion efforts) was -16%.
Wanting to keep its foot on the pedal (and perhaps help justify further price hikes down the line), Netflix plans to spend over $6B on content on a profit & loss basis in 2017, up from $5B in 2016. The company says it has "continuing discussions" regarding China, but has "no material update on our approach or timing." In the meantime, the 130+ additional markets Netflix just entered should help keep the company busy, and provide plenty of growth opportunities.
IBM beats Q1 estimates, affirms 2016 EPS guidance, sells off - There's a lot of fine print in both directions within IBM's (NYSE:IBM) Q1 numbers: EPS was boosted by a $1.2B tax benefit, and hurt by $1.5B worth of expenses IBM says involve one-time actions to "transform our workforce and shift our skills base to new areas and to improve our structure primarily outside the U.S." Revenue beat estimates with the help of narrowing software and services sales declines (IBM's acquisition spree helped out some).
The stock finished after-hours trading down 5.1%. Likely causing some concern: Gross margin fell 170 bps Y/Y to 46.5%, something IBM blamed during the earnings call on lower "transactional" software license revenue and cloud-related investments. Oracle (NASDAQ:ORCL), Microsoft (NASDAQ:MSFT), and other software firms have also seen a margin impact as their sales mix shifts to cloud services. In IBM's case, there's also a risk a lot of higher-margin tech services revenue could either go away or shift towards somewhat lower-margin cloud services.
Meanwhile, revenue was still down 5% Y/Y (2% excluding forex) in spite of the acquisitions, with a 21% drop in hardware sales (partly caused by the mainframe upgrade cycle) weighing heavily. Though mobile (sales +93% Y/Y), security (+20%), cloud (+36%, some M&A lift), and to a lesser extent analytics (+9%) offerings are doing well, IBM is still underperforming global IT spending growth rates as more and more on-premise IT spend migrates to the cloud.
Separately, ahead of the Q1 report, IBM announced (in tandem with the media industry's NAB conference) cloud video service customer wins with AOL, CBC, Comic-Con, and others, as well as new software (Aspera FASPStream) promising to deliver "broadcast-quality" live video over IP networks. The company recently bought video streaming service providers Ustream and Cleverleap, and created a new Cloud Video Services unit.
Senior Facebook product exec Mike Vernal leaves to join VC firm Sequoia - Vernal reported to Mark Zuckerberg, and has been Facebook's (FB) VP of Search, Local, and Developer Products, including its commerce and local services offerings. Re/code observes it looks as if Vernal's responsibilities will be divided among other Facebook execs. The company has seen plenty of turnover since its 2012 IPO - options/RSU vesting plus the effect of Facebook's post-IPO performance on the value of those options/RSUs has probably played a role.
The departure follows Facebook's announcement-packed F8 developer conference, and the launch of a video search engine (overseen by Vernal?) as part of Facebook's recent video announcements.
YouTube adds support for VR-friendly 360° live streams - The web video giant is also adding support for spatial audio, to provide more immersive listening experiences. Though YouTube has hosted live streams for years, Twitter's (NYSE:TWTR) Periscope and more recently Facebook Live have developed mindshare leads in live streaming, thanks to their ability to let users quickly create streams via mobile apps. YouTube is reportedly working on an app called YouTube Connect that will allow the same. Adding the ability to create streams from the near-ubiquitous core YouTube app would be a smart move.
Facebook and YouTube have already been battling in the recorded 360° video space, as a proliferation of moderately-priced VR camera rigs (by professional standards) fuels content growth. It should be just a matter of time before Facebook Live also supports 360° video.
Siri says Apple's WWDC conference will run from June 13-17 - Apple (NASDAQ:AAPL) confirmed Siri's news leak soon afterwards. As usual, Apple is expected to unveil new versions of iOS and Mac OS (iOS 10 and OS X 10.12) at the conference. There's some speculation a second-gen Apple Watch could be announced, but other reports point to a fall arrival.
Nokia launches CloudBand software line with Alcatel-Lucent's help - CloudBand includes virtualization and network orchestration software that can be used by carriers to help deploy NFV (allows proprietary networking systems to be replaced by software running on commodity hardware). What used to be Alcatel-Lucent is supplying much of CloudBand's core software; Nokia (NYSE:NOK) is adding some NFV-related features and software APIs. Notably, CloudBand components can be paired with software from Nokia rivals, and run on third-party hardware.
eBay's Close5 U.S. classifieds app tops 7M downloads - Craigslist's stone-age interface (by Internet standards) and limited mobile efforts have been assailed by plenty of companies looking to take share from the online classifieds giant. eBay (NASDAQ:EBAY), a company whose own website has seen its share of criticism, has had success internationally - the company's classifieds revenue totaled $183M in Q4, up 15% Y/Y in constant currency and (thanks to a weak euro) 2% in dollars. The moderate success of Close5 - a classifieds app that launched in late 2014 and promises to "provide a safer, more transparent way to buy and sell locally" - provides a shot in the arm for eBay's U.S. efforts, which also include the eBay Classifieds site.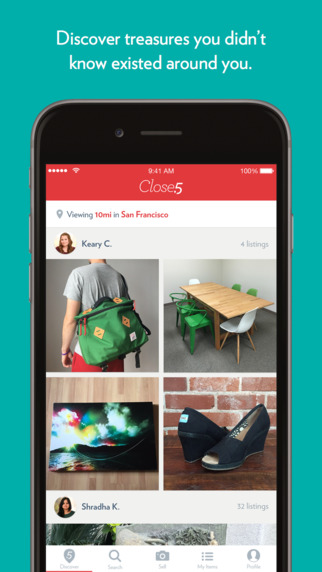 eBay's Close5 iOS app
Verizon/Hearst online video JV acquires Complex Media for reported $250M-$300M - Another day, another Verizon (NYSE:VZ) online media move. Complex Media owns web properties focused on providing online video aimed at younger males, claims over 50M unique visitors, and has been profitable since 2010. As part of its efforts to grow its millennial-related online media exposure, Verizon has also created online video channels through the Hearst JV, launched its Go90 mobile video service, and bought a stake in DreamWorks-controlled AwesomenessTV.
Verizon's broader online media efforts include the acquisitions of AOL and mobile ad network Millennial Media (ironically not focused on millennials), and reportedly a serious bid to buy a certain web portal that's on the block.
Bloomberg: YP.com plans first-round bid for Yahoo - The owner of what used to be called the Yellow Pages reportedly wants to buy the web's first major directory service. The jokes write themselves. Regardless, with YP reportedly valued at $1B-$1.5B, the company will be hard-pressed to outbid Verizon.
OpenText spends $170M to buy business software assets from HP Inc. - Specifically, OpenText (NASDAQ:OTEX), a top content management software provider, is buying web content management, rich media asset management, and contact center workforce optimization software from HP Inc. (NYSE:HPQ). Much like Lexmark (NYSE:LXK), which is now reportedly on the block, OpenText has been aggressively using M&A to grow its content management and business process management ("BPM") software reach.
As for HP, the deal removes a non-core asset and could help the PC/printing giant lower its debt load, which stood at $6.7B at the end of HP's January quarter.
BlackBerry doesn't confirm or deny it gave Canadian police an encryption key - "Regarding BlackBerry's (NASDAQ:BBRY) assistance, I can reaffirm that we stood by our lawful access principles." says CEO John Chen in a blog post that follows a report Canadian police have had access to a BlackBerry global encryption key since 2010. "Furthermore, at no point was BlackBerry's BES server involved."
With the Apple/FBI battle still making headlines, Chen also declares tech companies "should comply with reasonable lawful access requests." However, hoping to keep corporate and government clients at ease, he insists "BES continues to be impenetrable - also without the ability for backdoor access - and is the most secure mobile platform for managing all mobile devices."
Gizmodo argues BlackBerry's approach to securing messages from clients that don't have their own encryption keys (i.e. using a single global key) is fundamentally less secure than the end-to-end encryption approaches taken by Apple (AAPL) and WhatsApp.
Autodesk buys image-rendering software firm Solid Angle - The announcement coincides with a Google cloud service partnership related to Autodesk's MAYA 3D animation/rendering software. Solid Angle's Arnold image renderer is said to be "used by more than 500 studios and thousands of independent artists" to create 3D animations and visual effects. Autodesk top provider of 3D content-creation software for the entertainment industry, says it can work with Solid Angle to "improve rendering workflows within our products as well as accelerate the development of new rendering solutions."
Noteworthy Tech Commentary and Reports
Wired: Inside Google's Plan To Make VR Amazing For Absolutely, Positively Everyone - The article features remarks from Google VR chief Clay Bavor, and notes Google's long-term VR goal is to deliver a "perfect" VR experience. Bavor: "[An] experience that feels vividly real, where you're going to be scared of those lions, it's going to happen a lot sooner than people realize." GPU vendors Nvidia (NASDAQ:NVDA) and AMD (NYSE:AMD) certainly wouldn't mind seeing that day arrive, given the horsepower that'll be needed.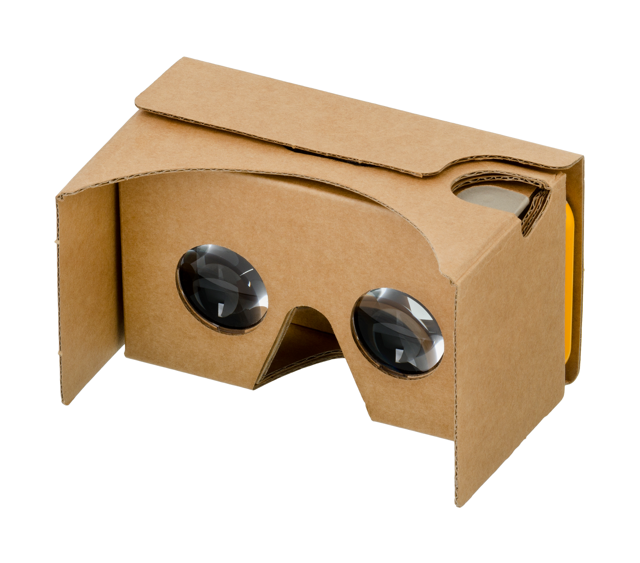 Click to enlarge
Google's inexpensive Cardboard VR headset kit. Works with Android phones and (more recently) the iPhone.
In the meantime, Google is looking to get less-than-perfect VR into as many hands as possible via its Cardboard platform - Facebook/Oculus is trying to do something similar via Samsung's Gear VR headsets - in the hopes of fueling consumer and developer enthusiasm. A VR headset that would compete against Oculus, Sony, and HTC, but wouldn't need to be tethered to a PC or console, is reportedly in the works.
Facebook Messenger chief David Marcus discusses bot rollout - Amid some harsh early reviews of Facebook's Messenger bot platform, Marcus talks up some of the more advanced features of the bot interface. "We've taken a lot of care and time to build rich templates with ability for bots to combine images and text and all kinds of different things, but also rich bubbles with buttons and calls to actions and carousels that you can swipe through."
He also says Facebook wants the amount of time it takes for a bot to deliver a response (i.e. bot latency) to be less than five seconds, and that the company is trying to make its M assistant (uses both AI/bots and human assistants) more proactive in order to turn it into a user habit.
RBC: Ad blocking is bad for programmatic advertising - An RBC survey of 1,960 U.S. advertisers found 58% saying ad-blocking is having a "somewhat negative" effect on the ecosystem for programmatic (automated) ad buys, and 20% saying it has a "significantly negative" effect. Many respondents also stated cross-device measurement and fraud were major problems.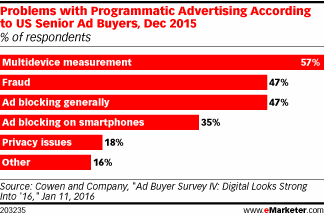 Though Google/Facebook have some exposure to programmatic ads and formats highly vulnerable to ad-blocking (read: display ads), ad tech firms such as Rocket Fuel (NASDAQ:FUEL), Criteo (NASDAQ:CRTO), and The Rubicon Project (NYSE:RUBI) have more to lose. Facebook recently pulled the plug on a test for a programmatic ad-buying platform after seeing "many bad ads and fraud." It added native ads (such as Facebook news feed ads) and video ads were the only formats that "delivered significant value."
TechCrunch: Making sense of enterprise security - A high-level look at the flaws in current enterprise approaches to dealing with security threats, and the challenges created by cloud service and IoT device proliferation. "I'd like to argue that security is really about understanding human beings," says author Tom Seo.
He suggests quality identity/access management software and threat intelligence offerings are part of the solution. CyberArk (NASDAQ:CYBR) is a leader in providing tools for managing and protecting privileged accounts. FireEye (NASDAQ:FEYE) is betting big on threat intelligence, and Palo Alto Networks (NYSE:PANW) isn't ignoring the space either.
Disclosure: I/we have no positions in any stocks mentioned, and no plans to initiate any positions within the next 72 hours.
I wrote this article myself, and it expresses my own opinions. I am not receiving compensation for it. I have no business relationship with any company whose stock is mentioned in this article.