By Alessio de Longis, Portfolio Manager
Active currency management is one of the many strategies we deploy in our multi-asset portfolios. In this regard, we outlined back in February the rationale that led us to increase our exposure in the Japanese yen late last year to double the benchmark weight, making it the largest currency position in Oppenheimer Global Allocation Fund (i.e., about 8% allocation).
In particular, we described four tailwinds supporting the yen despite the move by the BOJ to bring interest rates into negative territory: Cheap currency valuations, improving terms of trade due to lower energy prices, a growing current account surplus and "safe haven" characteristics in volatile market conditions.
Year to date, the Japanese yen is the best performing currency globally, with an 11% appreciation, which is, frankly, larger than what we had expected given the relatively brief period of time. While financial markets have witnessed meaningful volatility this year, the overall performance of risky assets is basically flat and the economic backdrop has also been stable. In other words, the resilience in the Japanese yen seems more driven by the first three fundamental tailwinds listed above and to a lesser extent by safe haven flows.
How has our view evolved in light of these large moves? Despite this double-digit appreciation, the currency remains cheap (albeit less so) and the trade flow picture remains supportive. However, in our previous blog we argued that meaningful currency strength would likely bring back another round of "currency wars" and verbal intervention by the BOJ. Indeed, Japanese officials have recently expressed discomfort with "excessive and one-sided currency moves which can have a negative impact on the economy." While we do not think market and economic conditions are suggestive of imminent intervention to weaken the currency, this kind of rhetoric has historically signaled a higher level of vigilance by BOJ authorities.
In our opinion, we remain in an environment where large and rapid currency appreciation ends up tightening financial conditions. That makes central banks uncomfortable, given the weak economic backdrop, and often leads to some sort of policy response. While currency interventions are rarely capable of altering strong fundamental trends, they introduce more volatility and uncertainty in foreign exchange markets.
As a result, this week we brought our Japanese yen exposure back to neutral (i.e., about 4% allocation), and will wait for some short-term stability in currency markets before investigating new opportunities (see Exhibit 1 and Exhibit 2).
Exhibit 1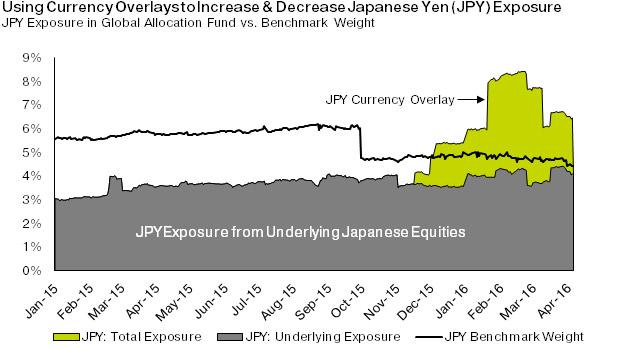 Sources: OppenheimerFunds, Bloomberg, 4/7/16. The Fund's benchmark consists of 60% MSCIACWI/40% Barclays Global Aggregate Bond Hedged USD. The MSCI ACWI is a free float-adjusted market-capitalization-weighted index that is designed to measure the equity market performance of developed and emerging markets. The Barclays Global Aggregate Bond Hedged USD is an index comprised of several other Barclays' indices that measure fixed income performance of regions around the world while hedging the currency back to the U.S. dollar. Indices are unmanaged and cannot be purchased directly by investors. Index performance is shown for illustrative purposes and does not predict or depict the performance of any investment. Past performance does not guarantee future results.
Exhibit 2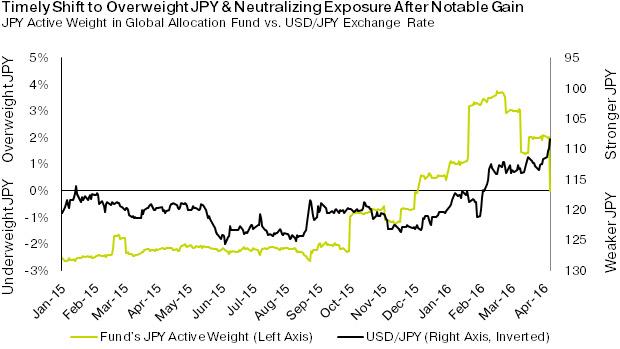 Sources: OppenheimerFunds, Bloomberg, 2/11/16. Active weight represents the difference between the Fund's allocation weight and its benchmark's.
Mutual funds are subject to market risk and volatility. Shares may gain or lose value.
Foreign investments may be volatile and involve additional expenses and special risks, including currency fluctuations, foreign taxes, regulatory and geopolitical risks. Emerging and developing market investments may be especially volatile. Eurozone investments may be subject to volatility and liquidity issues. Investments in securities of growth companies may be volatile.
Carefully consider fund investment objectives, risks, charges, and expenses.
OppenheimerFunds is not affiliated with Seeking Alpha.
©2016 OppenheimerFunds Distributor, Inc.
Disclosure: I/we have no positions in any stocks mentioned, and no plans to initiate any positions within the next 72 hours.
I wrote this article myself, and it expresses my own opinions. I am not receiving compensation for it. I have no business relationship with any company whose stock is mentioned in this article.