The S&P 500 rose 1% last week, 1.6% for the month so far, and 1.8% for the year-to-date. Ho-hum! The stock market may look calm on the surface but underneath I can tell you that it is still churning. High-dividend stocks continue to rule the roost and are benefitting from cautious institutional investors, like me, who are looking for a good place to get tax-advantaged yields.
Although some dividend stocks were hit with profit-taking in recent days, I expect that the choppier the stock market gets, the more that we'll see high-dividend stocks firm up and act as ballast to help stabilize a well-rounded investment portfolio.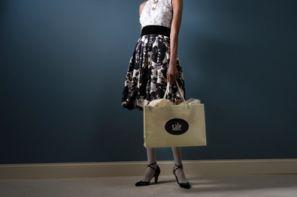 Last week's economic statistics point to slower first-quarter growth. Specifically: (1) The Commerce Department reported on Wednesday that retail sales declined 0.3% in March - well below economists' consensus estimate of a 0.1% rise. Overall retail sales declined 0.1% in the first quarter, which does not augur well for GDP growth. (2) The Labor Department said on Wednesday that the Producer Price Index declined 0.1% in March (vs. an expected 0.3% rise) and the Consumer Price Index gained 0.1% (vs. an expected +0.2%).
Add in (3) a negative trend in Industrial Production for March (-0.6% versus 0.0% forecast), announced by the Federal Reserve last Friday and (4) the University of Michigan Preliminary Consumer Sentiment for April coming in at 89.7 - the first reading under 90 in seven months - and you can see why we believe that very-low short-term interest rates will likely remain in place for a long time.
Reno was very green last week, due to all the melting winter snow and persistent precipitation. Lake Shasta and major reservoirs like Lake Oroville are full, so their water is being released earlier than normal. That is the good news. The bad news is that California still has a big water shortage. Apparently this is due to the fact that too many trees in the Sierra are sucking up too much water. I grew up in Berkeley where trees were favored over the timber business, so I am confused. I must have missed something, since the New York Times now effectively says the trees in the Sierra Nevada are evil, water-sucking sponges.
If environmentalists can complain about the presence of trees, I guess I can complain about the markets.
The stock market remains overbought. The leadership since the lows of February 11 - namely, energy stocks and some financial stocks - remains poised for a fall, since crude oil prices are expected to stall and many big banks are now announcing disappointing first-quarter results. The stock market's recent trend of rewarding sectors and stocks with dismal earnings is unquestionably affiliated with the algorithmic traders who essentially use the high-frequency trading (HFT) systems to front-run order flows.
They are short-term opportunists, not investors; but in this strange new world where algorithms have replaced market makers, the fundamentals can be overlooked from time to time. Still, as more first-quarter earnings are announced in the upcoming weeks, I expect that the algorithmic traders will be running for cover as market volatility picks up while positive sales, earnings, and guidance propel selected stocks higher.
I say that energy companies are at risk because crude oil futures remain temporarily high due to persistent rumors that crude oil production will be curtailed. Early last week, there were persistent rumors that Russia and Saudi Arabia had agreed to production cuts. It was just a rumor, since on Wednesday, Saudi Arabia Oil Minister Ali al-Naimi played down the prospect of oil producers taking action on crude output at a key meeting of major crude oil producers on Sunday in Doha, Qatar. Specifically, when asked about potential production cuts, al-Naimi said, "Forget about this topic." That's not a very positive response.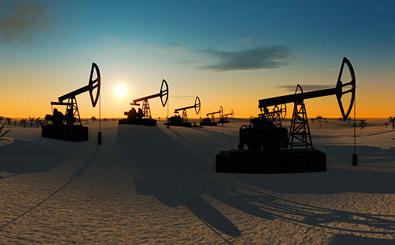 Graphs are for illustrative and discussion purposes only. Please read important disclosures at the end of this commentary.
The crude oil inventory glut persists. Last Tuesday, the American Petroleum Institute said that U.S. crude oil supplies rose by 6.2 million barrels in the latest week. On Wednesday, the Energy Information Agency confirmed that trend by saying that U.S. crude oil supplies rose 6.6 million barrels in the latest week. As a result, the crude oil storage facilities in Cushing, Oklahoma remain abnormally high. Crude oil is merely following its normal seasonal pattern of going up in the spring as seasonal demand rises, but I also expect that crude oil prices will decline again in the fall when worldwide seasonal demand ebbs.
Saudi Arabia is Losing Market Share Fast
The Financial Times recently reported (in "Saudi Arabia loses oil market share to rivals in key nations," March 28) that Saudi Arabia is losing substantial business in nine of its 15 major markets. Specifically, China, South Africa, South Korea, Thailand, Taiwan, and the U.S. are all now buying less crude oil from Saudi Arabia as Angola, Iraq, and Nigeria have increased their crude oil exports.
The attached charts illustrate that Iraq's production increase has been the most dramatic and now Iran is ramping up its crude oil production. Both Iraq and Iran have been trying to crowd out Saudi Arabia from their lucrative Asian customers by offering discounts in exchange for long-term commitments.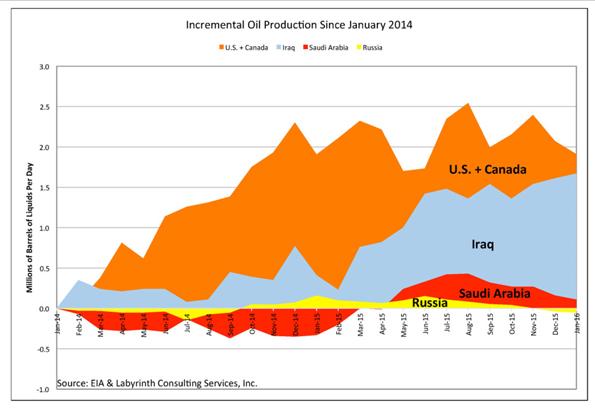 In the meantime, Saudi Arabia is buying more stakes in overseas refineries to protect its eroding market share. The bottom line is evident from the fractious outcome of Sunday's meeting in Doha: OPEC members will continue to fight over market share; so crude oil prices will likely remain under pressure long-term, especially when worldwide demand turns down in the fall. The tension between Iran and Saudi Arabia is so high that Iran's oil minister will not be attending the Doha summit. The fact that Iraq, Iran, and other nations continue to ramp up production means that crude oil prices are destined to remain well below normal for the foreseeable future as new supplies continue to outstrip demand.
Disclosure: *Navellier may hold securities in one or more investment strategies offered to its clients.
Disclaimer: Please click here for important disclosures located in the "About" section of the Navellier & Associates profile that accompany this article.