Why look at investing in corporate spin-offs? For one thing, Joel Greenblatt said a few good things about spin-offs in his book You Can Be a Stock Market Genius: Uncover the Secret Hiding Places of Stock Market Profits. The main reason why spin-offs are good hunting grounds for investments is because they normally result in smaller capitalized companies. Small-cap companies are overlooked, especially by big investors, and when you throw a spin-off into the mix they can be misunderstood, creating attractive valuations. There has been research that investing in corporate spin-offs as a strategy can outperform the market. One item to consider is The Guggenheim Spinoff ETF (NYSEARCA:CSD), which is a fund that uses a spin-off strategy.
SPY and CSD Five-Year Price Returns (Daily)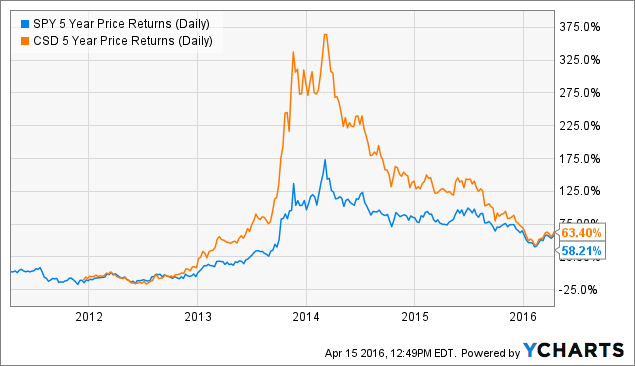 However, I'm going to focus here on Emerson Electric (NYSE:EMR), which just filed form 10-12B for the spin-off of its network power business. They first announced this in June 2015 and hope to finish the process sometime in 2016. The transaction will be 100 percent of the outstanding capital stock of Vertiv pro rata to holders of Emerson common stock on the record date. The distribution ratio is yet to be determined. Every EMR shareholder of record will receive one share of Vertiv (the spin-off corporation) for every [*] share of EMR held.
Vertiv Overview
Vertiv provides services in designing, manufacturing and servicing mission-critical infrastructure technologies for vital applications. The main markets it sells to are data centers, communication networks, and commercial/industrial environments. These markets serve many different industry end-users such as healthcare, retail, government, etc. One of the main companies Vertiv will compete against is Eaton Corp. (NYSE:ETN).
In the filing, management doesn't state how many shares outstanding will be distributed, but this will be predicated upon how many shares outstanding there are for Emerson Electric at the time of the spin-off. When looking at the Sept. 30, 2015, financial report, EMR had 677 million shares outstanding. Also, I know a lot of shareholders of EMR like the dividend payout they currently receive from the organization and are worried about how this will affect the policy going forward. There were no specifics on if Vertiv will pay a dividend or not. I can say, though, that it appears EMR will still be able to cover its current dividend of $1.90 and have some room for increases without the Network Power Business assets.
| | |
| --- | --- |
| EMR 2015 EPS | $3.99 |
| Vertiv 2015 EPS | $(.09) |
| EMR EPS Without Vertiv Assets | $4.08 |
| 2015 Dividend | $1.88 |
| Payout Ratio | 46% |
| Net Difference | $2.20 |
Financial Information
In 2015, the Network Power Business (Vertiv) had net sales of $4.45 billion and a loss of $61 million. There was an impairment of $154 million recorded and operating cash flow came in at $340 million. Without the impairment, the company would have made $93 million. Total assets were $4.75 billion, but almost half of its total assets were goodwill at $1.99 billion. Total liabilities were $1.58 billion, but I see this number increasing after the spin-off because debt will be added to the balance sheet. The filing doesn't specifically say how much debt will be added. There will be many factors to consider with regard to the spin-off.
Valuation
In order for us to even see if it will be advantageous to invest in this spin-off, we need to understand how much Vertiv will be worth. Eaton Corp. currently sells for 12x operating cash flow and has a P/E of approximately 15. By understanding Eaton Corp.'s valuation metric, we can make some assumptions regarding the value of Vertiv. Vertiv had $340 million in operating cash flow, giving it a 12x multiple. This provides us a value of $4 billion. This is a very basic valuation, but it can give us a range of what the business is worth.
Also, there are early-stage talks of selling the Network Power Business outright for $4 billion (for more on that, please see here). This is right in line with the valuation. More work needs to be done, though, especially with regard to the capital structure of the organization after the spin-off. This will help provide a true picture of the company and its intrinsic value.
Concluding Thoughts
One idea is to just own EMR. In the prior two years, the Network Power Business had losses of $235 million (in 2014) and $61 million (in 2015). This shows that Vertiv's business assets were suppressing the EPS growth potential of EMR. It could be beneficial to just own EMR after the spin-off. The only thing I don't like about EMR is that its shares have become more correlated to the price fluctuations of the oil and gas industry. There could be an opportunity here, but we will have to wait to receive more information.
I hope to keep writing articles on stock spin-offs and deep value situations. Please follow me on Seeking Alpha if you like what you're reading and you will be notified when I publish new research.
Disclosure: I/we have no positions in any stocks mentioned, and no plans to initiate any positions within the next 72 hours.
I wrote this article myself, and it expresses my own opinions. I am not receiving compensation for it (other than from Seeking Alpha). I have no business relationship with any company whose stock is mentioned in this article.