One of the enduring ideas found in Dow Theory is that transportation companies can provide insight into the overall health of the US economy. As more goods are manufactured, more ore and coal mined, more corn farmed and cattle raised, the transport company's business expands as they bring these goods to market. Even though we no longer have the same manufacturing based economy we did when Dow Theory was first espoused, it still provides clues as to the state of many parts of the economy.
Overall Business
The CSX (NYSE:CSX) network covers two-thirds of the US population and 60% of US manufacturing. So what do they have to say about the health of American industry? At a glance, it doesn't look good. Revenue in the first quarter fell 14% compared to the previous year, operating income by 16%, and earnings by 19%. Volumes are down. As a consequence, overcapacity triggered a 9% contraction in revenue per unit. Management has stated macroeconomic headwinds intensified in 2015 and this is expected to continue in 2016. The strong dollar and low commodity prices are a theme in explanations CSX's poor performance. To deal with the tough times CSX is focusing on cost cutting and efficiency gains. They plan to reduce headcounts in operations and general and administrative areas. There have been 2,200 train and engine workers furloughed. There are also capacity cuts underway with 400 trains going into storage and unprofitable segments (for instance, those leading to shuttered coal mines) closing down.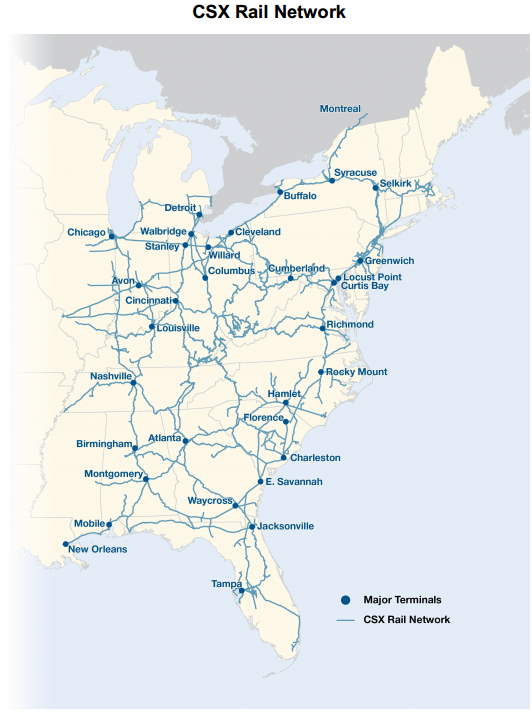 Source: CSX 2016 Q1 Earnings Press Release
Simply put, CSX is shipping fewer goods at lower prices. Somewhat counterintuitively though, same-store sales are up 3.1% in the first quarter. This is in part due to how CSX defines same store sales: the same customer, car type, commodity, origin, and destination. So while some "stores" are ceasing to do business, those that survive appear to be doing well.
Before we look at individual segments, here's a breakdown of what each segment contributed to CSX in the first quarter:
| | | | |
| --- | --- | --- | --- |
| Segment | % of volume | % of revenue | Revenue per unit |
| Agricultural products | 6.3% | 10% | $2,657 |
| Phosphates and fertilizers | 4.9% | 4.8% | $1,671 |
| Food and consumer | 1.4% | 2.3% | $2,727 |
| Chemicals | 9.7% | 19.1% | $3,340 |
| Automotive | 7.2% | 11.1% | $2,556 |
| Metals | 3.2% | 5.3% | $2,760 |
| Forest products | 4.4% | 7.2% | $2,779 |
| Minerals | 3.9% | 3.8% | $1,613 |
| Waste and equipment | 2.1% | 2.5% | $2,000 |
| Coal | 12.9% | 15.2% | $1,995 |
| Intermodal | 43.7% | 15.5% | $597 |
Source: CSX 2016 Q1 Earnings Press Release
Agriculture
Shipments of agricultural products fell 9% in the first quarter as low commodity prices and high inventories caused a decline in ethanol and feed products. Phosphates and fertilizer shipments shrank 3% as farmers appear to be waiting to see if prices will fall further, and the combination of poor western crop yields and excess trucking capacity led to a 4% decline in food and consumer volume.
Industrial
The chemical segment, which encompasses oil, reported a 3% fall in volume. It's no secret that oil prices have collapsed but the insight here is that as far as CSX is concerned, the mechanism behind the volume decline is the price spread between Brent crude and Bakken oil which narrowed as global prices declined. Oil aside, the remainder of the chemical market remains favorable.
The automotive sector provided a rare bright spot in CSX's quarterly report. Volumes were up 12% compared to the prior year with particular strength in SUV's and trucks. CSX management cited strength in North American light vehicle production.
Shipments of metals fell 18%, attributable to lower steel production. Domestic production is being displaced by imported steel with the strong dollar cited as a partial cause. Back to the energy market, pipe shipments also contributed to this decline as low energy prices have prompted rig counts and drilling activity to decrease.
Housing and Construction
Industry consolidation, capacity cuts, and low export demand, again due to the strong dollar, effected a 7% decline in forest product volume. On the other hand, mineral volume rose 3% with the mild winter bringing an early start to the shipping season.
Waste and equipment also experienced growth with a 6% expansion. Management cited strong municipal and construction waste movements, and power-related machinery as the reason.
Coal
Coal is by far the biggest drag on the business. This struggling sector has been all but left for dead. In the first quarter, total coal volume was down 30% and full-year coal volumes are expected to shrink 20% in 2016. There are shutdowns and reshuffling in CSX's coal network as they attempt to reconcile the industries secular and cyclical decline. As for the different varieties of coal, 30% less domestic utility coal was shipped in the first quarter. Low natural gas prices, the replacement or displacement of coal capacity with natural gas capacity for electricity production, the mild winter, and high inventory levels all combined to produce this miserable figure. Domestic coke, iron ore, and other coal is struggling as well, but not to the same extent. Volume fell 11% as the previously mentioned weak steel production lowered demand for this type of coal and created an oversupplied market. Export coal is doing even worse, getting crushed by global oversupply and that pesky strong dollar. Overall volumes tumbled 40% with almost a quarter of metallurgical coal volume gone and a staggering 63% of thermal coal volume vanishing.
Intermodal
This one is hard to decipher. It is vague and the numbers and comments by management don't tell you much. Intermodal involves transporting goods by multiple means, for example by truck to train and then truck again to the destination. This covers just about anything that fits in a standard shipping container. Not much insight can be gained from this segments performance as the gains in domestic intermodal are attributed to customer growth and network investment and the losses in international intermodal were caused by competitive losses.
The Takeaway
Low commodity prices and a strong dollar are the familiar refrain in CSX's earnings report. Coal is the hardest hit of the industries CSX serves, followed by oil and steel. Fortunately for those of us not directly affected by this poor showing, the energy and mineral extraction industry only accounts for about 2% of GDP. The automotive sector, which CSX cites as a source of strength, is around 3%. While Dow Theory may no longer be the best lens through which to analyze the entirety of the US economy, transport companies sit in an interesting position between where things are manufactured or pulled from the earth and where they need to be sold. They shed light on certain industries that deal with physical goods and, as can be seen in this case, how weakness in one industry can spread and affect supporting industries. Just because you may not be invested in energy or commodities doesn't mean you're immune to the effects of low prices.
| | |
| --- | --- |
| Favorable | Automotive, minerals |
| Neutral | Intermodal, phosphates and fertilizers |
| unfavorable | Agricultural products, chemicals, domestic coal, export coal, food and consumer, forest products, metals, waste and equipments |
Source: 2016 Q1 Earnings Presentation
Disclosure: I/we have no positions in any stocks mentioned, and no plans to initiate any positions within the next 72 hours.
I wrote this article myself, and it expresses my own opinions. I am not receiving compensation for it (other than from Seeking Alpha). I have no business relationship with any company whose stock is mentioned in this article.