By Gary Alexander
"In the garden, growth has it seasons. First comes spring…. Yes, there will be Growth in Spring."
- Peter Sellers as Chance the gardener, addressing the U.S. President in "Being There" (1979)
The 1971 novel and 1979 movie "Being There" portrays a simple gardener who inherits his master's classy wardrobe and is mistaken for a wise economic advisor. When asked whether the President and Congress should craft a stimulus program, "Chance the gardener" (heard as "Chauncey Gardiner") tells the President the simple truth of the seasons, which the President interprets as great economic wisdom.
Whenever I hear the pronouncements of Fed officials, I think of Peter Sellers in "Being There." I guess the fact that Gardner Ackley was Chairman of the Council of Economic Advisors from 1964 to 1968 under President Lyndon Johnson helped to create the verisimilitude necessary to see a gardener as a guru.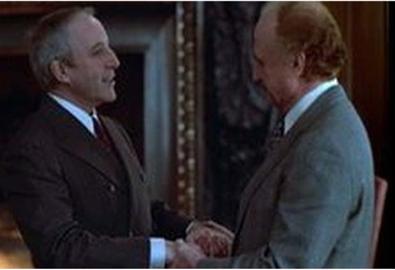 Chauncey Gardiner was right. There is more growth in Spring than the other seasons. If you look at the last 10 years of GDP growth, you can see a seasonal pattern in the quarters - which roughly parallels the four seasons. Winter growth is flat, Spring marks a recovery, but growth tapers off in the second half:
Here are the inflation-adjusted annualized quarterly GDP growth rates from the BEA for the last 10 years: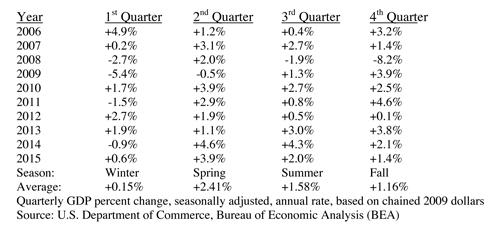 The spring recovery was most dramatic in 2009, 2011, and 2014, with an average 5% leap in growth rates from winter to spring. I wouldn't presume to be a humble gardener advising the President to believe in spring, but when all eyes are focused on the first-quarter GDP release on April 28, I'll be looking at some of the "green shoots" that promise a bit faster recovery in the current (second) quarter than in the first.
The Brain Trust at the IMF Weighs in Again
Last week, I wrote about the volatile GDP projections of the Atlanta Fed in their GDPNow statistic, along with the perennially failed growth predictions of the International Monetary Fund (IMF). Last Tuesday, after MarketMail was published, the IMF released their latest quarterly refinement to their global growth outlook (April 2016 World Economic Outlook, "Too Slow for Too Long"). Here's their summary view:
The baseline projection for global growth in 2016 is a modest 3.2 percent, broadly in line with last year, and a 0.2 percentage point downward revision relative to the January 2016 World Economic Outlook Update. The recovery is projected to strengthen in 2017 and beyond, driven primarily by emerging market and developing economies, as conditions in stressed economies start gradually to normalize. But uncertainty has increased, and risks of weaker growth scenarios are becoming more tangible. The fragile conjuncture increases the urgency of a broad-based policy response to raise growth and manage vulnerabilities.
The IMF reduced their global 2016 GDP growth forecast from 3.6% last October and 3.4% last January. They also cut their 2016 U.S. GDP forecast to 2.4%, down from 2.6% in January and 2.8% in October. It's a safe prediction that the IMF will likely reduce these numbers again in their July update, especially if Britain votes to exit ("Brexit") from the European Union in a national referendum to be held on June 23.
In releasing that report, IMF Managing Director Christine Lagarde (anagram: Ethical Gardiners) warned of possibly "severe" damage if Britain leaves the European Union. She labeled the current period of stagnation as "the new mediocre," a decidedly less attractive description than "Goldilocks economy" (the "old mediocre"?), which denoted economic growth that is neither too hot nor too cold, but "just right."
In his Morning Briefing last Wednesday ("Too Slow for Too Long," April 13), economist Ed Yardeni compared this latest IMF report to a list of the "10 plagues" on ancient Egypt. Today's plagues, he wrote, include "Brexit, large-scale refugee flows into Europe, depressed commodity prices, and even El Niño."
The Shifting Economic Leadership of Asia
Until recently, China was the world's fastest-growing economy. That is changing. Last week's IMF report predicted China slowing from 6.9% growth last year to 6.5% this year, and 6.2% in 2017. India is the new global growth leader. The IMF expects India to grow 7.5% this year and next year, on top of 7.3% last year. Meanwhile, Japan is expected to grow just 0.5% this year and decline -0.1% next year.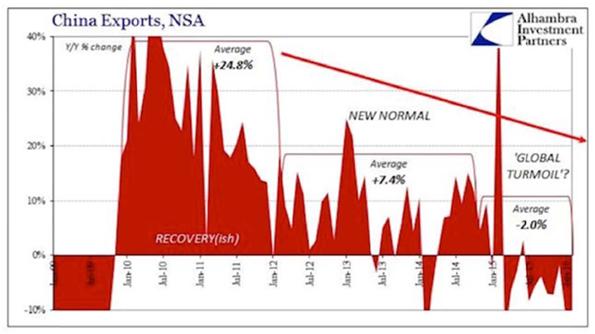 Graphs are for illustrative and discussion purposes only. Please read important disclosures at the end of this commentary.
Just last week, I was looking through my archives of early writings in international economics from almost 50 years ago. Fresh out of college in 1967, I researched and co-authored a three-part series on the new economic juggernaut in Japan. The first installment covered Japan's rising industrial power, the second covered its concomitant pollution and crowding problems, and the finale covered "Japan's New Role in Asia." Overall, it was a work of admiration for their hard work, innovation, and drive to recover from the worst destructive bombing onslaught the world had ever seen, including two atomic bombs.
My 1967-68 survey of Japan's economy sounded like it could have been written about China last year: "Based on Japan's fantastic economic growth rate of 8% a year - the fastest in the world - a leading American economist has predicted that Japan will rise to the top position of per capita national income in the 21st century. The 21st century, he said, will be Japan's!" Everything seemed to be "Made in Japan" back then, similar to the recent "Made in China" dominance. As it turns out, Japan's growth continued into the 1980s, when their assets (stock and land) turned into a bubble; but Japan has suffered slow-to-no growth for the last 25 years now, while China has taken its place and India is poised take China's place.
China recovered from its own Dark Ages - Mao's Great Leap Forward and Cultural Revolution, when tens of millions died - as rapidly as Japan recovered from the carpet-bombing of its nation in 1945. When my wife and I and 30 other investors toured China in 1996, there was construction everywhere. My wife just returned from a textile-based tour of India in March. She said the same is true of India now - rapid new construction blankets the nation. India is also attempting to develop a cleaner form of growth than in Japan in 1967 or China in 1996. My wife visited one industrial cluster of 20 textile companies that joined together to build an environmentally friendly and sustainable park for textile production.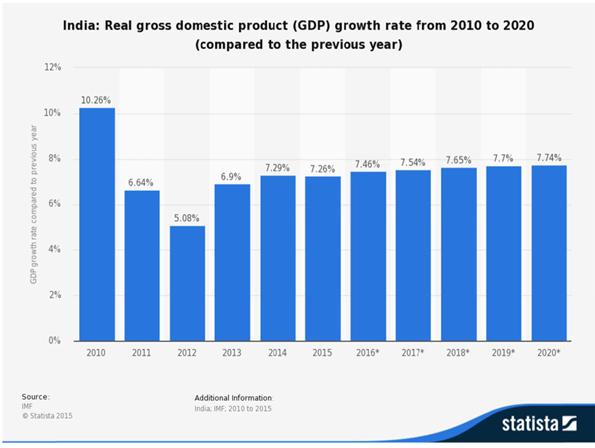 Graphs are for illustrative and discussion purposes only. Please read important disclosures at the end of this commentary.
Watch out, China. Here comes India.
Disclosure: *Navellier may hold securities in one or more investment strategies offered to its clients.
Disclaimer: Please click here for important disclosures located in the "About" section of the Navellier & Associates profile that accompany this article.