In this report on Thomson Reuters (NYSE:TRI), I discuss an extreme valuation opportunity that is somewhat rare. As with most securities selling at excellent valuation levels there are conditions that have created the valuation opportunity. Thomson is no exception.
Thomson Reuters is a financial powerhouse headquartered in New York providing services worldwide.
Markets are weak, so economic pressure has skewed earnings and revenue growth for Thomson to fall into the 2% range. Management has confirmed that sales are negative thereby signaling a continued challenging environment for strong earnings growth. Current estimates are for 2012 are in the $2.11 area that is only about 13 cents higher than 2011. A recent dividend increase was announced that increased the annual distribution by 3%.
The graph below shows the PE ratio and yield of the shares over the past 20 years. Due to charge-offs in 2011, there exists a current negative PE, however, the estimate for 2012 is a PE of 13. The yield is at the highest levels recorded at 4.5%.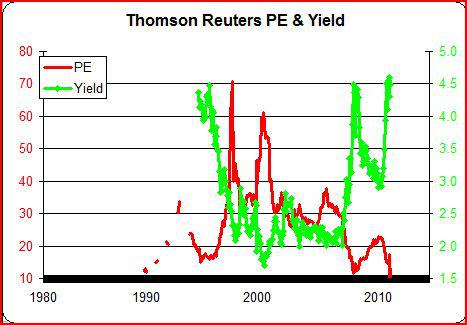 The dividend has grown steadily with a special dividend in 2008 around the time of the Reuters and Thomson merger. As mentioned, it was recently increased by 3%. The current payout ratio is 60% of free cash flow.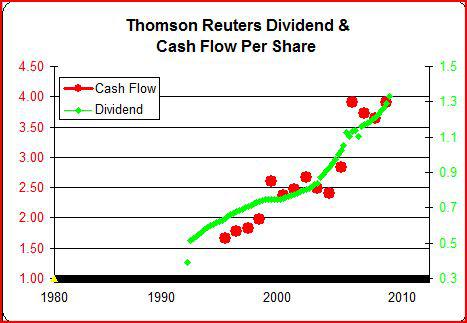 Technical Outlook: After a decline in price from $40 a share a year ago, the shares of TRI have been in a bottoming process, which appears to be complete, especially when coupled with its extreme valuation levels.
click to enlarge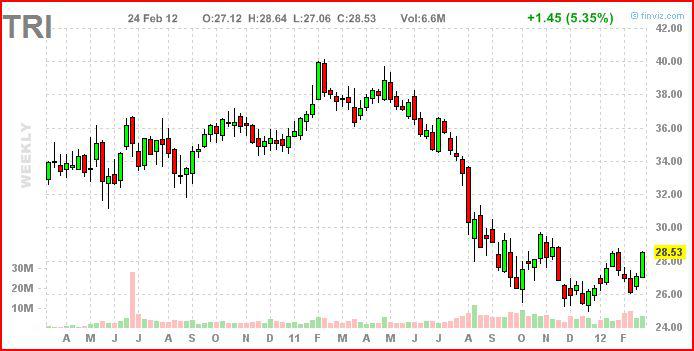 Conclusion
The shares provide a good long-term investment opportunity coupled with a hefty yield of 4.5%. Though current earnings are under pressure, there are changes in place to increase margins and revenues by the end of the year. Though value exists in the shares, especially for those seeking above average yields, near term growth prospects limit substantial capital gains over the next six months or longer. The opportunity exists in the low valuation of the shares, which are only available for investors during conditions that gives one pause. I would buy on pullbacks to the 24-26 levels for those interested in locking in a good price while collecting a decent yield in anticipation of better growth downstream.
Disclosure: I am long TRI.