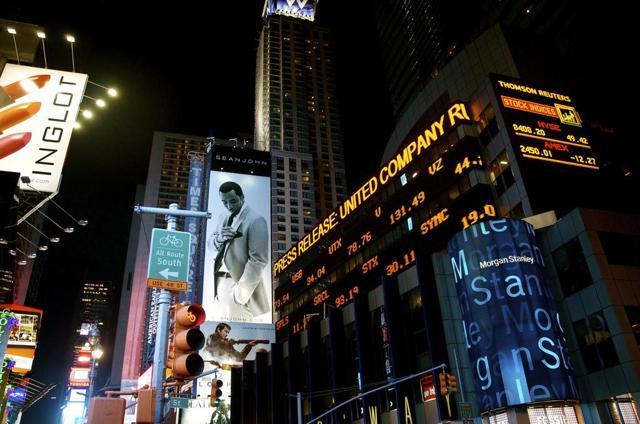 Click to enlarge
First, a bit of background. The majority of companies beat EPS expectations the majority of time. That is, analysts have a bias where they consistently predict EPS slightly below the earnings which are ultimately reported. This is in line with their bias to be positive about their coverage universe and makes it easier for that universe. This applies to the entire market. You could actually be a better than average analyst (in terms of your EPS estimates) just by adding $0.01 to every consensus EPS expectation out there.
Take the following chart. It depicts how the overall market did in terms of beating/meeting/missing EPS estimates: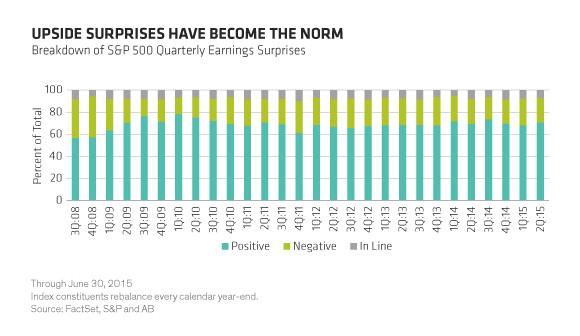 Source: "US earnings surprises…are you kidding me?", Frank Caruso, InvestmentEurope.net
What can we see? Even in the worst of times (H2 2008), there were nearly 60% of companies reporting earnings beats!
But, again, this is for the overall market. For large banks/brokers it's probably worse. You see, "consensus expectations" are but an average of the opinion of analysts working for those same banks and brokers out there, and the ones at the top research houses probably know each other well. So from there the result is obvious - only rarely will this group of people not manufacture a beat for one of the banks/brokers they work for.
Take, For Instance, Morgan Stanley
Morgan Stanley (NYSE:MS) is the subject of this article, because what happened yesterday was particularly egregious. Here we were, April 18, and Q1 2016 had been over for just 18 days.
So what happened to MS Q1 2016 EPS consensus recently? Let us check at Yahoo Finance:

Click to enlarge
Source: Yahoo Finance
That already tells us that in the last 30 days there was a massive revision lower to Morgan Stanley's Q1 2016 EPS consensus. It went from $0.74 per share, to $0.46. Then, Morgan Stanley "beat" this by announcing a $0.55 EPS - notice, $0.55 is quite a bit lower than what was expected 30 days ago ($0.74).
Moreover, checking Nasdaq.com, it gets even funnier. Here's an added piece of data regarding when the EPS revisions took place: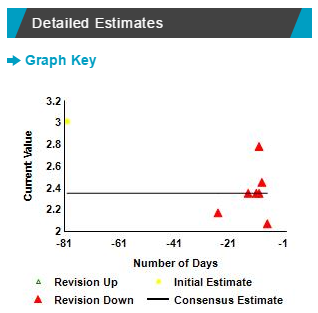 Source: Nasdaq.com
So there you have it, nearly the entire consensus EPS revision took place after the quarter was already over, and quickly brought down the then-existing EPS consensus from $0.74 to $0.46 just in time for Morgan Stanley to report a "beat"!
This beat, though, was rather irrelevant. Morgan Stanley ended flat for the day. Which is also a characteristic of banks - they tend to move a whole lot less on these beats than other stocks would.
Also, notice that there were no SEC Filings. No press releases. No Presentations. And yet, coincidentally, all those people decided to lower their EPS estimates for MS in the last 18 days. Sure.
And There's Yet Another Example, Goldman Sachs
This article was already written when the next one hit. Goldman Sachs (NYSE:GS) reported an ugly quarter down significantly from 2015. But guess what, "Goldman Sachs posts earnings of $2.68 a share vs. $2.45 expected".
How did that happen? Well, the precise same was as with Morgan Stanley:

Click to enlarge
Source: Yahoo Finance
Conclusion
If you're looking at a large bank/investment bank/broker and it reports earnings and those are an earnings beat, look at how its EPS consensus evolved recently. If it fell out of bed like with Morgan Stanley, there's no point in getting enthusiastic because of it beating EPS consensus.
Disclosure: I/we have no positions in any stocks mentioned, and no plans to initiate any positions within the next 72 hours.
I wrote this article myself, and it expresses my own opinions. I am not receiving compensation for it (other than from Seeking Alpha). I have no business relationship with any company whose stock is mentioned in this article.