Vivint Solar (NYSE:VSLR) has lost its momentum in the increasingly competitive residential solar industry. The company has fallen further and further behind its main rivals over the past few quarters, which is a trend that will likely continue moving forward. Not surprisingly, the distraction caused by Vivint Solar's failed merger attempt with SunEdison (SUNE) has contributed to Vivint Solar's derailment.
Vivint Solar's management recently held an investor and analyst call to update investors on the company's activities. Unfortunately for investors, there was little to indicate during the call that Vivint Solar is poised for a major turnaround. While Vivint Solar has seen some success in raising money for future installations, the company appears to be falling further behind on many major fronts.
Growing Cost Problem
Cost remains one of the primary differentiators in the residential solar industry. While Vivint Solar did a great job of reducing costs over the past few years, the company is having an increasingly difficult time on this front. In fact, Vivint Solar's costs have been trending upward over the past year. Vivint Solar reported a cost structure of $3 per watt in Q2 of 2015, which subsequently increased to $3.12 per watt in Q3 and Q4.
Even worse, Vivint Solar expects its Q1 cost structure to increase to $3.35 per watt, which represents a 4% YOY increase. Given how fast the general residential solar industry is decreasing its costs, Vivint Solar's growing costs represent a major problem. Whereas Vivint Solar almost reached cost parity with its main competitor SolarCity (NASDAQ:SCTY) just a year ago, there is now a ~$.70 per watt cost structure differential in favor of SolarCity.
While SolarCity has yet to release its Q1 data, it would not be surprising to see that SolarCity had lowered its cost structure to the $2.6 per watt range in Q1 considering the company's recent cost trend. SolarCity already reported a cost structure of $2.71 per watt in Q4 and will likely continue to lower costs at a rapid rate given the company's renewed focus on costs. In addition, Sunrun (NASDAQ:RUN) is catching up to Vivint Solar on costs despite the fact that Sunrun was not even competitive with Vivint Solar on this front just a few quarters back.
While Sunrun still has a higher total cost structure than Vivint Solar, Sunrun also utilizes a more expensive partnership model. Sunrun's cost structure is actually lower than Vivint Solar's when only taking into account Sunrun-built install costs. With Vivint Solar falling further behind its two major rivals on the cost front, the company will likely have a much harder time growing or even just maintaining its market share.
Growth Remains An Issue
Vivint Solar continues to experience a major growth slowdown. While the residential solar industry in general is experiencing major headwinds, Vivint Solar's growth issues are more pronounced than those of its competitors. Vivint Solar only installed 55 MW of solar in Q1, which represents a 20% YOY increase. To put some perspective on how dramatic Vivint Solar's recent growth slowdown is, the company was experiencing doubling and even tripling YOY growth rates just a few quarters back.
Vivint Solar's worsening cost situation should only make it harder for the company to reverse its growth slowdown. Given all the time and effort Vivint Solar wasted on the failed SunEdison merger, Vivint Solar will have to work harder than ever in order to maintain its current market foothold. The lingering effects of the failed merger talks will likely continue to negatively impact Vivint Solar over the next few quarters. In fact, Vivint Solar CEO Greg Butterfield stated that "the uncertainty and the disruption caused by the transaction cannot be understated."
Competition in the residential solar sector will only increase moving forward, evident in the fact that major solar industry players like SunPower (NASDAQ:SPWR) are starting to invest heavily in residential solar. This will make it even harder for Vivint Solar to retain its market share, especially considering its current growth problems. While Vivint Solar is still one of the most dominant residential solar companies in the US, the company is finding itself on increasingly shaky ground.
In addition to its growing internal issues, Vivint Solar is facing problems on the competitive front. Most recently, SunPower released its own cutting-edge residential solar product.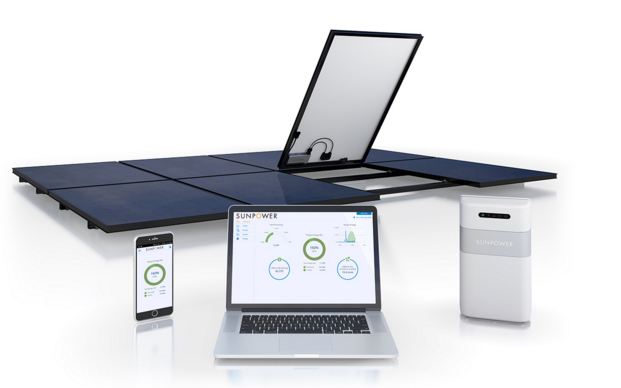 Source: SunPower
Conclusion
Vivint Solar is finding it harder and harder to compete in the residential solar industry. The good news is that Vivint Solar will no longer have to divert attention on to SunEdison. However, the time and resources wasted on the failed merger has already had a significant impact on Vivint Solar. Moreover, Vivint Solar's recent underperformance was likely not solely the fault of the SunEdison distraction.
While Vivint Solar has seen its valuation plummet over the past few months to $331 million, there are still far better investment opportunities in residential solar. Vivint Solar's competitors like SolarCity and Sunrun are adapting far better to the changing residential solar landscape. Should the 30% solar ITC have expired in 2017 as originally planned, Vivint Solar would likely be struggling to survive. Even in the current generous ITC environment, Vivint Solar is finding it difficult to compete in the increasingly harsh residential solar environment. Unless Vivint Solar makes a dramatic turnaround, the company's future prospects are grim.
Disclosure: I am/we are long SCTY.
I wrote this article myself, and it expresses my own opinions. I am not receiving compensation for it (other than from Seeking Alpha). I have no business relationship with any company whose stock is mentioned in this article.
Editor's Note: This article covers one or more stocks trading at less than $1 per share and/or with less than a $100 million market cap. Please be aware of the risks associated with these stocks.