Its time to take profit or short Activision/Blizzard (NASDAQ:ATVI).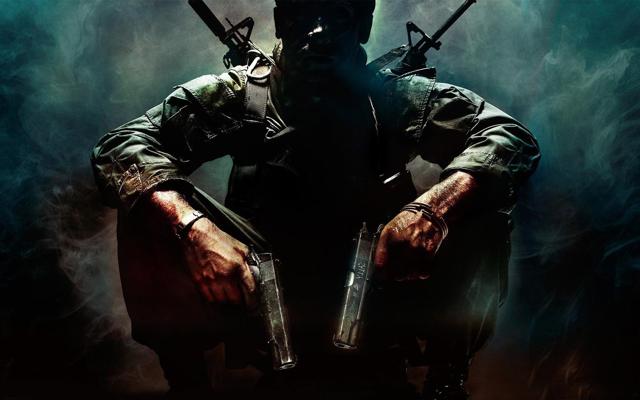 Click to enlarge
I wrote about Activision/Blizzard in my analysis of the video game ETF (NYSEARCA:GAMR). In that article I described the company as a dinosaur and claimed that its best days are behind it. I still think so, and to go further, I think the stock is due for a correction. Activision/Blizzard has hit its plateau, along with its big names; World of Warcraft, Call of Duty and StarCraft.
Most of the EPS growth in this company has been the result of share buybacks. Analyst estimates for Activision's revenues and profits are unreasonable. When the market realizes this, it is game over for this stock.
Note: The transition into film and expansion of E-Sports are long term bullish factors for the ATVI, but we must also consider the increasing competition the company faces from never developers. This is a factor that was not so large when the company achieved most of its success. Firms like Electronic Arts (NASDAQ:EA) and Take-Two (NASDAQ:TTWO) pose serious threats to ATVI's market share in the gaming industry. In addition, the majority of video game growth is occurring in mobile - the company has exposure here, but not enough to be considered a leader in the segment.
I don't expect much growth until the company comes out with something truly revolutionary. This will not occur before a correction in the stock price.
Overvalued:
ACTI is not a bad stock, but any investment is unattractive when price has been driven up beyond a reasonable level. The fact of the matter is that Activision/Blizzard's net income has been flat since 2012 and there is no convincing way the company can change this situation: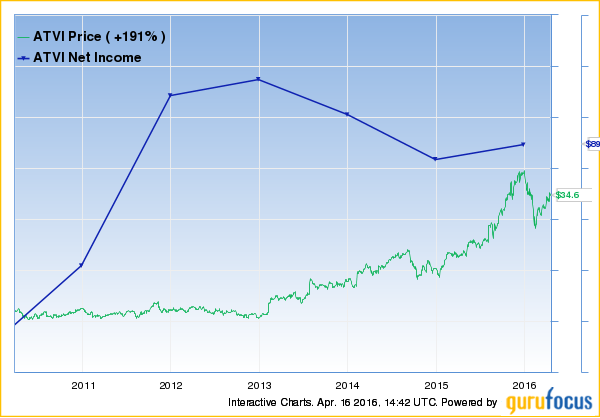 Unfortunately, the company's flat net income is not the result of increasing research and development expenditures- as I would have liked to see in a company with so much work in progress. R&D has been stable at around $600,000,000 for the last few years. Nothing has been particularly impressive about ATVI except the stock price, which has actually gone up 150% from 2012 to 2016- a time frame when net income dropped 17%.
Granted, ATVI has maintained a general trend of EPS increases over a decade, and I must admit that this does justify an increase in the share price. However, I do not think it is wise to assume the company's EPS will increase forever. If you look deeper into the numbers you will see that the EPS growth is almost invariably caused by share buybacks, not actual growth in revenue or net income. There is simply no catalyst here to drive actual revenue growth.
Overly optimistic analysts predict ATVI revenue increases to 7 billion by 2018: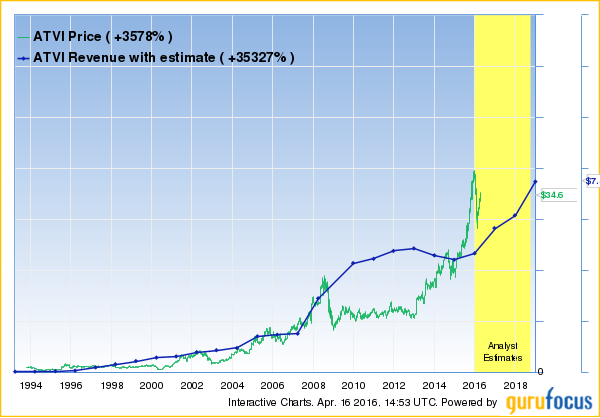 This is what I consider to be a baseless prediction. If it doesn't play out - and revenue stays flat at around 4 billion a year, you best believe this stock price will answer the call of gravity and drop back down to its 2015 numbers. Past performance is not a guarantee of future performance. Activision's days of heady growth are over.
The company is where it is today because of its massively popular multi-billion dollar gaming brands; World of Warcraft, Call of Duty and Starcraft. These games have been incredible cash cows for the company, but as they decline with no clear replacement it is unlikely that this company will deliver the returns investors are expecting.
Estimated World of Warcraft subscription numbers, 2006 to 2015 (millions):
| | | | | | |
| --- | --- | --- | --- | --- | --- |
| 2010 | 2011 | 2012 | 2013 | 2014 | 2015 |
| 12 | 10 | 10 | 7.5 | 7.5 | 5.5 |
The number of subscriptions to World of Warcraft has declined by around half within 5 years. The company stopped publishing subscriber data in 2015.
Estimated Call of Duty sales numbers by release title (millions):
| | | | |
| --- | --- | --- | --- |
| Modern Warfare | World at War | Modern Warfare 2 | Black Ops I |
| 17 | 15 | 23 | 29 |
The Call of Duty sales peaked with the releases of Black Ops and Modern Warfare 3, after which the brand has seen a steady decline in sales:
| | | | |
| --- | --- | --- | --- |
| Modern Warfare 3 | Black Ops II | Ghosts | Advanced Warfare |
| 29 | 26 | 25 | 17 |
COD made up a huge portion of the companies revenue in 2015, 54% of revenue comes form digital gaming. As we look at the decline in the popularity of these massive brands it becomes clear why the company's revenue has flat-lined so severely.
So far, Activision/Blizzard has showed no indication that it is ready to create anything that will be able to top popularity achieved by its declining cash cows.
The Good News:
Activision/Blizzard is diversifying into new mediums such as film, the company has movies in the pipeline for both World of Warcraft and Skylander. Historically, video game films have not done so well, but if Blizzard can buck this trend the company will have a significant first mover advantage in what may be an untapped segment.
E-Sports also presents a growing and profitable opportunity for the company. Activision has several popular E-Sports friendly offerings such as HearthStone and Heroes of the Storm. Branching deeper into the growing E-Sports market will help make up for the decreasing amount of revenue the company is earning from its older gaming brands.
The Bad News:
Where is the R&D expansion that we are seeing in other tech companies? Activision is no longer behaving like a grower and I think the firm has hit its horizon date. This is not to say the company will never grow again, but clearly this growth will not be happening nearly as fast as the bulls are predicting, and nowhere near fast enough to justify the current stock price.
As soon as the market realizes that ATVI is overvalued the stock is set to drop. I would advise anyone who is currently in the ATVI to take profit now or short. Full disclosure: I took profit in 2015, I err on the side of caution.
Disclosure: I/we have no positions in any stocks mentioned, and no plans to initiate any positions within the next 72 hours.
I wrote this article myself, and it expresses my own opinions. I am not receiving compensation for it (other than from Seeking Alpha). I have no business relationship with any company whose stock is mentioned in this article.