Angie's List (NASDAQ:ANGI) is slated to release earnings on Wednesday, April 20, before the open. I believe ANGI is currently trading at an unjustified premium valuation given the company's increasing competitive landscape. Just last quarter, ANGI made the decision to knock down it's paywall as a result of increasing competition Yelp (NYSE:YELP) and Facebook (NASDAQ:FB). As a freemium service, the revenue outlook for the company becomes more suspect. The sustainability of the company's business model should also be called into question. After reading this article, I think it is very clear that Facebook is currently in the prototype and testing phases for Facebook Services. This new feature on Facebook will essentially serve the same purpose as Yelp and Angie's List all in one and all for free to the user. This will inevitably pose a serious threat to companies like ANGI and YELP in the future.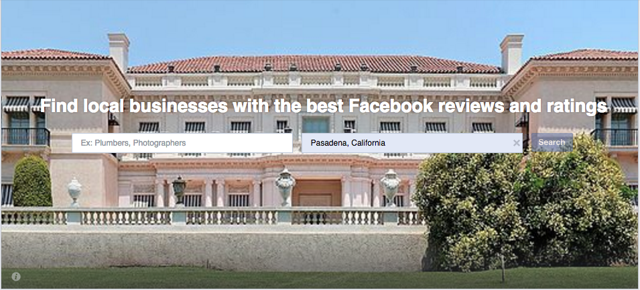 Click to enlarge
Facebook is not the only big player threat that ANGI faces. Although Amazon's (NASDAQ:AMZN) original ANGI-type product, Local Services, was more or less of a flop, the company's second-take at an ANGI-replacement has found some early success. Amazon Home Services launched in March 2015 in four metropolitan areas. Orders have grown more than 20% per month since then, and now Amazon Home Services is available in 30 major metro areas.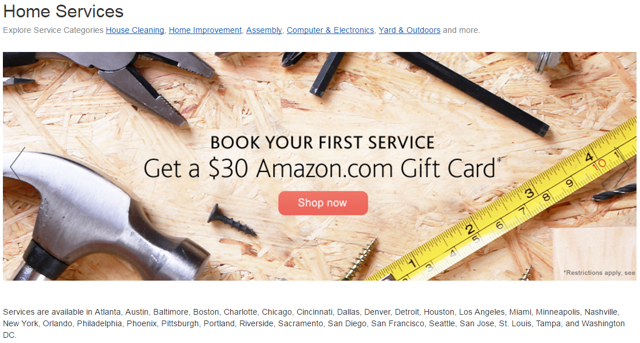 Click to enlarge
These are two much bigger competitors than ANGI. They each have larger user bases (Prime subs and Facebook MAU), more capital, and more resources. Investors should be both aware and cautious of these large threats.
I think it is clear that ANGI is aware of these threats. I believe the company knocked down its paywall at the expense of subscription revenue so that it can try to stay in competition with bigger players like AMZN and FB. This means that ANGI will is placing the future of its revenue in the hands of ads and featured services. This an over-reliance on unsustainable advertising revenue. There is lots of talk about an ad bubble similar to the "dot-com bubble" in 2000. We currently see ads everywhere, but not all of these ads have a high ROI, especially for smaller players like ANGI. I feel that advertisers will more effectively allocated ad spend in the future, and this means ANGI will have to prove itself as platform which provides its advertisers with a high ROI. This is an extreme dependency on unsustainable ad revenue.
Despite all of these risks, the stock is trading an at insane premium to the market. The S&P 500 is trading right around a 23x P/E multiple, but ANGI is trading at ~47x trailing earnings. This is an insane premium for a company that is subject to intense competitive pressures which put the future of the company into question. Even if the company hits its $750m revenue / $150m EBITDA target by 2020, that means the stock is currently trading at ~3x 2020 EBITDA. This is not a terribly attractive multi-year out valuation.
Moreover, I think it will be difficult for the company to hit its targets. We saw a decline in user base for the first time last quarter Y/Y, which I feel can be attributed to bigger players moving into their sector. Because companies like FB and AMZN have substantially better user interfaces than ANGI and larger user bases, I feel ANGI will continue to see negative Y/Y growth in users. This negative growth paired with an over-dependency on unreliable ad revenue means ANGI looks like a stock that has nowhere to go but down.
While I feel it is appropriate to wait and see how ANGI performs without a paywall, I hold fast on the belief that we will see shares plummet over the next couple of years. As far as the upcoming earnings go, I feel that investors do not have a great opportunity here to make gains on ANGI beating estimates as they lowered guidance for revenue far below the low end of Street estimates. ANGI does not historically beat earnings and I don't think we will see a change in that story this quarter with huge roadblocks in ANGI's path to success.
In sum, I feel that there is a good short opportunity here for investors to capitalize on.
Disclosure: I/we have no positions in any stocks mentioned, and no plans to initiate any positions within the next 72 hours.
I wrote this article myself, and it expresses my own opinions. I am not receiving compensation for it (other than from Seeking Alpha). I have no business relationship with any company whose stock is mentioned in this article.