The meeting of OPEC and non-OPEC oil producers in Doha, Qatar on Sunday, April 17th, ended without an agreement to freeze oil production. Representatives from thirteen OPEC countries and five non-OPEC nations were present, but the lack of attendance of Iran scuttled the possibility of an agreement. The Saudis refused to cooperate if Iran didn't agree to freeze production along with other OPEC members. There is no absolute reason that Iraq has to participate in a freeze and the agreement could still go forward. Apparently the market thinks it will.
While Iraq is a major oil producer, it isn't one of the top three - Saudi Arabia, Russia and the United States - that dominate the market. The two parties that absolutely must agree to a production freeze (or a cut, if it comes to that,) are Saudi Arabia and Russia. The United States faces declining production because high-priced fracking oil has become too expensive to produce. The Doha meeting included some non-OPEC members because a number of major producers, including Russia, the U.S., China, Canada, Mexico, Norway, and Kazakhstan aren't members. Iran, which is a member, has a contentious relationship with Saudi Arabia and the two are fighting a proxy war in Yemen. Iran just had sanctions lifted on its oil exports and is reasonably insisting it won't be part of a production freeze because this would effectively be the same as not having its sanctions lifted.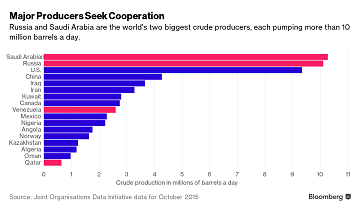 Although some thought the purpose of the Doha meeting was to ratify a deal that had already been worked out, the Russian representative himself stated this view and claimed that he was shocked that this wasn't the case, the market doesn't seem to have believed that. Analysts, many of whom have been wrong about the price of oil lately, were quick to make dire predictions. One forecast a quick drop to $30 a barrel. Within minutes of trading on Sunday night, WTI crude was down approximately 6%. Oil prices quickly reversed, though and rallied the rest of the night and following day on April 18th. By the close of futures trading on Monday afternoon, the WTI May futures contract was down only 58 cents (1.4%) from its Friday close.
WTI Oil Price Pre and Post Doha (April 15-18, 2016)

Anyone who had gone on vacation for a long weekend, wouldn't have known anything unusual had taken place. WTI Oil was trading around $40 a barrel both before the Doha meeting and after. It has been around this level for weeks now. The market has obviously been of the belief for some time that an agreement will be worked out and oil production will be restrained in some way. Its opinion didn't change because of the events at Doha. This is very bullish going forward. When an asset price doesn't go down on what is perceived as bad news, the selling is over. This is a typical reaction in a bull market, not a bear market.
There are many ETFs/ETNs available for investors to participate in an oil rally. These include XLE, VDE, USO, XOP, FXN, IYE, IXC, and OIH. The commodity itself can be purchased through these, a stake in energy stocks in general can be taken, or a position in stocks in specific energy sectors, such as oil and gas exploration, production, or equipment and services is possible through them.
Disclosure: I/we have no positions in any stocks mentioned, and no plans to initiate any positions within the next 72 hours.
I wrote this article myself, and it expresses my own opinions. I am not receiving compensation for it (other than from Seeking Alpha). I have no business relationship with any company whose stock is mentioned in this article.