There are two kinds of comparisons
You can compare something to itself at a prior time or over a series of times. Or you can compare it to other similar things at this point in time.
When researching one stock, you may want to compare its progress of sales, earnings, stock price, units of production, or many things relevant to the company over several years or calendar quarterly reporting periods.
Analyzing and maintaining a portfolio of stock investments calls for comparing the portfolio's holdings by size of capital committed, current value, future price prospects, income generation.
These are different tasks. The self-comparison of one company's progress through time may involve many attributes and can get very detailed. Comparing portfolio holdings needs to have only a few, but meaningful dimensions, ones easily compared. Trying to do both at the same time is exhausting, probably futile.
Some illustrative groups
To illustrate the problem we use three groups of equity investments - 1) the DJIA 30 stocks, 2) a today's grab of the 20 most actively-traded (by simple number of shares) issues, and 3) ten issues of importance to Seeking Alpha readers/contributors, selected principally because of the controversial nature of their future share price prospects.
To be sure we have company names and ticker symbols identified; we create tables of relevant data for each of these three groups. Data topics include marketability, recent price activity, dividend yields, and conventional earnings-related valuation measures.
First, let's look at the Dow stocks.
Figure 1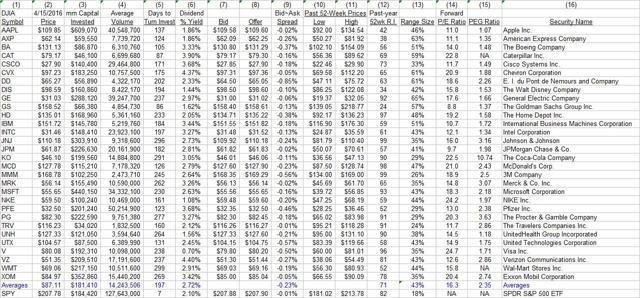 Click to enlarge
Source: Yahoo Finance
The symbols in column (1) are named in (16). Columns (2) through (9) give a sense of scale of investment commitments and market liquidity. (10) through (13) provide recent price experience. (12) may be a new concept, where the (11) minus (10) range of prices is split into upside and downside dimensions based on (2). The Range Index [RI] values in (12) are the percentage of the range, which now lies below (2). RIs will be of importance in the coming discussion.
The Averages row of Figure 1 will provide both norms for the data above in Figure 1, and comparisons and contrasts with similar summaries in such tables for the other two groups of securities. The row of data for the SPDR S&P 500 Trust ETF (NYSEARCA:SPY) is intended as an equity market proxy and is duplicated in Figure 2 and Figure 3 as a means of quick comparisons.
For now, the high double-digit average price in (2) and multibillion-dollar public investment commitments in these 30 stocks are testimony to their importance in the equity investing scene. While multimillion-share average daily trading speaks to market liquidity, the near 200-day average holding periods of (5) in a 252-market day year makes it clear that these are not trading stocks. In contrast, SPY is actively used as a vehicle to hold capital in short-term transitions to other applications.
The transaction costs of such trades are quite small for the 30 stocks at ¼% in and out, but truly tiny (2 cents on a $200 share, or just one basis point) - on SPY.
These stocks have had a good past 52-week year, up 71% (12) of their 43% average (13) price range experiences. Johnson & Johnson (NYSE:JNJ) and 3M (NYSE:MMM) are now at the top of their price ranges in the past year, while the worst-case Goldman Sachs (NYSE:GS) is up from the bottom of its 57% price range by 1/4th of that range. That also means that GS has lost 3/4ths of the range from its recent high. (Some may applaud.)
Averages in (14) and (15) tell us these stocks have a typical P/E of 16 now, and have current prices that are only 2 1/3 times their next 5 years of anticipated EPS growth.
As suggested in this article's summary bullet points, the current prices (2) are anywhere from 10 to 24 times (14) next 12 months anticipated Earnings Per Share. How the companies involved will choose to report those EPS may produce variations of definition worth ultimately discussing.
So now you may know more about some stocks you already knew a lot about. How about the same skinny on 20 stocks, picked at random - by means of which ones on Friday had the largest number of shares traded on listed exchanges.
Figure 2

Click to enlarge
Source: Yahoo Finance
They turn out to be a mix of many names quickly recognized, including 3 or 4 from the Dow Jones list. But their average share prices are about one fourth of the big stock names, and even smaller when those are excluded.
Their past year price ranges (13) are some six times as large, 242% to tops from bottoms, compared to the DJ's 43%. And they are now (12) at mid-range, 45, not the biggies 71.
But their typical trading volumes (4) of 32 million shares a day are twice the DJ stocks of 14 million, making the dollar values changing hands here $800 million instead of $1.2 billion. That's not chump change, so it's not just Joe six-pack taking a flyer on some idea his barber picked up from a recent customer.
Some important part of these volumes are coming from big money fund managers on the hunt for buy candidates that have current upside price potentials worth taking on risks that the media have overplayed. Will Chesapeake Energy Corporation (NYSE:CHK) and Transocean Ltd. (NYSE:RIG) survive present and coming crude oil prices? Will Bank of America (NYSE:BAC) and Citigroup (NYSE:C) get hurt by the Fed's increases in interest rates - if they actually get raised? Is Brazil going to get saved from itself (and PBR) by the Olympics? And so on.
Every stock has a story. Some of these stories have particular appeal to Seeking Alpha readers and contributors. Many of these stocks are in controversial situations, and SA offers a venue for buyers and sellers to conduct rational, circumspect explorations of both sides of each story. So we picked ten names not in either of the two preceding lists, which have large numbers of SA members who want to know more about their progress. Here is the same organization of data for that list as in the two tables above.
Figure 3

Click to enlarge
Source: Yahoo Finance
A quick check of (12) and (13) shows that these stocks are more active price-wise than the DJ names, but nowhere near as frantic as the currently actives in Figure 2. And they have had better past-year experiences than the actives, being up 70+% of their to-date ranges.
But the surprise comes when we look at the typical 3-digit prices (2) of these stocks, and their market-cap sizes (3). Their average daily trading $ values at $3 billion (you do the [2]x[4] math) are more than twice the $1¼ billion of the DJIA names. No wonder we at SA are interested in them.
Their marketability (5) at a typical 5-month turnover [21 market days a month] adds to their appeal for both buyers and sellers. And the typical trade-spread (9) cost of -.32% is about the same as for the DJ names when the tab for low-priced BlackBerry (NASDAQ:BBRY) is excluded.
Making comparisons of the future
Our intent here is not to evaluate the past, but to get a sense of what may yet be likely to come. We do that by singling out the players in the game who are positioned to have an advantage over the other players. Organizations, which are better informed is a good starting point to look for such advantage.
The major investment-banking houses [GS, Morgan Stanley (NYSE:MS), Merrill, etc.] have worldwide, 24x7 information gathering systems developed over scores of years, linked by cutting edge communications systems to staffs of experienced, credentialed, organized evaluating individuals who are highly motivated to keep their trading desks up to the moment on value-impacting developments.
Those trading desks are segmented into various tasks. Of importance in our discussion here are the "block desk" where large-volume, market-disrupting trades are handled, and the "proprietary trades desk" where the firm's own capital gets put to work whenever a particularly juicy, low-risk piece of business gets presented in the marketplace.
Business to the block desk comes from investment organizations of many types who have assets under management [AUM] of $billions to $Trillions. Adjustments to their $billion portfolios have to be of large scale and accomplished in a short time duration in order to be effective, before other equally adept "buy-side" players in the game catch on to the idea that is motivating the organization to action.
Markets today, and in recent years past, have been significantly impacted by advances in information technology. What in major parts of the century past was, at stages of its process, a pencil & paper & voice operation, is now extensively an electronic process. The bulk (in number of trades) of stock transactions is conducted in this "regular way," It chokes instantly when the balance of buyers and sellers get seriously upset. Flash crashes occasionally signal this sensitivity. High-frequency trading [HFT], contrary to media and political perceptions, tends to minimize the problem.
Aware of this, the market community has long treated large volume transactions on a special, negotiated basis. Buy-side clients maintain direct communications with block desk teams at several Market-Making [MM] firms. Over years, the individuals involved come to trust one another to some extent, but are always wary of the inherent adversarial opportunities present - in both directions.
A volume trade order presented to the block desk of an MM rounds up as much of "the other side of the trade" as exists publicly or can be encouraged by the MM's knowledge of the buy-siders with possible appropriate appetites. The remainder may get filled by MM firm capital - if a hedging deal can be engineered to hold the firm's capital loss-free.
Sellers of such protection can be found at MM "prop" trade desks. Usually the block desk firm's protocols prevent such deals within the firm, to head off internal arguments over which side of the deal should get credit for the unconscionable profit that may result.
The other MM firm's protection-selling prop desk team is usually as well informed as the protection seeker, so pricing and structuring the hedge deal is a fair fight. In open market (of derivative securities) competition, actions are taken that define the outer limits of likely price moves by the security that is the subject of the block trade.
Implications of the hedge deal are not directly revealed to the buy-side transaction initiator, but the deal's cost is folded into the price "spread" between what the subject's price had been before the block trade, and the trade price to be announced when the order is "filled." If the initiator declines to accept the announcement price, the trade will be killed, perhaps to be resuscitated at another time. By accepting, the buy-sider in effect says that the contained protection is economically sound in terms of that organization's expectations for the subject's coming prices.
Comparing the expectations
Now that current price range expectations are available for the several subject stocks, let's take a quick visual look at the Risk~Reward tradeoffs that are present, starting with the Dow Jones stocks.
Figure 4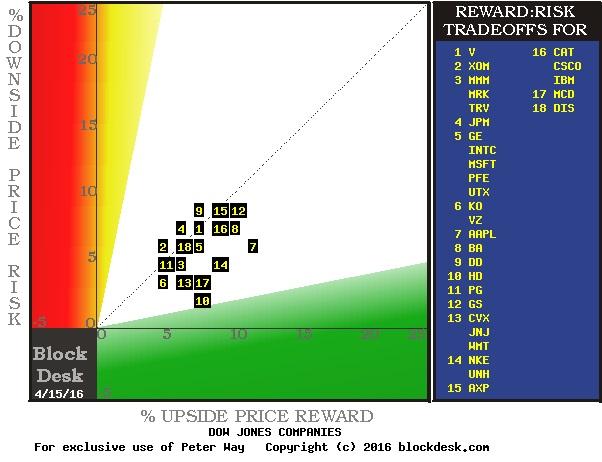 (used with permission)
This map displays for each subject stock the percentage change in price between market quote at the time of the forecast, and the top of its implied possible price range, shown as a horizontal location coordinate on the green scale. The vertical coordinate on the red scale reveals the typical worst-case price drawdowns previously experienced subsequent to prior forecasts like the present. More about this later.
So this is a trade of forecast rewards - in percentage price change terms - to similarly described risks. The dotted diagonal marks where the two are equal.
As might be expected, the anticipations of what may be coming for these widely-held, closely-followed, and actively-traded stocks are pretty tightly clustered. It appears that Home Depot (NYSE:HD) has one of the best R~R trade-offs, while DuPont (NYSE:DD) is the least attractive. But nobody is "out in left field" or "about to steal first base."
As a contrast, let's look at the list of currently active stocks from Figure 2.
Figure 5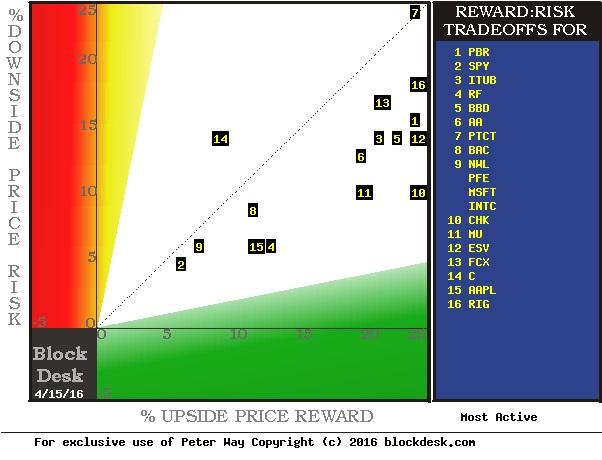 (used with permission)
What a difference! Pfizer (NYSE:PFE), Microsoft (NASDAQ:MSFT), and Intel (NASDAQ:INTC) at [9] are all DJ stocks, as is Apple (NASDAQ:AAPL) at [4]. SPY at [2] is included both here and in Figure 4 as a S&P 500 market "proxy." Citibank at [14] is "bad news" at the moment in comparison with BAC at [8], and Regions Financial (NYSE:RF) at [4] looks a bit more attractive than AAPL - or BAC or C.
CHK at [10], Ensco (NYSE:ESV) at [12], and RIG at [16] may have "out of the ballpark" upside potentials above 25% gains, but carry hefty double-digit prior typical loss exposures. BBRY is a "your guess is as good as the pros" in both directions.
Now, a look at the SA "high attention" controversy stocks list.
Figure 6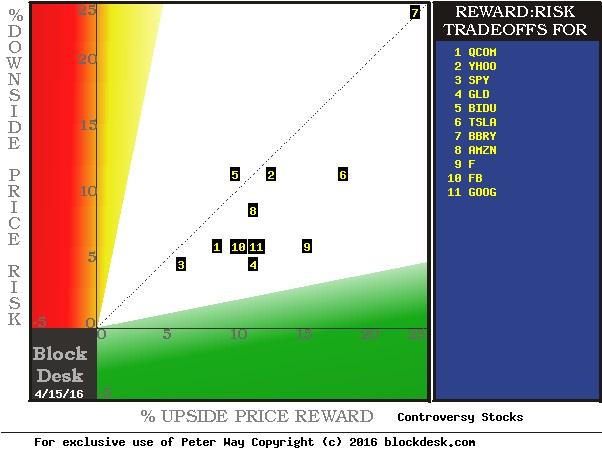 (used with permission)
BBRY's [7] inclusion in this list was intentional, despite its appearance on the active trades list, although several of the DJ names that are of high attention at SA have been excluded here, in order to more easily examine these names not on either of the other two lists. The current economic transparency lack in China may be responsible for Baidu's (NASDAQ:BIDU) position at [5].
Tesla (NASDAQ:TSLA) at [6] appears a less-attractive R~R tradeoff now than Ford (NYSE:F) at [9]; higher reward potential, but at higher risk exposure. But this basic comparison raises the question of "What is the investor's priority and emphasis of balancing several investment preferences?"
What kind of investor are you?
We do not champion any investment style or mission. Each investor should have a sense of self and his/her situation. We are all different. To that end, we look to see how well MM forecasts of coming price ranges have worked out in their appropriate time horizon of the next 3-6 months.
Of the three equity investing essentials of 1) capital, 2) perspective, and 3) time... we do strongly advocate that time is the most precious, since it gets invested alongside every equity position, and once committed, it cannot be retrieved, replaced, or expanded. Once spent, it is gone, and in the equation of wealth-building, as a power function it has more muscle than all the other linear variables.
Perspective - what to do, when to do it, and with what emphasis - is a continuing maintenance requirement if time is to be as carefully managed as capital. The multitude of alternative choices and the minutia of detailed information available on each make this a demanding task unless information can be efficiently handled. This is where we see our special ability to contribute.
Capital commitment is the investor's job, and we believe that carries the responsibility (and rewards) of decision-making, one that should not be passed off to others.
Our special contribution to investing
Comparisons are the essence of evaluation. We try to provide data that condense the morass of specific financial and economic minutia surrounding each equity investment candidate with one common, comparable set of information useful to the investor.
That most useful information is: 1) What prospect of gain is now present within a forecast-able time horizon, 2) what likely threat may be encountered in the process, and 3) how credible are such dimensions, compared among all such alternatives.
Items 1) and 2) are presented in Figures 4, 5, and 6. Credibility assessment needs further presentation.
The expertise of our sources of forecasts has been explained. But they have human limits, particularly of time, and in an arena of several thousand investment candidate competitor subjects, not all are going to get equal attention. Nor as price prospects approach extremes, will there be as many opportunities to evaluate outcomes as in more typical circumstances.
To get at the resulting differences, we look to how well prior forecasts - with upside-to-downside proportions like those now present - have performed in actual market experience. We examine the performances in several dimensions:
How large a sample of forecasts can we draw experiences from.
Over what kind of time periods are they drawn.
What proportion of priors were concluded profitably.
How serious were loss exposures, encountered en route.
How do prior loss exposures compare to present gain forecast.
What was the net price change resulting for the sample.
How does that compare to the present gain forecast.
How long was the average holding time commitment.
What was the rate of return on the capital employed.
Some of the inputs to these considerations are produced by a standard (for measurement) portfolio discipline we refer to as the Time-Efficient Risk Management Discipline [TERMD]. It posits a buy position at cost of market close next day after forecast. The position is closed at the first instance of a market close price at or above the forecast's price range high. If that has not happened within 3 months (63 market days) of the forecast, the position is closed regardless of gain or loss. The worst-case price drawdown experiences are observed during the holding periods of each instance of the sample and they are averaged for the overall sample.
Here is how that process has operated for the current Range Index circumstances of the Dow Jones 30 stocks:
Figure 7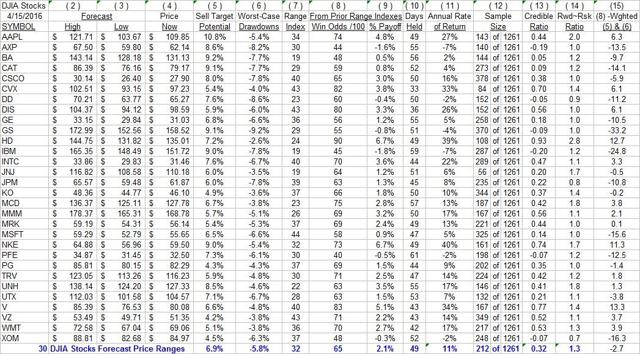 Click to enlarge
Source: blockdesk.com
The present upside expectations (5) for these stocks are derived from (2) and (4). The position coordinates for the Reward~Risk tradeoff map in Figure 4 come from (5) and (6).
The forecast history period assessed (12) is the past 5 years, or 1261 market days.
Column (8) tells what proportion of the sample in (12) wound up as profitable after experiencing the price drawdowns of (6). The resulting net profits from all of the (12) sample, shown in (9) are compared to the present forecast of (5) to assess credibility in (13). The reward~risk ratio of (13) compares (5) and (6).
Figure 4 visually reinforces the big-cap, global, established competitive positions of these stocks. They include the "core holdings" of many $-billion investment funds and are active, frequent traffic at block-trade desks. That traffic tends to homogenize their appearance, at least to other big-money players.
The near-7% average of Figure 7, column 5, ranges only from +4.2% to +10.8%, with just one stock Apple, Inc. in double-digit prospects. Likewise, the (6) risks average below -6%, ranging from -9% to -4%. But current prices do vary, as indicated in the past 52-week Range Index column of Figure 1, and Figure 7's forecast Range Index column (7).
Since the principal contributor to portfolio wealth is price change, and the long term is always a series of concatenated shorter terms, the annual rates of change now being offered by today's RI sample are supported by prior experiences in (11). They range from -7% to +40%. From sour milk to sweet cream at the top of the bottle.
The smallest sample in this set is JNJ, chiefly because its RI of 19 is at the lowest end of the set's span from there to 90. But samples of over 50 forecast days from a time period of 1261 days are likely to have substantial statistical significance, so no worry, mon.
What may be some concern for this set is the average of (13), where a 2.1% average prior net price gain from these 6.9% forecasts is a pitiful follow-through, and not very encouraging to the belief that the forecast gains actually may be achieved. And we are talking price gains here, not slippery EPS gains. It makes doubtful the acceptance of the set's average 1.3 to 1 reward-to-risk ratio in (14).
But there may be more interesting alternatives in other groups of stocks. At least that is what the players responsible for the trading volumes in our "actives" lists of Figures 2 and 5 may be thinking. Here is the historical analysis of their prior like-today forecasts.
Figure 8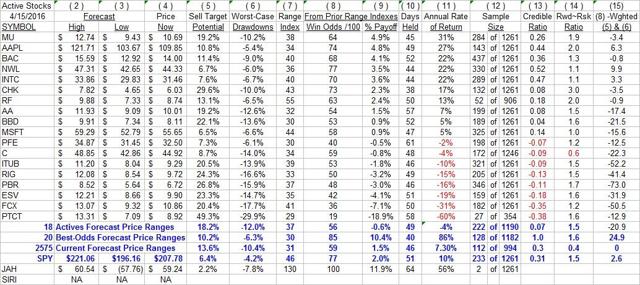 Click to enlarge
Source: blockdesk.com
Of these 20, two have been excluded from the analysis and comparisons. Sirius XM (NASDAQ:SIRI) is not involved in necessary derivative trading markets, and PTC Therapeutics (NASDAQ:PTCT) on this date did not have sufficient trading activity in those markets to pass our quality control requirements for a credible forecast for the stock's coming price range. As a result, its most recent adequate forecast is shown, with the low forecast shown as a negative, to signify its current day inadequacy, while maintaining its continuity in market quote records.
The remaining 18 issues have a strong upside price change forecast averaging +18%, three times the DJ stocks. But the credibility (13) of those 18 forecasts is next to zero, since only 10 have any positive earnings history (9) from prior like RI experiences. Ranked by their annual rates of return (11), the top five have produced competitive rates of price gains, while the bottom five are double-digit disasters.
The performance culprit in this set is the Win Odds (8) where best results are 3 profits out of 4 positions, and an average little better than a coin-flip at 56 out of 100. The historic average annual rate performance of -4% pales seriously in comparison to the DJ stocks +11% and 65 winners out of each 100.
In the blue summary row statistics at the bottom of Figure 8, we have included comparative statistics for our daily population, today of 2575 stocks and ETFs. The population annual rate of gain average at +7.3% falls short of the DJ stocks' average, but is far better than the actives' average, and its Win Odds are a bit better than the actives.
The best positioned 20 issues in the population currently have experienced a +10.4% net gain in 8 weeks, for a +86% annual rate. Their % gain payoffs have at least equaled the current forecast upside potentials, which are 1.6 times (14) the price drawdowns encountered.
Now let's look at the 10 stocks of most widespread interest to SA reader/contributors:
Figure 9

Click to enlarge
Source: blockdesk.com
Now that we have been through how this information can lead to productive comparisons for various investing objectives, I'll leave readers to make their own comparisons among this set, and with the stocks in the Dow and the today's actives list.
With this information at hand, would you prefer a buy today of F over TSLA? Rational justifications can be found for the choice of either. Or for AAPL over any of the above.
But perhaps not over most of the population's best ranked 20.
Conclusion
Time is precious. Accounting/economic/competitive minutia is endless.
Conserve your resources by contracting-out coming price judgments to best-informed professionals who have to tell us what their expectations are, whether they want to or not.
See how well they have done in the past, then use their expectations well to best fit your investing needs.
Hint: They are exceptionally helpful for investors with wealth-building needs under the time pressure of impending deadlines.
Disclosure: I/we have no positions in any stocks mentioned, and no plans to initiate any positions within the next 72 hours.
I wrote this article myself, and it expresses my own opinions. I am not receiving compensation for it (other than from Seeking Alpha). I have no business relationship with any company whose stock is mentioned in this article.