On Tuesday morning, cigarette giant Philip Morris (NYSE:PM) reported its first quarter results. The company was well below analyst estimates, sending the stock down a couple of dollars in early trading. After such a large rally in shares this year, the Q1 report just wasn't good enough to keep this stock at its highs.
Reported revenues of $6.08 billion missed by more than $250 million. After recording a pricing variance of more than $2 billion last year, with the smallest quarterly value of $466 million, Philip Morris reported a Q1 2016 variance of just $272 million. While part of that was due to a tough comparison to last year's period, the pricing variance shortfall might have contributed to the large miss against analyst estimates. Overall, revenues were down 8.1% from last year's period, but would have been up 2.4% if not for currencies. This included help from a weaker dollar recently, so one can only imagine how much larger the miss would have been if the dollar had held its own during most of Q1.
On the bottom line, adjusted earnings per share of $0.98 fell greatly from last year's $1.16, missing even more than revenues, as the street was looking for $1.11. The large miss was driven by a 160 basis point decline in gross margins, which led to adjusted operating income falling by 14%. Currencies again were the story, with a $0.19 per share hit in the quarter.
Despite the large Q1 miss on the top and bottom line, the company did raise its full year adjusted EPS forecast. This can be attributed to the weaker dollar I mentioned above, as currencies are now only expected to negatively impact earnings per share by 45 cents, as opposed to 60 cents previously. Philip Morris is still not planning on any share repurchases this year, and adjusted earnings per share are forecast to grow by 10% to 12%. The bottom line situation is expected to improve as the year progresses, with Q4 expected to see the best results.
On the balance sheet side, things weakened a little due to seasonality. Philip Morris usually produces most of its cash after Q1, so the company took out more debt in the first quarter. Net debt rose to almost $27 billion at the end of the period, leading to a weakening of the company's debt to adjusted EBITDA ratios. It will be interesting to see what the company does over the next few quarters as some debt matures, especially if a weaker dollar helps cash flow improve.
Overall, Philip Morris reported a very disappointing first quarter. Despite raising the yearly forecast thanks to a smaller currency hit, the business struggled early in the year. A smaller pricing variance led to a big revenue miss, and large margin declines caused earnings per share to drop. As seen in the chart below, shares had rallied tremendously into this report, so a pullback is not much of a surprise. The company will need to do better as 2016 progresses if shares are to trade over $100.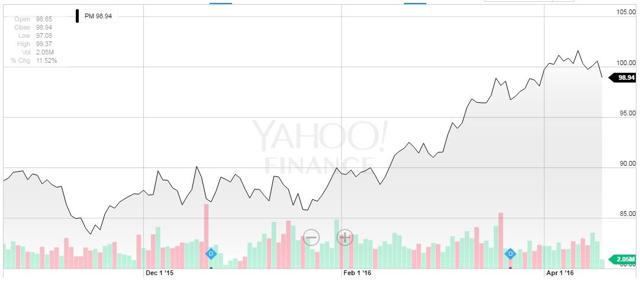 Click to enlarge
(Source: Yahoo! Finance)
Disclosure: I/we have no positions in any stocks mentioned, and no plans to initiate any positions within the next 72 hours.
I wrote this article myself, and it expresses my own opinions. I am not receiving compensation for it (other than from Seeking Alpha). I have no business relationship with any company whose stock is mentioned in this article.
Additional disclosure: Investors are always reminded that before making any investment, you should do your own proper due diligence on any name directly or indirectly mentioned in this article. Investors should also consider seeking advice from a broker or financial adviser before making any investment decisions. Any material in this article should be considered general information, and not relied on as a formal investment recommendation.