Johnson & Johnson (NYSE:JNJ) is quite simply one of the best-known companies on Earth and one that I continue to be bullish on long-term as a dividend growth name. I mean this is not going to make you a millionaire overnight. But it will help pad your retirement or save for your children's education. It is a name that most everyone has done business with. This is because the chances are you have at least one of its products in your home, and the company continues to grow earnings. As a stock, I feel I can never go wrong recommending it. It just continues to chug along, paying its sizable and consistently growing dividend and really is just one of the most reliable companies I have ever come across.
Back in 2015, I authored a piece describing why I loved this stock as a dividend growth company. I invite you to review the power of the company's dividend over time because it is a strong reason to own this name long-term. In that piece from 2015 I offered you an understanding of the company structure and why I see it as a long-term powerhouse. This is the reality and that is why I got behind it. It is a stable, slow growing, safe play. For those on the sidelines, you have to pick your spots. The market gives you opportunities to get long the name on dips and when it does, boom goes the dynamite! There is almost always a wave of big buys into the name. Institutions love to have the name as an insurance play because it delivers. Those managing pensions, income funds etc all consider it a darling. Now, I will be clear here. The name is a bit pricey here, but I have said many times that when the stock was $100 it was a buy. Well were up 15%-20% from there but should you be holding? Well, boom went the dynamite, because the company just reported Q1 earnings that are delighting the Street pre-market and I suspect will do so all day.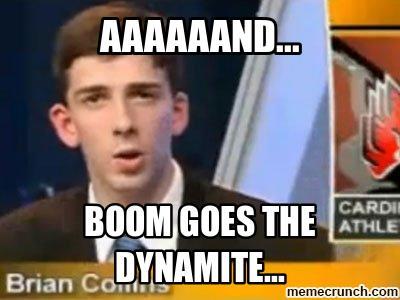 So how did the company do? The company's most recent quarter saw sales of $17.48 billion. This was a slight uptick in sales of 0.6% year-over-year. I was however surprised that this figure missed estimates slightly by $20 million. Is this a weakness? Well we break this figure down, we start to see clarity on this issue. Like many other domestic U.S. companies, the changes in currency year-over-year are having a large negative impact on the absolute numbers. That fact is that businesses with a lot of international business are hurting from the stronger dollar. Taken independently, operational sales results increased 3.9% and the negative impact of currency was 3.3%.
On an absolute basis, domestic sales increased 7.2%, while international sales dipped 6.0%. Why the drop? Well, this decline in international sales reflects actual operational growth of 0.6%, which is pretty unimpressive but also a negative currency impact of 6.6%. I have to point out that Johnson & Johnson is one of the more harder hit companies by negative currency impacts I have seen thus far early in this earnings season. But the company itself continues to chug along. On an operational basis, worldwide sales increased 6.9%, domestic sales increased 9.8% and international sales increased 3.8%. This excludes the impacts of acquisitions and sales over the last year.
Taking into account the company's operational expenses and sales data, the company saw net earnings come in at $4.3 billion. Outstanding. Taking into account the existing number of shares this translates to net earnings per share of $1.54. After taking into account special items, adjusted net earnings were $4.7 billion and adjusted earnings per share were $1.68. The adjusted earnings per share actually jumped year over year 7.5%. On an operational basis, adjusted diluted earnings per share increased a strong 10.3%. The $1.68 in adjusted earnings represented a year-over-year increase and this beat analyst estimates by $0.02. The company continues to deliver. It is of course easily covering its dividend. It also is focused on its long-term growth. Alex Gorsky, chairman and CEO, said:
"We are off to a strong start to the year, supported by our first quarter underlying sales growth. Our Pharmaceuticals business continues to deliver impressive levels of growth, we have steady improvement in our Consumer business, and we are seeing momentum in our Medical Devices businesses, all of which are fueling our optimism for the full-year ahead. I am proud of our global teams for their contributions to these results and their commitment to developing innovative solutions that address the unmet health care needs of people around the world."
I am pleased with these results, but it doesn't matter where the company has been, it matters where it is going. The company revised upward its 2016 full-year guidance for sales of $71.2 billion to $71.9 billion, up from $70.8 billion to $71.5 billion. This, of course, reflects expected operational growth in the range of 2.5% to 3.5% and operational sales growth is expected to be in the range of 4.5% to 6.0%. Factoring in expected expenditures, adjusted earnings guidance for full-year 2016 was also revised upward to $6.53 to $6.68 per share, up from $6.43 to $6.58 per share reflecting expected operational growth in the range of 5.3% to 7.7%. That is strong. The company is continuing to invest heavily in R&D. Couple this with a dividend yield that is still very respectable at 2.9%, and I continue to love this stock. I would wait for a pullback before buying though.
Note from the author: Christopher F. Davis has been a leading contributor with Seeking Alpha since early 2012. If you like his material and want to see more, scroll to the top of the article and hit "follow." He also writes a lot of "breaking" articles that are time sensitive. If you would like to be among the first to be updated, be sure to check the box for "Real-time alerts on this author" under "Follow."
Disclosure: I/we have no positions in any stocks mentioned, and no plans to initiate any positions within the next 72 hours.
I wrote this article myself, and it expresses my own opinions. I am not receiving compensation for it (other than from Seeking Alpha). I have no business relationship with any company whose stock is mentioned in this article.